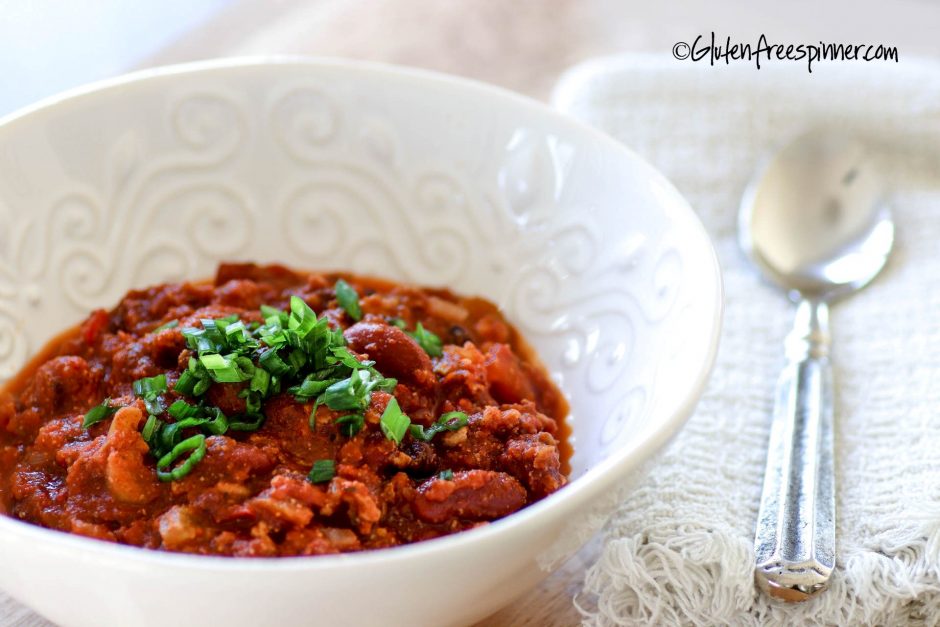 One Point Chili….And the Secret to Perfect Chili Every Time
I'm working on trimming down a bit from the Summer fun and learning ways to cut calories.  This chili was created from a recipe called "One Point Chili" which sounded too good to be true.  I changed quite a few things, but mostly spice and tomatoes so the points shouldn't have changed.  I personally think it's about three points, and even that's low for a meal.  Of course I could put all the ingredients into the point tracker to check, but hey, I'd rather just enjoy every bite and call it My One Point Chili.
I'm also sharing my little secret to making chili as good as it can be…regardless of calories.  It's so easy and leaves people wondering how you accomplished that perfect chili taste and texture.  Ready?  An immersion blender.  Yep, the beans, turkey, sauce, tomatoes and all….but just a cup,  and it makes all the difference.  It adds a chunky thick texture and the flavors are enhanced as they meld into the rest of the chili.
Many of my chili recipes are really spicy, mostly because Mr. Spinner loves spice…we're talking serious nose-dripping eye-watering spice.  But this one is for me, and it has a nice, quiet, spicy bite.  There are only a few ingredients so it comes together quickly.  I've made it twice in two weeks and even eaten it for breakfast.  It's that good.
So whether we are consuming one point or three, I promise you'll savor every bite.  No cheese, sour cream, or crackers needed….it's tasty all on it's own.
Enjoy!

One Point Chili
Author:
Gluten Free Spinner
Recipe type:
Chili - Lighter Version
Cuisine:
Soup - Stew - Chili
Ingredients
1.25 lb Ground Turkey Breast
1 Tbsp Olive Oil
1 Tbsp steak seasoning
2 Tbsp Chipotle Chili Powder or more to taste
1 Tbsp Cumin Powder
½ tsp celery salt
1 Tsp Ancho Chili Pepper Seasoning
1 cup coarse chopped celery with greens
1 cup diced onion
1 Tbsp minced garlic
1 15 oz can black beans rinsed and drained
1 15 oz can light red kidney beans rinsed and drained
1 28 oz can crushed tomatoes
3 10 oz cans Rotel diced tomatoes with cilantro and lime
1 Tbsp brown sugar
Instructions
In a large dutch oven or cast iron pot, add the olive oil and ground turkey
Brown the turkey while chopping and breaking it up into small pieces
Add all the seasonings and toss into meat to combine
Add the celery and onion, sauteing about 3 minutes. Add the garlic and toss into mixture
Add the rinsed and drained beans, crushed tomatoes, and 2 of the Rotel Tomatoes
Stir to combine and taste for seasoning. Add the brown sugar.
Scoop out 1 cup of the chili and put into a deep bowl and add the last can of Rotel to the cup of chili. With the immersion blender, puree the chili and Rotel together until a thick smooth sauce. Pour back into the pot of chili and stir to combine.
Simmer the chili, covered, on lowest setting for 20 min.
Enjoy!