I'm adding a quick post this morning for a good friend who asked for my recipe for Steak Au Poivre. She's making a birthday dinner for her husband tonight and we always rave about this recipe. My husband and I have made this so many times, but we've never recorded the exact measurements as it's usually a special Saturday night dinner and we make it as we go.
So last night we recorded each step and took pictures for her as well. It was amazing as always, truly our favorite steak dinner.
Steak Au Poivre can be made with ribeye's, NY Strips, or Filet Mignon, and we definitely prefer the filet. We purchase 2 – 8oz Filets, 2″ thick, and even though this is much more than I can eat, you need to have the filets the same size so they cook evenly. Besides, the leftover's are perfect for a skillet the next morning.
We've made this classic French dish many times, each one trying variations of preparation and ingredient amounts. Some recipes call for Dijon mustard and some don't, some call for Cognac and some for Brandy, and a few call for beef broth while others do not. We
have perfected ours to where we feel it contains the best of all we tried. We use Dijon, but only on one side, adding Shallots, but just a tablespoon, using Cognac if we have it or Brandy if we don't (liking Cognac best), and using a small amount of beef broth, mostly so there is more sauce…we love it. The one consistent ingredient in all the recipes we tried is the heavy cream, it's a must.
Last night we opened a special bottle of wine that my brother gave us, and it was a perfect pairing to this meal. It was a 2005 Cabernet Sauvignon by Jordan Wineries and it was simply amazing. We always have a glass of wine while cooking, but this one was sooo good we were lucky to have any left to enjoy with our meal! A splurge we appreciated.
Searing the filet's is an important part of this dish as you need to develop the crust on top. To do this you need a very hot pan. We put the filet in Dijon side down first and you'll see the crust forming on the bottom. We have the times down to the minute and they produce a filet that's medium. If you want medium rare, cook 1 minute less than the times listed for each step. After searing both sides, the filet's finish in the oven which gives you time to prepare for the sauce.
Once you take the filet's out of the oven, you will remove them to a plate and loosely tent with foil. The pan goes back on the stovetop for the sauce. At this point, it might seem obvious, but be sure to wrap your handle with a hot pad or towel as it's very easy to forget that it just came out of the oven and grab the hot handle (experience tells us to mention this!). We add shallots and garlic to our Steak Au Poivre sauce because it adds so much flavor. To start, it's a quick saute of the garlic and shallots in the pan juices just before you add the cognac and ignite. This is the fun part!
See, isn't it dramatic? I let my hubby do that part while I 'ooooh' and 'ahhhh'. Be careful, when you do this part and take it off the flame when you light. We hold the pan over the sink and use a candle lighter. Once the flame settles down we return it to the stove and it gradually diminishes. Next comes the cream and a little salt and pepper, followed by the chopped parsley. It comes together quickly, so have your plates ready along with your potatoes and chosen vegetable. Remember the sauce is a pan sauce, not a gravy, and there isn't a lot of it, just enough to drizzle over the two filet's and part of the potatoes.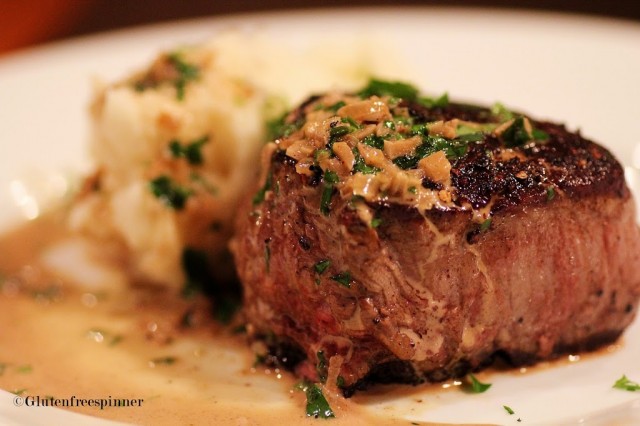 I would have loved to stage this picture and really have a beauty to share with you, but there was no waiting when it came time to eat. It was the best ever, and we recorded every step.
Enjoy…and maybe this can be your Valentine's Meal for that special someone.
Filet Ingredients:
2 – 8 oz filet's about 2″ thick

1 -2 Tbsp Olive Oil, plus some for smearing on steaks

1 Tbsp Butter

sea salt

1 – 2 tsp Dijon Mustard

Fresh black pepper – Brad likes to crush whole pepper corns
Directions:
Preheat oven to 400 degrees. Rub olive oil on both sides of filet.
Season one side of each filet with sea salt and fresh cracked black pepper and flip to other side. Smear the other side of each filet with Dijon mustard and sprinkle with sea salt and fresh ground black pepper. (only one side has the Dijon)
Add 1-2 Tbsp olive oil (guage on your pan) and 1 Tbsp butter to an oven proof skillet and heat over medium high heat until the butter is melted and bubbly. Add the filets, Dijon side down first, and sear for 4-5 minutes on one side (depending on thickness), flip and sear other side for 4-5 minutes. Transfer the pan to the preheated 400 degree oven and roast for 5 minutes.

Remove from oven and place filets on a plate – lightly tent with foil for 10 minutes. Return the pan to the burner and start the sauce while they rest.
Sauce Ingredients:
1 shallot, minced

1 clove of garlic, peeled and minced

1/4 cup Cognac (or brandy)

1/4 cup beef broth

1/4 cup heavy cream

1 tablespoon finely chopped fresh parsley leaves
Directions:
Place the same pan over medium heat. If there is a lot of excess oil, pour out leaving only about 1 tsp with all the drippings. Add the shallots and garlic to the pan. Saute for 15-20 seconds. Remove from the burner and carefully add the cognac/brandy and light to flame. When flame goes out, add the beef broth and simmer for 2 minutes allowing it to reduce. With heat on medium, add the cream and mix well, simmering slowly to thicken slightly, about 2 minutes. Remember it's a pan sauce, not gravy, so it will be loose. Taste for seasoning adding a little salt if needed. Add the chopped parsley into the sauce and spoon over each steak. Serve with mashed potatoes or roasted fingerling potatoes and your choice of vegetable.