Maple Glazed Spice Donuts
Nothing say Fall like the warm spices of cinnamon, ginger, and nutmeg, and nothing goes better with a hot cup of coffee than a spice donut glazed in maple frosting.  Good Morning!
To add to the delight of my Maple Glazed Spice Donuts is the ease in making them thanks to a donut pan and King Arthur Gluten Free Muffin Mix.  I've used this same muffin mix to create some of the best muffins, donuts, and coffee cakes I've ever had with consistent results every time.  Then there's the donut pan allowing for perfectly round, fluffy, baked donuts…no frying equals no mess and less calories.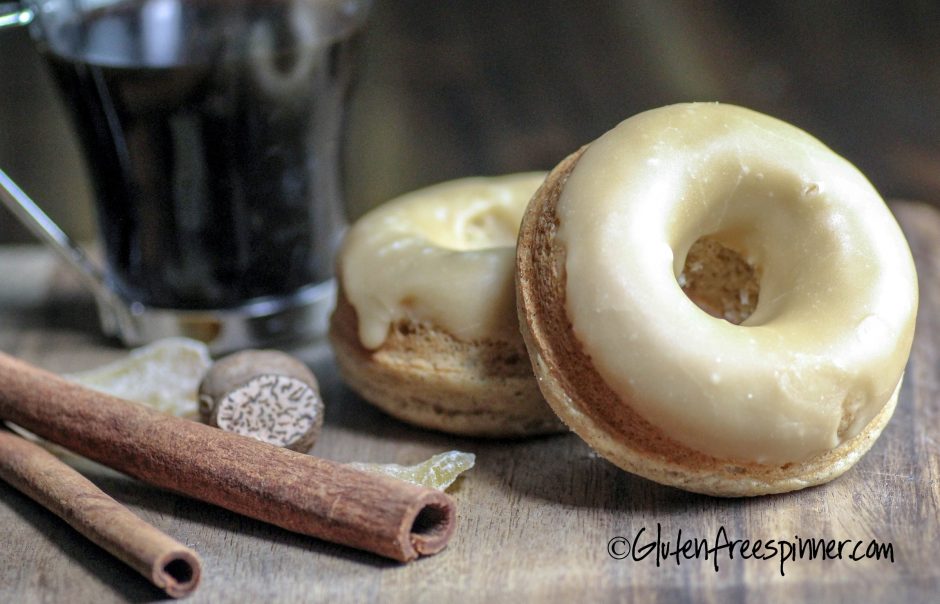 The muffin mix is a base for my donuts and I kick-them-up adding sour cream, orange juice, spices, and vanilla bean paste, .  The ingredients alone are mouth watering and the donuts come out soft, fluffy, and moist with notes of the spices and vanilla.  The glaze itself puts these over the top with a warm maple-like caramel that hardens to the touch giving them the look of an old-fashioned glazed donut.
Treat yourself and your guests to my Maple Glazed Spice Donuts this weekend….or maybe tomorrow morning.  I promise you'll be adding them to your list of Fav's.
Enjoy!

Maple Glazed Spice Donuts
Author:
Gluten Free Spinner
Recipe type:
Muffins/Donuts
Cuisine:
Breakfast / Brunch / Tea / Coffee
Ingredients
Muffins
1 King Arthur Gluten Free Muffin Mix
6 Tbsp butter melted
3 eggs
¼ cup Daisy light sour cream
¼ cup orange juice
½ cup milk
1 Tbsp vanilla bean paste (or 1 tsp vanilla)
1½ tsp cinnamon
¼ tsp fresh nutmeg
¼ tsp ground ginger
¼ tsp cardimom, allspice, or pumpkin spice
Maple Glaze
¼ cup butter
½ cup real maple syrup
1 cup powdered sugar
Instructions
Preheat oven to 375 degrees and spray two 6-hole donut pans with non-stick spray
In a large glass mixing bowl, combine all the muffin ingredients with a hand mixer on low...just until blended, about 1 minute.
Pour into piping bag or a large resealable plastic bag to pipe into the donut hole pans. You can spoon them as well, but they won't be quite as round and uniform. Either way works.
Fill each donut groove with the batter, distributing evenly for 12 donuts.
Bake for 11-13 minutes until the donuts are lightly browned and spring back to the touch.
Allow to cool for just a minute then invert onto wire racks to finish cooling.
Make the Maple Glaze:
Add the butter and maple syrup to cereal-sized glass bowl and microwave 1 minute until butter is melted. Stir and return to microwave for additional 30 seconds (or more as needed) until bubbly hot. Add 1 cup powdered sugar and whisk together until combined.
Dip each donut into the maple glaze and twist as you remove them setting back onto rack to cool.
The glaze will harden and become beautifully shiny and smooth.
*Maple Glaze adapted from
Sallys Baking Addiction