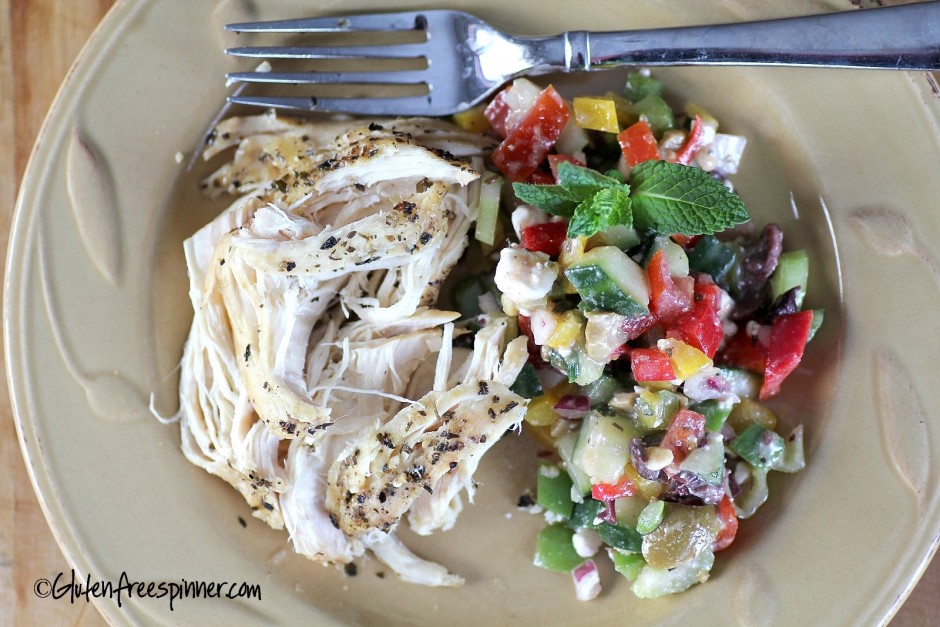 Easy Skinny Chicken
I make this chicken at least once a week because it's so easy and can be made so many ways to change it up.  Even though this has consistently been part of our weekly menu, I discounted it as something to post because it was so simple.  Well hello!  As I shared it with my daughter and friends because of it's ease and 'skinny' benefits, I realized I needed to share on Gluten free Spinner as well.
I'll give the basics and you'll see how easy this is to change flavor profiles and sides to go with.  The chicken always turns out moist and flavorful.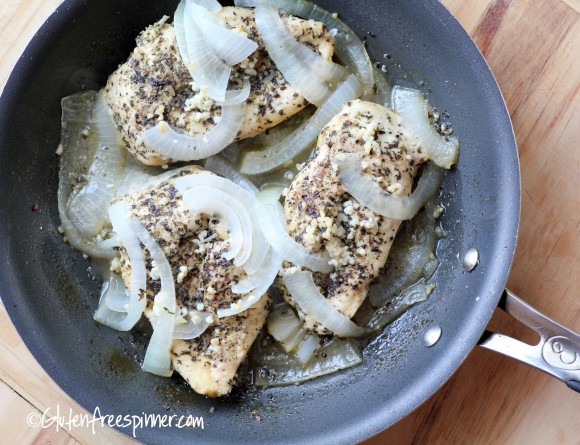 Here's the chicken when finished cooking.  You can serve it as is…a whole breast with a side of veggies, brown rice, or a cold salad like first picture, my Greek Salad with Feta.  Or shred the chicken with two forks and add to a simple pasta with olive oil, garlic, and Parmesan (YUM!).  Slice into strips and add to a salad.  Toast a few buns and add a slice of Swiss cheese for a sandwich.  Or use Southwest flavors when seasoning and shred to use for soft-shell taco's.  I list many options below in the directions.  The ingredient list is basic as you can prepare as many breasts or as little as you choose.  There are endless possibilities, all of which are easy, skinny, and delicious.
**Tip…I often throw this together in the morning and pop in the oven before I take a shower.  When I'm dressed and ready to head out the door, into a lunch container it goes and I've got lunch.  Easy.  Healthy. Perfect.
Ok, here goes…….

Easy, Skinny Chicken
Author:
Gluten Free Spinner
Recipe type:
Chicken / Healthier Options / Weeknight Meals
Ingredients
Chicken Breast(s)
Onion slices (2-3 per breast)
Grill Seasoning (or favorite all purpose seasoning)
1 Tbsp Olive oil
1 Tbsp Butter
½ cup wine or chicken broth
Instructions
Preheat oven to 350 degrees
Season the chicken on both sides, liberally, with the grill seasoning. This is the only chance you have to season the chicken so be sure to use enough.
In an oven-proof skillet, heat the olive oil and butter.
Add the seasoned chicken to the hot pan and saute for 1-2 minutes then repeat on other side.
Add the wine or broth and let bubble for a minute.
Turn off heat, top with the onion slices, cover, and place in preheated oven.
Bake for 40 minutes, covered.
Remove from oven and your ready to be creative!
Alternate Seasoning Ideas:
Use Taco or Southwest Seasoning for shredded tacos
Use Greek seasoning for a Greek salad or pasta toss with olives and artichokes
Use 1 cup of salsa verde in place of the wine and shred for Huevos Rancheros
Use BBQ seasoning and top with BBQ sauce for an easy dinner served with coleslaw
Season with five spice or Asian seasoning and toss with rice noodles and a dash of GF Szechuan or Hoisin sauce