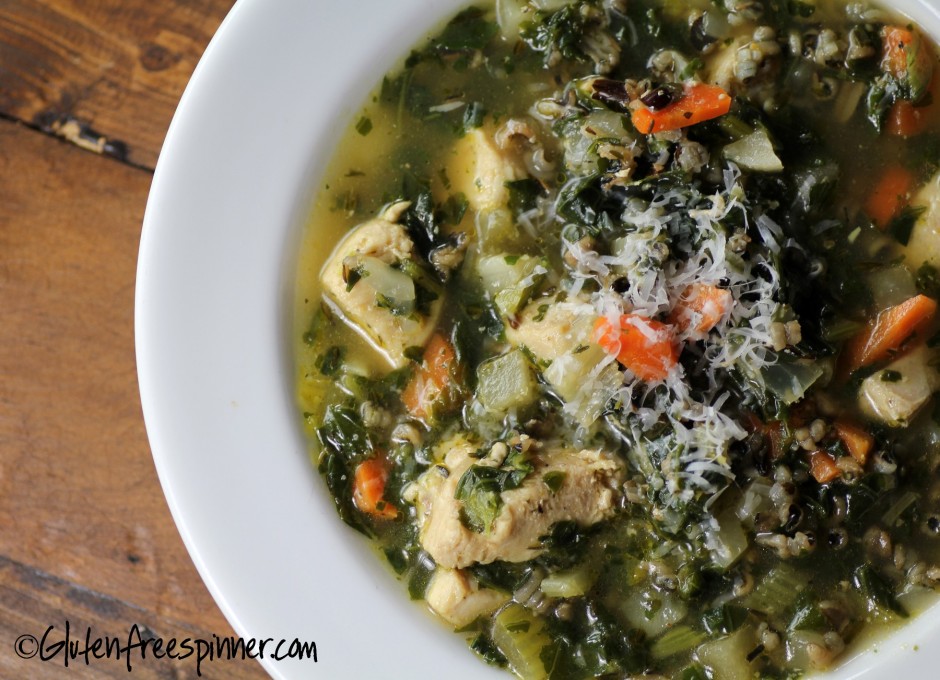 Wild Rice Chicken and Turnip Soup
We've been enjoying 70 degree sunny days this past week, which is unusual for early April and a wonderful tease of what's to come.  But today brings us rain and a 40 degree chill.  It's to be expected in Minnesota and we know the warm days will return.  For now….a hearty brothy bowl of comforting soup is exactly what this Monday needs.
Wild Rice & Minnesota go together like Cheddar Cheese & Wisconsin….you know where to go to get the very best.  Our cabin in Northern MN is home to some of the best wild rice you will ever taste and our friends behind Moose Lake Wild Rice Company, Terri and Charlie Worrath, sell only the best.  They sell wild rice that is 100% naturally grown and hand-harvested offering premium rice grown in the wild of Minnesota and Canada.  It's a family owned business with years of experience to draw from as Terri's father was one of the largest wild rice buyers in northern Minnesota.
We are often asked what's the difference between organic wild rice and cultivated wild rice. "Real" or what many people call "organic wild rice" grows wild in the clear lakes of northern Minnesota and Canada. It is not genetically modified and has not been altered like some of the cultivated paddy wild rice that is available in grocery stores across the country.
The expansive list of customer testimonials gives tribute to their hard work and dedication in bringing you the best wild rice you can buy.  Terri also has an entire page of wild rice recipes you'll want to check out.
And speaking of recipes….let's talk about my newest, Wild Rice Chicken and Turnip Soup.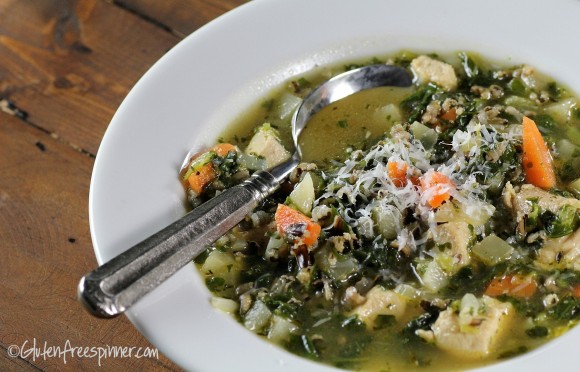 Tender white chunks of chicken share a rich tasty broth with carrots, celery, turnips and greens and the hearty chew of wild rice.  The flavors are earthy and fresh, comforting and satisfying, and it all came together in a matter of minutes thanks to a few shortcuts.
The first time saver was using frozen turnips and greens from Everyday Essentials.  They were beautifully chopped, green, and fresh.
Another shortcut was using pre-cooked wild rice.  Yes, Terri's is the very best, and you will always benefit from making your own, but when I'm crunched for time I often use Canoe Wild Rice.  It's tender and flavorful and you simply drain it in a mesh strainer before adding to your recipe.  It also carries the MCIA certification, (Minnesota Crop Improvement Association).  Alternately, you might consider making a large batch of wild rice and freezing it in individual 1 cup packets….this works great too.
Check out a few of my other wild rice recipes like Minnesota Chili,  Wild Rice Soup,  or Wild Rice Grape Salad with Sweet Potato Medallions.
Happy Hearty Soup Monday to you….may your day be filled with comfort.

Wild Rice Chicken and Turnip Soup
Author:
Gluten Free Spinner
Cuisine:
Hearty Soups/Comfort Meals
Ingredients
1 Tbsp olive oil
2 Tbsp butter
2 boneless, skinless chicken breasts, chopped 1" chunks
1½ Tbsp McCormick Montreal Chicken Seasoning (or other)
1 yellow onion, diced
3 carrots, diced
3 stalks celery, diced
2 Tbsp minced garlic
1 tsp dried Thyme
32 oz. Chicken Stock
1 tsp Better Than Bouillon Base (or other GF)
2 cups chopped turnip greens with diced turnips (frozen)
2 cups cooked Wild Rice
Sea Salt and Fresh black pepper to taste
Finely shredded Parmesan for serving
Instructions
In a large dutch oven heat the olive oil and butter until butter is bubbling.
Add the onion, carrots, and celery and saute' about 3-4 minutes. Add the garlic and Thyme and cook 1 minute.
Sprinkle the chicken seasoning over the chicken chunks and toss to coat. Add chicken to the pan and cook with the vegetables, sauteing until chicken becomes white, about 4-5 minutes.
Add the chicken stock and bouillon and stir into the chicken and veggies.
Cover and cook on low 15 minutes.
Add the frozen turnip and greens and the wild rice. Cook uncovered on medium low for about 8 minutes.
Taste for seasoning adding sea salt and pepper as needed.
Serve with finely shredded Parmesan.