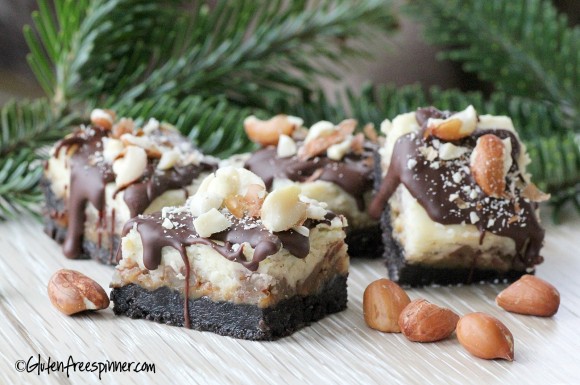 Cheesecake Caramel Bars
These tasty little nuggets are as good as they look; chocolate, caramel, nutty goodness all bundled in a bite-sized bar.  This is an old recipe that I've tweaked over time, and this year they tasted better than ever.  I took out a few steps making the preparations easier and added chopped peanuts on top….Yum.
No more words, lets get on with the recipe.
Sweet Joy.
Be sure to try my other Christmas Cookie Recipes too

Cheesecake Caramel Bars
Author:
Gluten Free Spinner
Recipe type:
Dessert Cookies/Bars
Ingredients
Crust:
1¼ cups finely crushed chocolate sandwich cookies (I used Midel)
¼ cup melted butter
Filling:
20 caramels, unwrapped
2 Tbsp fat free half and half
⅓ cup finely chopped pecans
1 (8 oz) ⅓ less fat cream cheese, room temp
⅓ cup sugar
1 egg
1 tsp vanilla
¼ cup light sour cream
Topping:
1 (12 oz) pkg gf chocolate chips
¼ cup shortening
Roughly chopped peanuts or pecans
Instructions
Heat oven to 350 degrees. Line an 8″ square baking pan with a double thickness of aluminum foil, extending the foil over the ends of the pan for easy removal. Spray the foil with non-stick spray.
Combine the crust ingredients in a bowl and press into the bottom of the prepared pan, ensuring all the sides and corners are pressed firmly.
Combine the unwrapped caramel and half and half in a glass bowl and microwave for 1 minute, stirring and adding 20 second intervals until you have a melted and smooth caramel sauce. Pour over the crust, sprinkle the chopped pecans evenly over caramel and refrigerate while preparing the cheesecake.
Combine the cream cheese and sugar in a bowl and beat at medium speed until creamy. Add the egg and vanilla, beating until combined. Stir in the sour cream until blended. Pour mixture over the caramel layer.
Bake 35-40 minutes or until the edges are set. Leave on cooling rack for at least two hours. Then cover loosely with plastic wrap and refrigerate at least 4 hours. (I left mine overnight this time – either way works, just know you can do that part ahead.) After the chill period, lift the cheesecake from the pan using the edges of foil. Set on cutting board and with a sharp knife, gently cut into 36 even squares (six rows across and six rows down).
Lift the bars, individually with a fork, onto a cooling rack that's been placed over a large piece of parchment paper.
Combine the chocolate chips and shortening in a medium glass bowl and microwave for 2 minutes, stir, and microwave again at 15 second intervals – stirring between – until the chocolate is melted, not hot. You need to do this slowly so you don't ruin the chocolate. When it's smooth and in a consistency to drizzle, star drizzling the chocolate over the tops of each bar and sprinkle with the peanuts (pecans).
Allow to cool completely (if you can without devouring one!). Store in the refrigerator for best results.
This post is linked to
Gluten Free Wednesdays