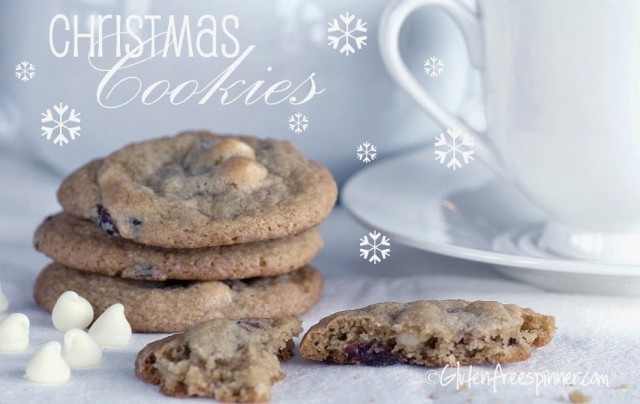 White Chocolate, Cherry, and Macadamia Nut Cookies for Christmas
These are one of our favorite cookies and they're a perfect addition to my Christmas assortment. The white chocolate chips and sweet red cherries pair with the holiday theme.  Try adding a drizzle of melted white chocolate just over the top or dip one side to add a snow capped finish.  Gorgeous.
They are crisp, moist, sweet, and tart with a nutty crunch…and if you eat one while they're still warm, the white chocolate will ooze down your chin.  Sinfully delicious.
This is just one of many I'll be sharing with you this Holiday Season…
I'm making a new recipe tomorrow…Chocolaty Caramel Yums.
XO  Mary
Makes 2 1/2 dozen cookies
Ingredients:
2 1/2 cups all purpose GF Flour (I favor Glutino Brand or see my  all purpose blend)

1/2 tsp Guar Gum or Xanthan Gum (don't add if your AP flour already has it-check ingredients)

1 tsp baking soda

1 tsp salt

1 cup butter (2 sticks)

1 1/2 cups brown sugar

2 eggs

1 tsp vanilla

1 cup chopped macadamia nuts

1 cup white chocolate chips

1 cup Montmorency Cherries

(optional) melted white chocolate chips for decorating-see note in recipe
Directions:
Preheat oven to 375 degrees.  Line two baking sheets with parchment paper.
Whisk together the GF all purpose flour, guar gum, baking soda, and salt in a medium bowl and set aside.
In a mixing bowl cream the butter, brown sugar, eggs, and vanilla until creamy and well blended.  Add the flour blend and mix thoroughly.  Fold in the macadamia nuts, white chocolate chips, and cherries until incorporated into the cookie dough.
Drop by spoonfuls onto prepared baking sheets and bake in preheated oven for 9-11 minutes.  Allow to rest for a minute then transfer to cooling rack.
Drizzle with melted white chocolate or dip half of the cookie in melted chocolate and allow to harden.