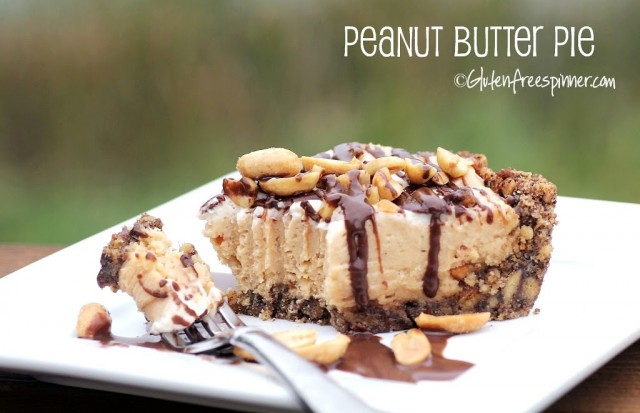 Peanut Butter Pie
This is absolutely as good as it looks and so easy.
Peanut Butter….such a simple ingredient with so many preparations. Its like the perfect food boasting 8 grams of protein in just 2 Tablespoons.
The peanut butter I used in my pie is Old Home brand 100% Natural. My neighbors, Pat and Jill, own a food distribution company and often pass along gluten free products to try (thanks guys!) and I LOVE this product! It has just two ingredients: Peanuts and sea salt. That's it, and…it…is…soooo good! It's kept in the refrigerator and doesn't separate like other natural peanut butters… just beautifully thick and creamy.
For a snack try dunking Wild Rice Works Sea Salt/Black Sesame chips in the peanut butter…they stand up to the thick rich creaminess and the two textures are amazing together. Plus, what a healthy protein-filled snack!
I chose to use creamy for my pie but you could use chunky or any of the other varieties.

So did this peanut butter enhance my pie? Well, let's just say Mr. Spinner's co-worker told him "there's no way this pie is homemade…".
Hehe…Homemade and gluten free!!

Peanut Butter Pie…Oh My! What a deliciously decadent treat. The crust is made of crushed Snicker Doodles and Chocolate Sandwich Cookies, which proved to be a great pairing with peanut butter. The filling is a creamy rich fusion of peanut butter, cream cheese, and real whipped cream. No imitation dairy topping here…just all natural smoooooothness.
A drizzle of chocolate and sprinkle of blister peanuts gives the final dazzle and "Oh My!" to this pie.


Ingredients:
Crust:
Filling:
1 – (8 oz) pkg 1/3 less fat cream cheese, softened

3/4 cup powdered sugar plus 2 Tbsp, divided

3/4 cup creamy peanut butter (all natural preferred)

2 tsp vanilla extract or paste, divided

1 cup heavy whipping cream

1/2 cup melted chocolate chips for drizzle over top

Chopped peanuts
Directions:
Preheat oven to 350 degrees, lightly spray a pie plate with non-stick spray
.
For the crust combine the crushed cookie crumbs and melter butter until well incorporated and press into the prepared pie plate up the sides and evenly on the bottom. Bake at 350 degrees for 12 minutes. Remove to cool.
Prepare the filling by blending the cream cheese, 3/4 cup powdered sugar, and peanut butter with a hand mixer until light and fluffy. Add 1 tsp vanilla and beat until combined. Set aside.

In a medium glass bowl add the heavy whipping cream, remaining 1 tsp vanilla and 2 Tbsp powdered sugar. Whip until stiff peaks form. Fold all but 1/3 cup of the whipped cream into the peanut butter mixture (the 1/3 cup is for the top), being careful to fold, not stir, to keep the fluffiness. Pour into the pie shell and smooth out the top. Add the 1/3 cup reserved whipping cream to the middle of the pie and smooth around – not to the edges. Refrigerate at least 4 hours. If you are making a day ahead, cover with plastic wrap after the 4 hours. 1/2 hour before serving drizzle melted chocolate chips over the top and sprinkle with chopped peanuts.