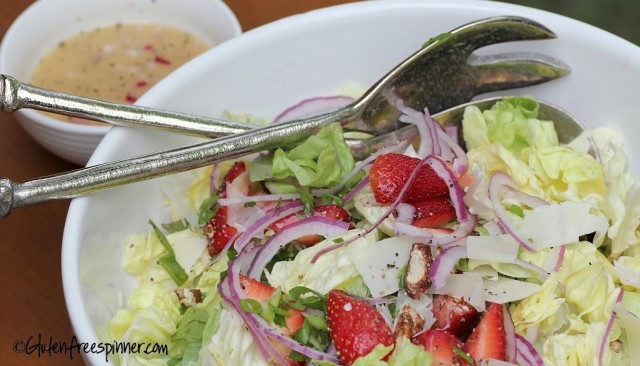 Strawberry Salad with
Strawberries are abundant right now with their sweet fruity goodness at their best. We're lucky enough to have a strawberry farm 1/2 mile down the road from our home where cars line up to pick these gems in the three week window they're available. It's an event each

summer as families join in the picking frenzy…there's just nothing like a fresh picked strawberry.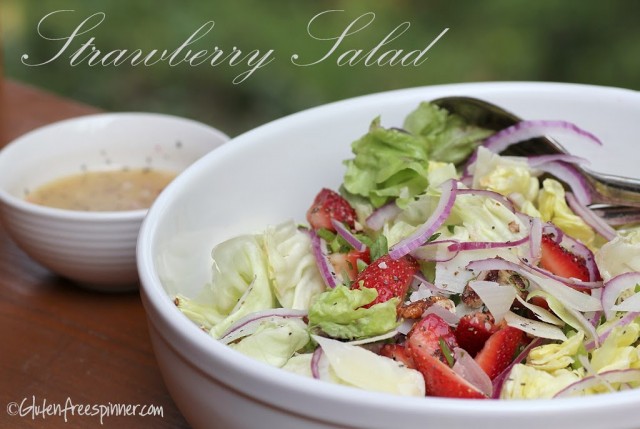 My Strawberry Salad is 'simply' delicious with just a few ingredients to feature the flavorful strawberry. Salty and nutty shaved Parmesan with zippy red onions and sweet crunchy candied pecans all in a bed of butter lettuce. The Lemon Vinaigrette is so fresh and light it might just be my new favorite spinn.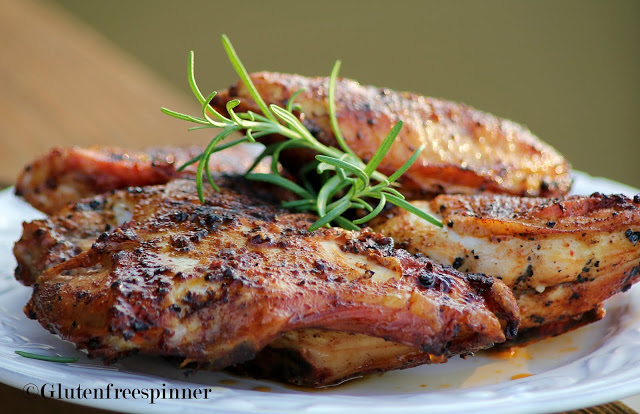 Gluten Free Spinner Rosemary Garlic Grilled Chicken
Ingredients:
Vinaigrette:
1/4 cup fresh lemon juice (Meyer Lemon if you can find them!)

1/2 orange, juiced or 3-4 Tbsp ready made orange juice

2 tsp Dijon mustard

2 Tbsp chopped red onion

1/4 tsp garlic powder

2 Tbsp honey (if using ready made OJ, start with 1 Tbsp and add as needed)

1/4 cup olive oil

Fresh black pepper

Fine sea salt to taste
Combine the first 6 ingredients and whisk in the olive oil until combined. Add salt and pepper to taste. Refrigerate until ready to use.

Salad:
Butter Lettuce (my favorite but you can use romaine too), rinsed and spun dry

1/3 cup red onion sliced into very thin rings

2 green onions, chopped on diagonal

1 1/2 cups fresh strawberries, hulled and sliced in half

Candied pecans (or walnuts) – (if using the linked recipe omit the cinnamon)

Shaved Parmesan cheese – I LOVE shaved Parmesan so I use a lot…add to your taste

Fresh black pepper
Place the butter lettuce in a large salad bowl and top with the remaining ingredients…I like to scatter the ingredients in layers across the top to showcase all. Lightly toss and add dressing a few Tbsp at a time until desired coating. Top with fresh black pepper and serve the dressing on the side for those who want more. It's sooooo good. Refrigerate leftover dressing.