I enjoyed a donut today for the first time in over four years.
YUM!
So it's not like I ate donuts all the time prior to living gluten free, but there's something about not being able to have something that makes you want it even more!
(Reminds me of the commercial where the little girl explains "more")
I want more…which makes me want more!
A simple donut…without gluten and without the fat from frying.
I'm not going to call them "fonuts" which are fake donuts, because they deserve to be called

a donut…they're just 'skinnier' than their full-fat relative.

These lovelies have ingredients that spell yum…coconut flour, coconut milk, vanilla beans, vanilla Greek yogurt, and macadamia nuts.
I was making my Vanilla Bean and Macadamia Nut

L

ayer Cake (to be posted soon) when I decided to try making a few donuts at the same time. I bought a Wilton Donut Pan last Fall with the intent of making them but never got to it. What a cool little pan. It's like making muffins only it's more shallow with a curved cup and an inverted thingy to make the hole.
It's a little more tedious filling them, but I thought it was fun.
I mean…a donut…seriously? I was excited.

So I topped them simply with my Vanilla Bean Coconut Milk Frosting and a few macadamia nuts. Then I tried adding a little more frosting on a few with flaked coconut and macadamia nuts. Mmmmm,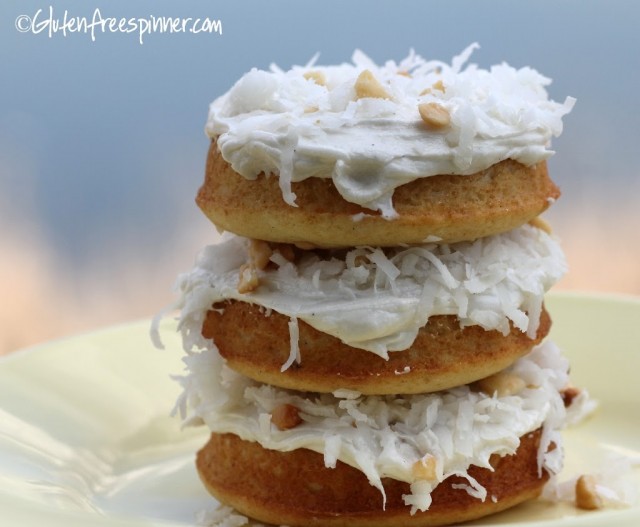 Reeeeally good.
I had to start giving them away…
Because
I ate a whole bunch of them.
Today I made "Diet Soup".
XO Mary



Macadamia Vanilla Bean Donuts
Makes 2

0

-24 standard sized donuts
1 (14 oz) can unsweetened coconut milk

1 vanilla bean, cut and seeds removed (you can also use 1 Tbsp vanilla bean paste)

1 1/2 cups AP gluten free flour (if Xanthan Gum or Guar Gum isn't in your AP mixture add 1/2 tsp of either one)

1/4 cup coconut flour

1/4 cup ground macadamia nuts (ground not chopped)

2 1/4 tsp baking powder

1/2 tsp salt

3/4 cup softened butter

1 1/3 cup sugar

3 eggs

1/3 cup Greek Vanilla Yogurt
In a medium saucepan add the coconut milk, vanilla bean seeds, and the bean itself (adds flavor). Heat over medium heat, stirring often. Don't boil, let it gently simmer until reduced to about 1 1/2 cups. Pour through a mesh strainer into a measuring cup to remove any of the pieces of the bean. Set aside.
Preheat oven to 375 degrees.
In a medium bowl combine with a whisk the AP flour, coconut flour, ground macadamia nuts, baking powder, and salt. Set aside.
In a glass mixing bowl cream together the butter, sugar, and eggs, beating for three minutes until smooth and fluffy. Add the 1/3 cup vanilla Greek yogurt and beat 30 seconds until combined.
Add just 3/4 cup of the coconut milk mixture (reserving the rest for the frosting) alternately with the flour mixture just until all is blended.
Spray the donut cups with non-stick spray and fill to the top of each (the batter is thick so you'll need to spoon it in and smooth out to fill the cups.) Bake for 13-15 minutes in preheated 375 degree oven until puffed up and cake bounces back at the touch. The donuts will be lightly browned on top.
Allow to cool for 3-4 minutes then invert onto a cooling rack to cool completely. If the cake has filled in some of the middle hole, just use a small paring knife to cut around the hole (it's a yummy little taste of the cake too).
When completely cool, frost with the Vanilla Bean Coconut Milk Buttercream Frosting (below) and top with macadamia nut and flaked coconut.
Vanilla Bean Coconut Milk Buttercream Frosting
1 1/2 stick butter (3/4 cup)

1/4 tsp salt

3 1/2 – 4 cups confectioners sugar

Remaining coconut vanilla milk (3/4 cup)

Flaked coconut and/or macadamia nuts for topping
Beat the butter and salt until fluffy. Add 2 cups confectioners sugar and 1/2 cup coconut milk and blend until smooth. Continue adding the sugar and milk until the desired consistency is reached. You many not use all the milk or sugar. Taste for preference.
For a smooth donut top…microwave 1/2 cup at a time for just 10 seconds to make the frosting dip-able. Then dip and spin the donut in the frosting to coat the top (be gently, the cake is moist!). Top immediately with desired topping.
For thicker frosted donut…smooth on the donut with a knife and add desired topping.