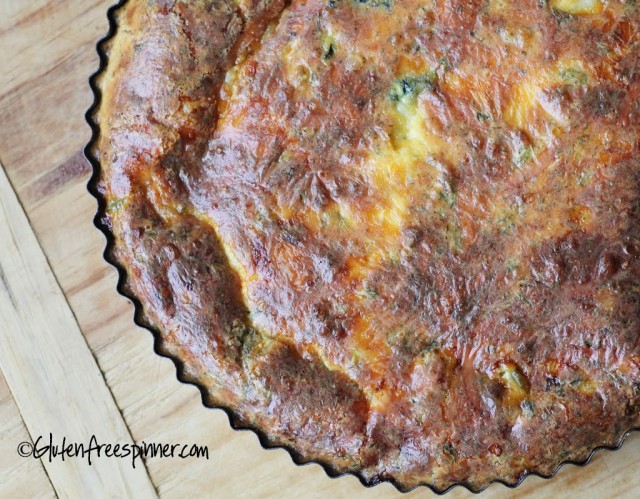 Three Cheese Spinach and Dill Quiche
A cheesy savory quiche to serve for brunch, lunch, or dinner.
The flavors are incredibly robust with garlic, dill, Gruyere, Parmesan, and Cheddar-Jack cheeses.

Canadian bacon adds a nice smo

kiness while the spinach peeks through the creamy layers adding wonderful color and flavor to the entire dish.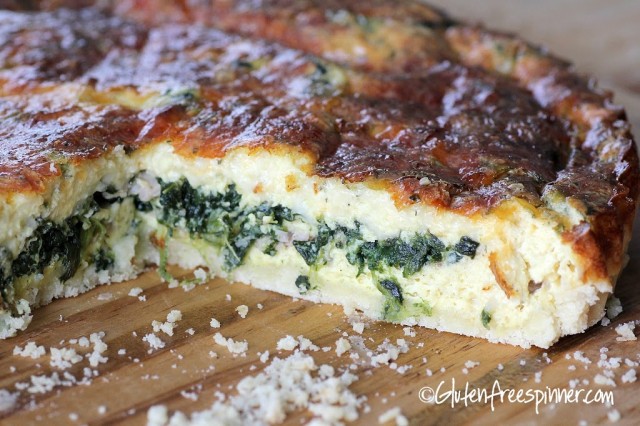 The crust comes together easily in your food processor. Just transfer the crumbled dough directly into the prepared quiche pan and press into place. No kneading

or rolling out.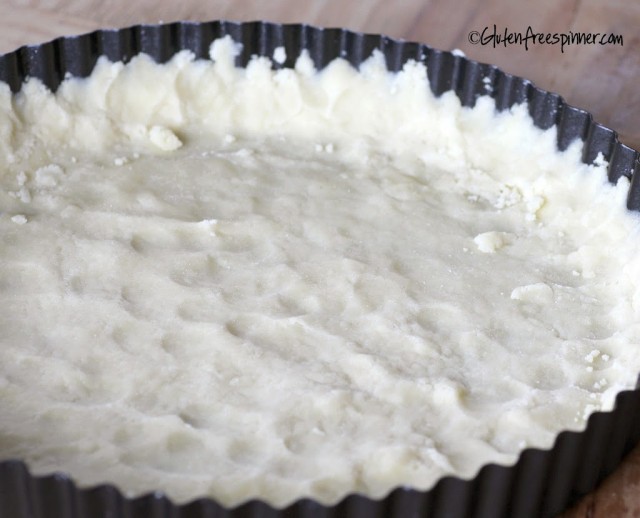 If serving at a gathering you'll satisfy 6-8 people with this recipe, just add fresh fruit on the side and you'll wow them with flavor. If just two of you are enjoying a slice, it stores well and can be refrigerated for up to a week as you enjoy single pieces each day with a quick zap in the microwave or warmed in a 325 degree oven.
Ingredients:
Crust:
1 1/4 cups all purpose gluten free flour – (I like Glutino APGF flour blend or use my GFAP blend)

Pinch of salt

5 Tbsp cold butter cut into cubes

3 Tbsp Crisco butter flavored shortening

1 egg, beaten
Directions:
Pulse the flour, salt, butter, and shortening in food processor until small pea like crumbles form. Add the beaten egg and blend until totally combined into the dough. Pour into a 10″ quiche pan/tart shell pan that has been sprayed with non-stick spray. Press into place creating a crust in the pan, going up the sides…but not all the way (see picture above). It's that easy!
Quiche:
Preheat oven to 350 degrees
1 Tbsp olive oil

1 Tbsp butter

1/2 small red onion, finely chopped (about 1/4 cup)

1-2 large cloves of garlic, minced

1/4 cup diced Canadian bacon

1 pkg (10 oz) frozen chopped organic spinach, thawed in microwave and drained in fine mesh strainer – make sure all moisture is removed

½ tsp sea salt

½ tsp pepper

1 cup shredded Gruyere or Swiss cheese

1/4 cup freshly shredded cheddar-jack cheese

6 eggs

1 – 12 oz can lowfat 2% evaporated milk

½ cup freshly grated Parmesan cheese

1/4 cup chopped green onions

1 Tbsp Dijon mustard

1 tsp dill weed
Heat the olive oil and butter in sauté pan over medium heat. Add the onions, garlic and Canadian bacon and sauté for 2 minutes. Add the drained spinach, salt and pepper and sauté another 2-3 minutes. Pour over the prepared crust and distribute evenly.
Sprinkle the Gruyere cheese and Cheddar-jack over top of spinach mixture in pie plate.
In a large glass bowl, combine the eggs, milk, Parmesan, green onions, Dijon and dill with a wire whisk until well blended. Pour over top of cheeses, it will be full. (I had about 2 Tbsp that didn't fit). If worried about spill-over, place the quiche pan on top of a baking sheet.
Bake in 350 degree oven for 50-60 minutes until golden brown and the center is puffed up and set. Be sure not to take out too soon as the sides will look done but the middle might not. If the top gets too brown before the center is set, reduce oven to 325.
Allow to cool 8-10 minutes before serving.