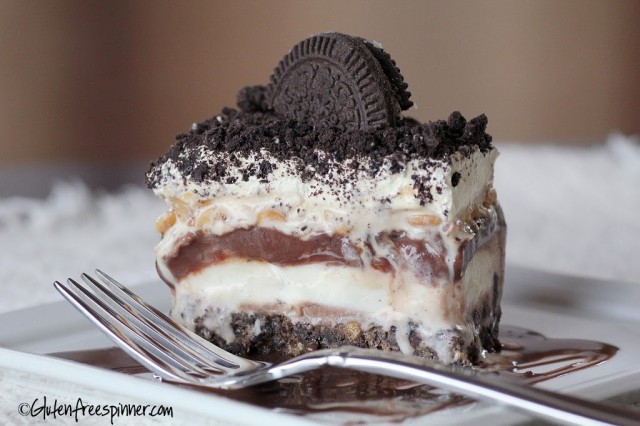 Ice Cream Cake
Birthdays….oh happy birthdays!
We celebrate birthday's with the glory they deserve…a very special day celebrating the birth of that very special person. They get to be the "Star of the Day".
The Star of this day is my Brother.
While growing up my older brother was my idol, my protector, the one person I knew would always be there. He had a tough role in our family as the 'man' of our household with five of us kids and my mom. It wasn't expected of him, but he took on the role just the same.
My brother and I were buddies from the start. He's two years older than I and we just 'got' each other. Some of my favorite memories are ones only he and I would remember. Like the time he woke me in the middle of the night to 'hang' with him after he had gone to the movies to see "The Exorcist". The original Exorcist…1973….(just writing those words felt scarey!!) He quietly came into my room and asked if I'd sit up with him because the movie

had freaked him out so bad he couldn't sleep. We made a pact that night that I wouldn't tell anyone, afterall you can't be a 14 year old guy and be afraid of a movie, right? (Oh my…I'm still afraid of that movie!) We sat up at 2:00 in the morning talking and waiting for the sun to rise. The comfort of a sister and brother….knowing it was ok to confide in each other…the secret was ours.
He was also my protector. In 7th grade a girl beat me up on the way home from the shopping mall. She was two years older than I and ran with a tough crowd. When I came home crying with my clothes tastled and torn, my brother was the first one to see me. He asked if I was ok, which I was, just shaken, and wanted to know who did it. I knew the girls name and told him. Without hesitation he flew out of the house, hopped on his bike and wasn't home for hours.
When he came back he simply said, "she'll never bother you again."
My brother was (is) a gentle man…not into fighting or acting the tough guy. Just a really nice guy with a huge heart. He never told me what he had said to her, but she never bothered me again.
Funny the things we remember.
Siblings…whether you have one or ten…there's a special relationship just because you are family. Even if you don't get along…even if you're miles apart in thoughts and beliefs, you're still family…still each others sibling. I never understood how family members would get into an argument and not talk for years…until it happened to me with one of my other siblings. It took years, but we finally reconnected and 'chose' to let the bad stuff go. We would never agree on who was right or wrong, and it didn't matter anymore. We just knew we were family and there was a void without each other. Life is too short to hold negative hurtful feelings. A tremendous weight lifted once we moved beyond the hurt and I made note to resist any future altercations. It's a choice you know…just build boundaries if needed…and avoid those sensitive areas. It also comes with age, with choosing your battles.
It certainly isn't easy, but it's worth the peace that follows.
Mr. Spinner has a very wise saying, one he also learned later in life. Before you do or say something, always ask yourself, "what's the benefit?" You'll be surprised how many times you bite your tongue…regardless if it's the truth and the person deserves to hear it. Be sure you know the possible reaction to and the outcome of.
On the other hand, if it's beneficial, fire away! (I'm Kidding!!)
Just be aware of the repercussions.
I'm lucky to share a close relationship with my brother, it's one that flows easily. If ever a hiccup, we talk about it openly, listen, and respect each other's point. Not that we always agree, but we care enough to allow each other to be different. We also just happen to like each other…which helps. You can't make that up and you can't make it happen.
Fortunately his traveling schedule brought him in Minnesota this year for his birthday. Our tradition has always been the birthday person's choice for dinner and dessert. When asked what his choice for dessert was, he replied "That ice cream cake you made me years ago with the cookies and fudge." Uh..Oh….where do I start looking for that recipe? Be assured I figured it out with a combination of old and new, making it gluten free as well this time.
He said it was better than he remembered.
Hoooray!
This Ice Cream Cake takes time and must be made a day ahead. The frosting is an added touch that gives the dessert a sweet light finish. Don't skimp on the fudge sauce by using store bought as it might not harden. Also, don't skimp on the ice cream…Haagen-dazs is one of the best and it truly makes a difference.
Happy Birthday Big Brother….
~~ Mare ~~
Ice Cream Cake
2 packages midel chocolate sandwich cookies, crushed

(reserve 1/2 cup for top)

1 stick butter (1/2 cup), melted

1/3 cup sugar

1 Pint

Ha

agen-Dazs chocolate ice cream, softened
1 Pint Haagen-Dazs vanilla bean ice cream, softened
1 Pint Dulce de Luche ice cream softened
1 cup spanish peanuts
Fudge Sauce
2 cups powdered sugar
2/3 cup semisweet chocolate chips
12 oz can evaporated milk
1 stick butter (1/2 cup)
1 tsp vanilla extract
Frosting:
1 (12 oz) container whipped buttercream frosting (Betty Crocker)
1 (8 oz) container cool whip
Directions:
Mix together the crushed cookies (minus reserved 1/2 cup), butter, and sugar and press firmly into 13×9 pan. Place in freezer for 15 minutes.
Spread the crust with the Chocolate ice cream, smoothing over all. Top with the vanilla bean ice cream and smooth over all. (I found it worked best to put the softened ice cream in a separate bowl and stir with a rubber spatula to make it easier to spread.)
Make the Fudge Sauce. Combine the powdered sugar, chocolate chips, evaporated milk, and butter in a sauce pan and bring to boil over medium heat. Continue to soft boil for 8 minutes, stirring and not allowing to burn. You must have at a slow boil for the 8 minutes for it to harden on cake.

Remove from the heat and stir in vanilla. Cool to room temp.
Spoon the fudge sauce over the top of ice cream and evenly smooth out. Sprinkle the Spanish Peanuts over the fudge. Gently

s

pread the remaining pint of ice cream, Dulce

de Luche, over the nuts and smooth. Freeze while you make the frosting.
Blend the cool whip and frosting together until smooth and spread over the top of the final ice cream layer. Cover the whole c

ake. Sprinkle the top with the remaining crushed cookies and

freeze another 3 hours or overnight.
Take out 15 minutes b

efore serving.