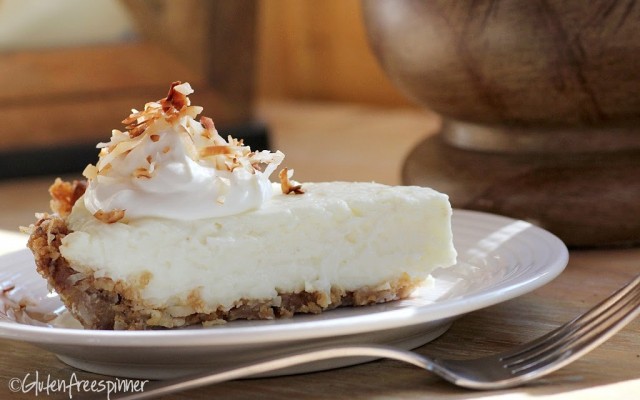 Summer fun has been claiming my time lately as we enjoy our newly built cabin. We spent most of last summer working on the sale of our previous cabin and finalizing the plans for our new which is when the real work started.

Although the majority of the building process was through our builder and contractors, it was the painting, staining, tiling, sanding, etc that kept us on our toes to save money wherever we could. So this year the rewards are many as we spend time with family and friends enjoying our little slice of heaven in Minnesota's Northwoods.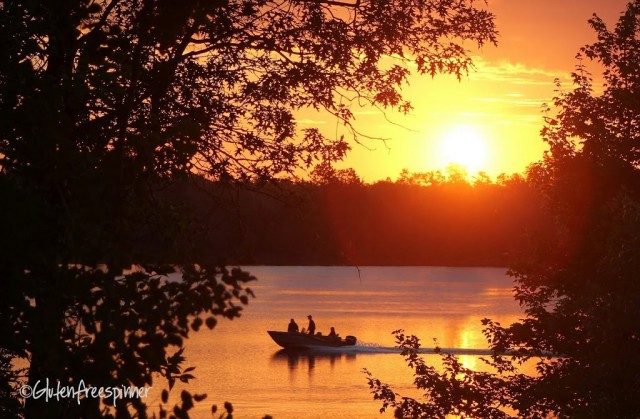 Many mornings you'll find me perched on the deck stairs with camera in hand waiting for the sun to rise…it's my favorite time of day. This particular morning a fishing boat happened to cruise by at just the right time. I was giddy as I focused my lens at this timely opportunity. It was beautiful.
So amidst the fun of boating and sunshine we also love to eat…oh yes, we plan meals and menu's to fit every taste and preference. And of course everyone eats gluten free…whether they know it or not, because that's how we roll.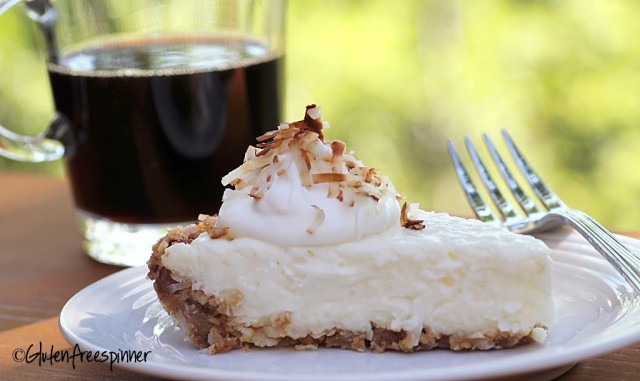 Light refreshing desserts are always welcomed at the cabin and coconut cream pie is a new addition. This was my first attempt and it was truly scrumptious! Creamy and rich yet light and fluffy with the purely simple flavors of coconut and vanilla. The crust adds a gentle crunch…but not too much as this pie demands smooooth.

Having never made a coconut cream pie from scratch before I was thrilled to learn how easy it is to make. Most of the recipes I viewed had the same basic ingredients and I chose this recipe as my guide, altering the ingredients a bit while also making a gluten free crust. In my recipe I found that toasting the coconut before adding to the crust makes for a much better texture. It's a winner…tempting me to eat half the pie, so Mr. Spinner and I hopped on our Rzr ATV and started delivering pieces of pie to the neighbors. As we rounded the corners of each gravel driveway they could hear us coming with sweet treasures in hand. It's been a constant…Mr. Spinner and I delivering goodies to our new neighbors. For me…half the fun of baking and cooking is sharing my creations with those we love.

Cheers….to you and yours…share a little coconut cream pie.
XO Mary
Preheat oven to 350 degrees
20 Midel gluten free ginger snap cookies

4 GF shortbread cookies (I used Amy's pecan shortbread)

1/4 cup toasted coconut (easily toast the coconut in a shallow pan on medium heat – watch closely so as not to burn – toast the topping coconut at same time)

5 Tbsp melted butter
Spray a 9″ pie plate with non-stick spray.
Pound or grind the ginger snap and shortbread cookies until a fine crumb. Add the toasted coconut and melted butter and mix together. Press into bottom and up sides of a 9″ pie plate. Bake at 350 for 10 minutes and remove to cool.
Pie:
3 cups half and half

2 large eggs, beaten

1/2 cup sugar

1/3 cup cornstarch

1 1/2 tsp vanilla (I use clear)

2 Tbsp butter

1 cup sweetened shredded coconut
1/2 cup shredded coconut, toasted

Fresh whipped cream sweetened with vanilla
Add the half and half, beaten eggs, sugar, cornstarch, and vanilla to a medium saucepan, whisking well to combine. Turn heat to medium and bring to a simmer, whisking continuously as it thickens. As it becomes the consistency of pudding, remove from the heat and stir in the 2 Tbsp of butter and 1 cup coconut.
Pour into the cooled pie shell and refrigerate at least 2 hours or until set. Serve with whipped cream and toasted coconut.