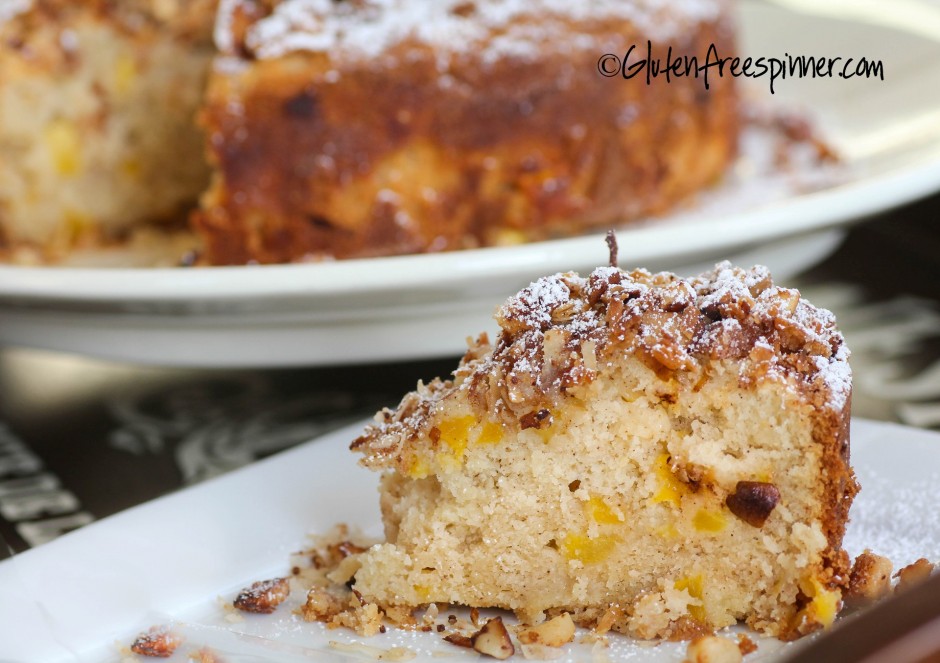 Mango Cake with Coconut Macadamia Topping
Happy Easter!  Happy Spring!   And happy days ahead of warm sunshine.
This new recipe was inspired by my trip to Punta Cana and the Mango Sorbet I had nightly.  I love mango.  It's sweet but not too, its tropical, and it tastes like sunshine.  Why not add it to a cake?
The result is a cake that's gently sweet, moist, and rises to a beautiful height of fluffy joy.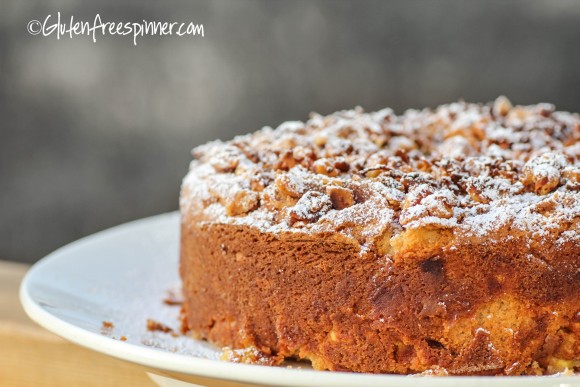 The topping adds a little crunch…a streusel kind of crunch….with the sweetness of toasted coconut.
Add a dusting of powdered sugar for a dressy presentation.  Perfectly divine for the Holiest Day of the Year….Easter.
Enjoy!

Mango Cake with Coconut Macadamia Topping
Author:
Gluten Free Spinner
Recipe type:
Cake, Breads and Muffins
Ingredients
1½ cups sugar
½ cup softened butter
1 Tbsp vanilla bean paste (or 1 tsp vanilla extract)
8 ounces ⅓ less fat cream cheese, softened
2 large eggs
1½ cups Glutino all-purpose flour(or your fav. APGF flour)
1½ teaspoons baking powder
¼ teaspoon salt
3 cups peeled, chopped ripe mangoes (about 4 mangoes)
Spice mixture: ⅓ cup sugar, 1½ tsp cinnamon, ½ tsp allspice
Cooking spray
Macadamia Steusel Topping
⅓ cup chopped Macadamia nuts
2 Tbsp brown sugar
¼ cup flaked coconut
Instructions
Lightly toast the coconut in a small pan over medium heat. Set aside.
Preheat oven to 350°.
Prepare an 8-inch springform pan by coating with gf cooking spray
Beat 1½ cups sugar, butter, vanilla, and cream cheese at medium speed of a mixer until well-blended (about 2 minutes).
Add eggs, 1 at a time, beating well after each addition.
Combine flour, baking powder, and salt. Add flour mixture to creamed mixture, beating at low speed until blended. (Make sure your AP flour has xanthan gum, guar gum or acacia gum)
Combine spice mixture in a small bowl: ⅓ cup sugar, cinnamon and allspice.
Sprinkle 2 tablespoons of the spice mixture over the mangos in a bowl until all are coated. Stir the mango mixture into the batter.
Sprinkle 2 tsp of the spice mixture into the prepared pan that has been sprayed with non-stick spray...shake around to cling to the sides of pan (it won't be enough to coat all...but that's all you need).
Pour the batter into the pan and smooth evenly. Sprinkle the top with remaining spice mixture.
Make the streusel topping by combining the toasted coconut, macadamia nuts, and brown sugar.
Sprinke streusel over the top of cake.
Bake at 350° for 60-70 minutes or until the cake pulls away from the sides of the pan and toothpick comes out clean. If the streusel topping looks like it's getting too brown, (mine did) cover loosely with a piece of foil.
Cool the cake completely on a wire rack. Remove the sides of pan and sprinkle the top with a dusting of powdered sugar.
Cut using a serrated knife.
Serve as is or with a scoop of vanilla bean ice cream or whipping cream.
Note: You can also make this cake in a 9-inch square cake pan or a 9-inch springform pan; just reduce the cooking time by 5-10 minutes.