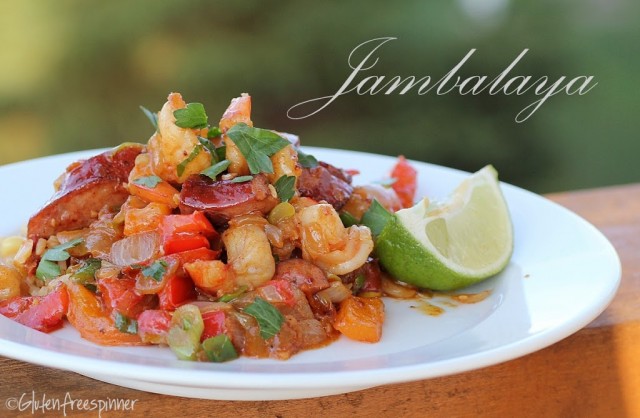 I'm excited to share this recipe with you today…it's a constant go-to during the week because it's so easy and loaded with flavor.
Every time we make this recipe we say, "now that's an entertaining meal!" however we've yet to make it for company. I guess because it's so easy… seems effortless…and it seems we

want to make something 'special' for company…but let me tell you, this is special.
I'm not a sausage fan by any means, I always pick it out…but I've learned sausage adds so much flavor to whatever you add it to. This particular sausage is one I actually eat, it's lean and boingerless, and in my opinion nothing compares to the flavor it adds to this Jambalaya. Oh, and it's labeled "gluten free". Klement's Spicy Andouille Sausage.
During a crazy week last fall I didn't plan meals and was tired and cranky; what to make for dinner. It can be a daunting chore, yes? In the frig was this spicy Andouille Sausage that I bought to make chili for Mr. Spinner and his crew heading for 'Deer Camp'. Again, since I'm not a sausage fan, I pulled shrimp from the freezer figuring Sausage, Shrimp, and rice. Done. Easy. We'll both be happy. And oh were we happy!
The recipe has evolved since then…I add peppers, onions, and even a little wine…but it's still easy and we fight over the leftovers (I always let him win – he loves it). One of the unique details of this recipe is the way we cut our shrimp. We halve them – long ways. This was Mr. Spinner's ingenious idea, and we do this all the time now with our shrimp…even in pasta dishes. We just like the texture better…keep them whole if you prefer, it won't affect the recipe.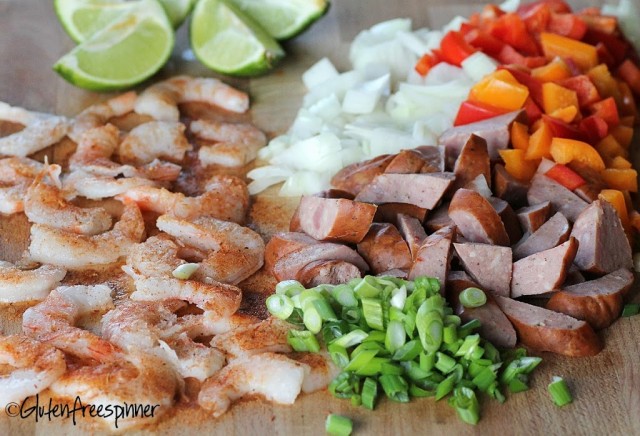 I've made this recipe with both Mexican boxed rice and kicked-up ready brown rice made with black-eyed peas and tomatoes…both work well and keep things easy. I've used cooked shrimp and raw shrimp…whatever I have on hand…and both were perfectly delicious. No rules here…use the seasonings you have on hand if you don't have the ones I've listed…just keep it easy and know it's going to be one of your favorites too.
Serves 3-4 depending on appetite!
Olive oil

1 (14 oz) pkg Klement's Spicy Andouille Sausage, cut into wheels then in half

8 oz frozen 31-40 count shrimp, peeled, deveined, no tails, and thawed (add more to your liking)

McCormick's Perfect Pinch Cajun seasoning (or your favorite GF cajun spice)

1 1/2 cups large chop sweet onion

1 1/2 cups large chop bell peppers (orange, red, green – combination of your choice)

1/4 cup White Wine

1/2 cup chopped green onions

Emeril Original Essence

1 Tbsp Butter

Limes

Chopped cilantro

Mexican Rice (Nueva Cocina Mexian Rice is reeeeally good and gluten free)
First make the rice according to the package so it's ready when the Jambalaya is done. I also add frozen corn to the rice before cooking. Set aside.
Prepare the shrimp: Whether using raw or cooked, cut the peeled deveined shrimp with tails removed, down the back lengthwise. Lay them out flat (see pic) and sprinkle with the Cajun seasoning…not too much.
Heat a large skillet with olive oil and add the cut Andouille sausage. Cook until the sausages start to lightly brown (4-5 minutes) then add the onions and peppers. Saute until the onions start to become tender but the peppers are still crisp. Add the prepared shrimp and toss in pan to combine with the sausage and peppers while they cook. They will cook very quickly like 1-2 minutes (whether raw or cooked) when the raw shrimp starts turning pink, they are done…the cooked shrimp just needs to be warmed.
Add the white wine and shimmy the pan to incorporate it into the dish, cooking just a minute or two. Sprinkle the green onions over all and a light sprinkle of Emeril Essence. Add the 1 Tbsp of butter and turn heat off. Shimmy the pan again to incorporate the butter into the sauce.
Serve over Mexican rice and squeeze fresh limes over all. Sprinkle with chopped Cilantro.