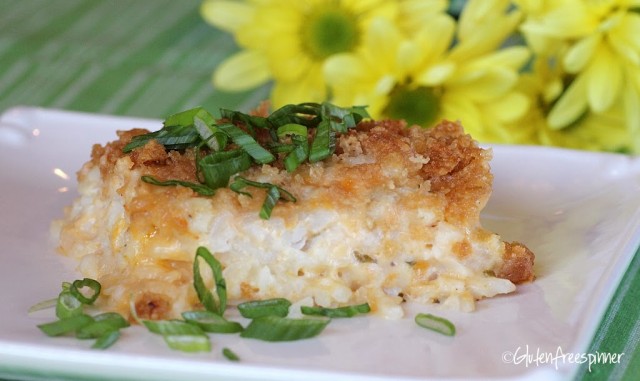 Cheesy Potatoes with Crispy Topping
I promised to post my Cheesy Potatoes today as I make them every holiday and didn't realize I hadn't shared them on Gluten Free Spinner. Easy, cheesy, crispy, yummy, goodness…and it's a no-fail recipe. This year I made a double batch so I could send leftovers with the kids, there's nothing like leftover's for work the following day.
What makes these cheesy potatoes so good is the creaminess of the potatoes and the crispy golden brown topping. One of the ingredients that contributes to the creaminess is the Pacific Brand Organic Cream of Chicken Soup – which is
a savory blend of roasted chicken, crème fraiche and garlic…and it's gluten free. The soup adds both flavor and substance to the potatoes and makes preparation so easy. You can find it at Whole Foods , your local Coop, or other markets offering gluten free products.
The topping is simply crushed Gluten Free Rice Chex, Parmesan, and butter…it adds so much to the entire dish. When the timer buzzed and the cheese was bubbling through the light golden brown topping, I went to pull the pans out of the oven and my daughter stopped me to say, "wait…put it under the broiler for a few minutes…I love when it gets super crunchy". And super crunchy it was…super-yum.
Don't wait for a holiday to make these cheesy potatoes, they're simple and consistently delicious.
1 (30 oz) bag Mr. Dell's Shredded Hashbrowns, thawed

1 1/2 cups shredded cheddar cheese

1/2 cup shredded Swiss cheese

1 medium onion, chopped and sautéed until tender in 1 Tbsp olive oil

1 (12 oz) container Pacific brand Organic Cream of Chicken soup (condensed)

1 (16 oz) container Daisy Light Sour Cream

1/3

cup melted butter
1/4

cup half and half or milk

2 Tbsp fresh chopped chives or green onions

1 tsp garlic powder

1 tsp onion powder

Salt and pepper to taste
Preheat oven to 350 degrees. Prepare a 13×9 baking dish with non-stick spray.
Mix the hashbrowns and cheese together in a very large bowl. Saute the chopped onion in olive oil until the onion is transparent then pour into a medium sized bowl with the soup, sour cream, butter,

half and half

(milk), chives (green onion), garlic powder, onion powder, and salt and pepper and mix until creamy. Pour over the hashbrowns and cheese mixture. Mix together until all ingredients are combined.
Pour into the prepared baking dish and evenly distribute in the pan. Make the topping:
Topping:
2 cups gluten free General Mills Rice Chex, crushed

¼ cup melted butter

¼ cup grated parmesan cheese
Combine the topping ingredients ensuring the melted butter is blended with all the crushed cereal and parmesan. Sprinkle over top of potatoes. Cover with foil and bake in 350 degree oven for 45 minutes, then uncover and bake another 30 minutes or until bubbly and brown on top. You can also broil the topping for a few minutes just before removing from oven.