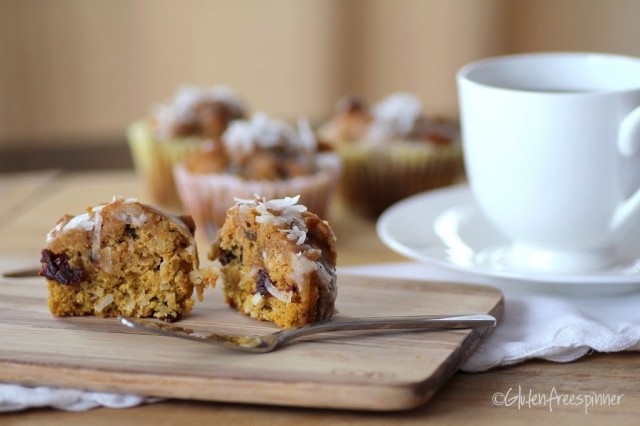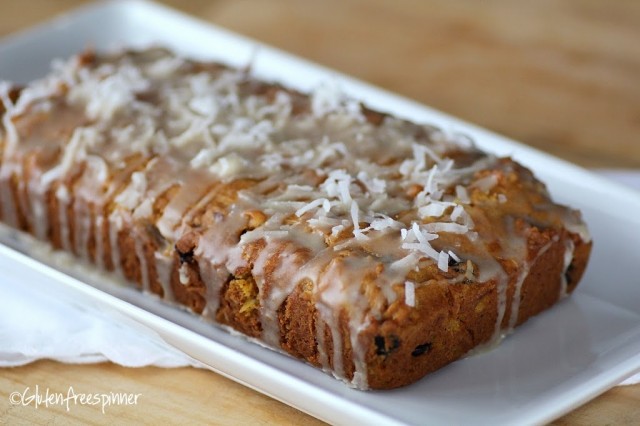 Pumpkin Sunrise Muffins and Bread
One recipe, two results. I made both muffins and a bread from this recipe and sent the loaf to the office with Mr. Spinner…which was also a way to refrain from eating an entire batch of muffins! Both were equally moist and delicious.
This recipe boasts a moist and flavorful cake inside with a combination of tart-sweet cherries, sweet coconut flakes, cinnamon, cloves, allspice and coconut milk then are drizzled with an easy maple coconut glaze.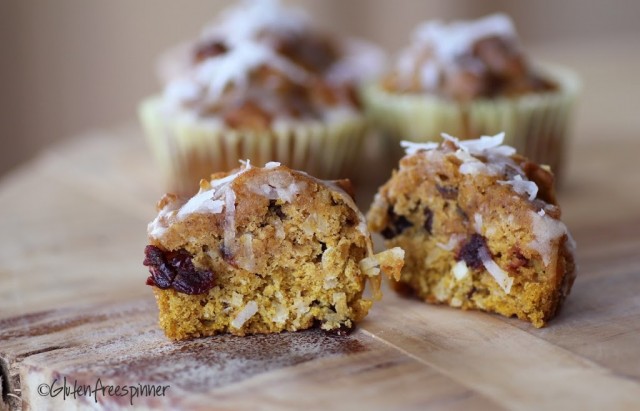 Make 18-24 muffins, two loaves, or a combination of the two. Then grab a cup of coffee and snuggle into your favorite chair while you watch the sunrise.
It's a *sweet* way to start your day.
½ cup butter, softened

¾ cups white sugar

½ cup brown sugar

2 large eggs

1 cup pumpkin puree

1 ¾ cup GF all purpose flour

1 tsp baking soda

1 tsp baking powder

1 tsp cinnamon

½ tsp ground cloves

¼ tsp allspice

½ tsp salt

¼ cup coconut milk

½ tsp vanilla extract

1 cup flaked coconut

½ cup dried cherries roughly chopped

¼ cup chopped pecans or walnuts
2 cups confectioners' sugar

¼ cup coconut milk

½ cup 100% maple syrup

1 tsp vanilla extract
8 ½ x 4 ½ loaf pan sprayed with non stick spray for 23-25 minutes
12 count muffin tin lined with cupcake papers for 21-23 minutes
Cream together the butter, sugars, eggs, and pumpkin until blended, set aside. In a separate bowl, combine the dry ingredients with a whisk (flour through salt) ensuring all ingredients are blended.
Gradually add ½ of the flour mixture to the pumpkin mixture and blend on low, next add the coconut milk and vanilla and blend on low. Add the remaining flour mixture and blend just until combined.
Stir in the coconut, cherries, and pecans. With an ice cream scoop fill the muffin cups. Next, pour the remaining batter into the prepared loaf pan. Bake both pans in a preheated 350 degree oven. The muffins will cook a little faster…but not much since the loaf isn't a traditional thick loaf.
Loaf: 23-25 minutes (be sure to adjust time if you only make the loaf as it will be a heavier –thicker loaf)
Invert the loaf onto a cooling rack and allow both the muffins and loaf to cool.
Combine the icing ingredients and drizzle over cooled muffins and loaf. Top with shredded coconut.