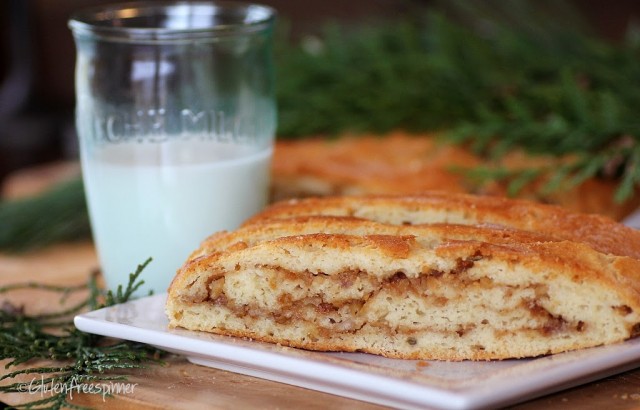 One of my goals this holiday season was to convert a family recipe called "potica" to gluten free and have it taste like the original.
Potica, (pronounced Po-tee-sa) is a Polish sweet bread with walnut filling that is rolled in layers so when it's cut you have pinwheel-like slices.
The traditional loaf is beautiful, but
the recipe I'm trying to convert was handed down from my childrens' grandmother (on their paternal side) who
made very large loaves that were rolled much looser resulting in just two rows of filling. It was amazing, and although the filling is what everyone talked about, it was her sweetbread dough that made her potica so special and delicious.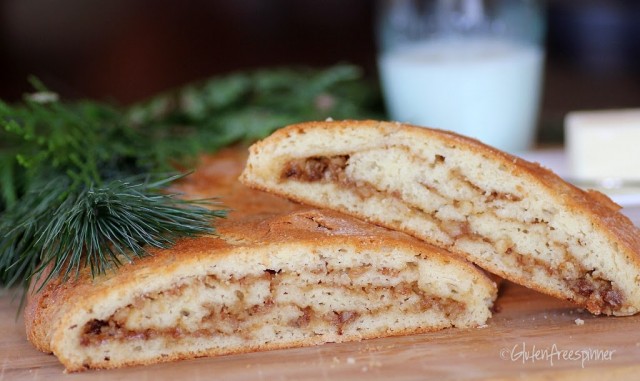 Her name was "Dilly" and she made anywhere from 20-30 loaves of this sweetbread every holiday so each family could take a loaf home. She graciously shared her recipe with anyone who asked, giving lessons and tips on how to make it just like hers. But no matter the
attempts by anyone who tried, it never measured up, and that's what makes her Potica so special, so remembered, and so anticipated each holiday.
It's been two years since I've made Potica…two years of living gluten free, and this year Potica will be on our Christmas table, thanks to a sweetbread dough recipe I found on the The Baking Beauties website. If you aren't familiar with The Baking Beauties, head over and take a look a the amazing GF baked goods you never knew possible! The recipe I used for the dough of my sweetbread was their Best Cinnamon Buns , I could tell by the look of the buns that the dough would work perfectly in my Potica. But this wasn't my first attempt. I tried another recipe for a sweetened bread, but it didn't have the dough-like texture or rise, and my Potica came out like a flat coffee cake instead of bread. It also wasn't sweet enough – the dough has to be a sweet dough, and that's when I decided to try the dough recipe for the cinnamon buns. I liked the flour mixture for this recipe,
The Baking Beauties use a combination of
superfine brown rice flour, potato starch, and tapioca starch. Go take a look, it's a great go-to mixture.
The cinnamon bun dough is nicely sweetened by adding vanilla instant pudding mix to the flour mixture. What a great idea. It gave just the right amount of sweetness with a hint of vanilla. Yum! I did use about 1/4 cup more flour when I rolled it out, but it was exciting to have a GF dough act like a glutenous dough where I could spread the filling on! The dough is delicate, as is all GF dough, but just work with it and be gentle, it's so worth it.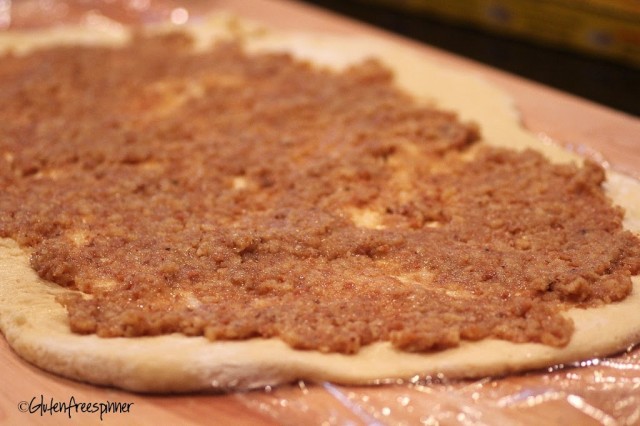 Now about my filling for the Potica. Well, it's not my filling, it's Dilly's filling. But it's different in the sense that the traditional calls for graham crackers so you need to use GF graham crackers or an equal cookie type cracker. I used the Mi-Del Gluten Free Gingerbread Men for the graham crackers because it's what I had. The filling is wonderful with a little hint of ginger and the cookies are similar in texture to the GF graham crackers. The crackers are ground then combined with ground walnuts, butter, sugar, and heavy sweet cream…it's so good and definitely grabs you after the first bite. I remember waiting for the Potica to be sliced, then watching as everyone "picked" through the slices looking for the one with the most filling! Hahaha, she finally started doubling the filling in every loaf.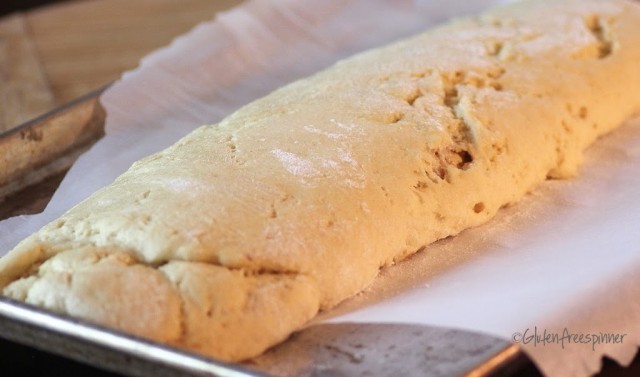 My Holiday Potica is a success, the bread is sweet and the filling as I remember. I can't wait to slice it on Christmas Day and see the kids' faces when I actually enjoy a slice with them again. Mmmm, food traditions are such a big part of the holiday, yes?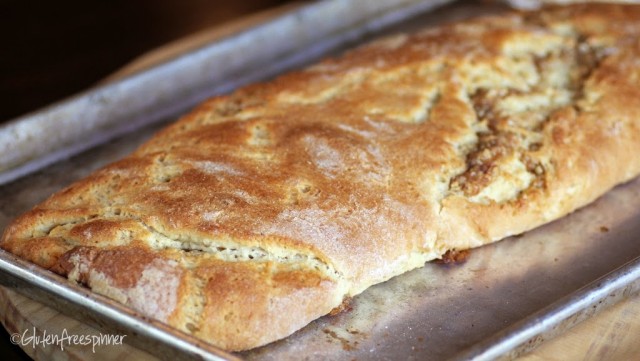 You can make this ahead of time and wrap the cooled loaves in plastic wrap, then wrap in foil and freeze until ready to use. I'll be making a few more loaves, not quite 20-30, but maybe 2 or 3, can't wait for tomorrow morning with a cup of coffee…sweet-sweet holiday!
Here's to Dilly and her amazing Potica Holiday Bread.
XO Mary
Credit for the sweetbread dough recipe belongs to The Baking Beauties for The Best Cinnamon Buns. I made a few modifications to the directions for my Potica Recipe, but you can access the original recipe HERE
Dough:
2 1/2 cups all-purpose gluten-free flour (see note) (I used almost 1/4 cup more)

1/2 cup tapioca starch

1 Tbsp rapid rise yeast

3 Tbsp white sugar

1/2 tsp salt

2 tsp xanthan gum

1 tsp guar gum

1/4 cup instant vanilla pudding mix (dry)

1 tsp baking powder

4 Tbsp margarine (or butter)

1/2 cup water

3/4 cup milk

1 egg, room temperature

1 tsp cider vinegar

2 Tbsp oil (I used Canola)

1 tsp vanilla
NOTE: 4 cups superfine brown rice flour, 1 1/3 cups potato starch (not flour), 2/3 cup tapioca starch. Combine all ingredients in a large zipper-top bag. Shake until well blended.
Potica Filling:
1/2 to 3/4 lb walnuts, ground – (not chopped, ground)

1 cup ground GF graham crackers, GF Ginger Snaps, or similar texture GF cookie-cracker

1/2 cup sugar

1/4 cup melted butter

dash salt

Sweet Cream until spreadable (heavy cream) about 1/4 cup
Mix the filling ingredients together, adding the sweet cream at the very end just until spreadable consistency, like a thick peanut butter. Set aside.
In the bowl of your stand mixer, mix all dry ingredients (flour through baking powder) until combined. Set aside. (If you use a pre-made all purpose GF flour blend, be sure to check the ingredients for already added guar gum or Xanthan gum and adjust)

Put water and margarine (butter) in a glass measuring cup and microwave just until the margarine has melted. Remove from microwave and stir. Add milk, stir. Add other wet ingredients and whisk to combine.

With the stand mixer running (using the paddle attachment), pour the wet ingredients into the dry ingredients. Scrap down the bowl if you have to.

Allow to mix on medium speed for 3 minutes.

Take a piece of plastic wrap and lay it out on a slightly damp counter top, so it covers an area bigger than 8″ x 16″. Sprinkle 2 Tbsp of sugar on the wrap. ** (I used a dusting of flour instead of sugar…you can do either) Lay ball of dough on top of that. Gently lay another piece of plastic wrap over the top of the dough (put a little dusting of flour before plastic). Pat the dough down into a roughly squarish shape. Lift and reposition the top plastic wrap whenever you need to. Roll the dough out (with the plastic wrap on top) to a square approximately 8″ x 16″.

Remove plastic wrap. Spread filling mixture evenly across dough's surface, leaving about 1″ along the edges without filling. **The dough is delicate so first put large spoonful's of the filling all over the dough then gently press into place to cover the dough (see picture above).

Starting along the long end, use the bottom sheet of plastic wrap to lift the edge of the dough and roll it up, forming a long cylinder.

Carefully transfer the Patica roll onto a parchment lined baking sheet and remove the plastic. If needed, keep the plastic around the dough until it's on the pan, take your time, then remove plastic.

Cover with a flour sak towel and keep in a warm place – allowing to rise for 30 minutes.

Brush the top with melted butter and bake in preheated 350 degree F oven for 20-25 minutes, or until the top is a nice golden brown and the loaf sounds hollow when tapped. Brush with butter again and allow to cool.

Serve in 1 1/2″ slices and store covered in plastic wrap.