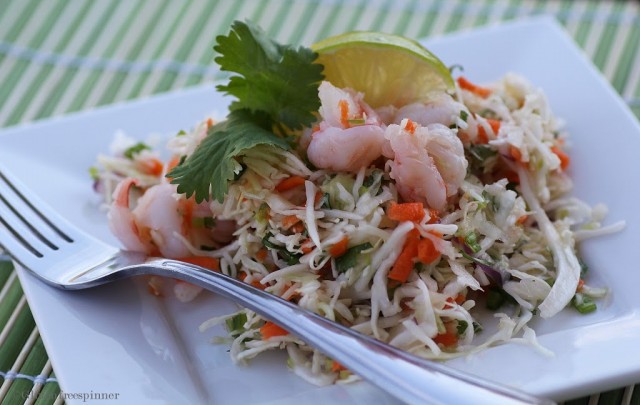 Shrimp Angel Hair Cabbage Salad
This beautiful Minnesota Autumn day has me craving something fresh and light. It's 80 degrees, sunny, no humidity, and the leaves have all changed in brilliant shades of orange, red, and yellow. As I heard someone say this morning who is visiting from California, "this is what I miss most…the beautiful change of seasons". Yes, it definitely makes the coming of those chilly Winter days much easier to accept.
My Shrimp Angel Hair Cabbage Salad is low calorie, light and fresh, and makes a perfect lunch that not only satisfies, it delivers a flavorful punch. The slightly sweet tangy lime dressing has a hint of heat from the Serrano chili's and a nice garden freshness from the green onions and cilantro. It's easy to prepare and serves two lunch sized salads.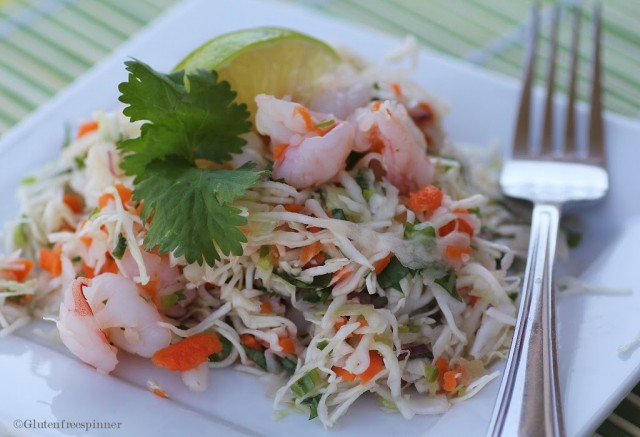 I hope you are experiencing the same beautiful weather wherever you may be…take your lunch outside and enjoy!
Ingredients:
8-10 (26-30 count) cooked shrimp (shelled, deveined, tails off) cut in half lengthwise

2 cups angel hair coleslaw

¼ cup chopped fresh cilantro

¼ cup shredded carrots

2 Tbsp red onion sliced very thin and cut into 1" pieces
3 Tbsp lime juice

1 Tbsp Premium fish sauce

2 Tbsp sugar

1 clove garlic, minced

1 Tbsp chopped Serrano chili

2 Tbsp fresh chopped green onions
Preparation:
In a small glass bowl prepare the dressing. Add the lime juice, fish sauce, sugar, garlic, chili, and green onions and mix until all ingredients are well combined and set aside. In a medium glass bowl add the coleslaw, cilantro, carrots, red onions, and shrimp. Toss together with tongs to combine all ingredients. Pour the lime dressing over all and toss to coat. Serve with lime wedges. 2 Servings.