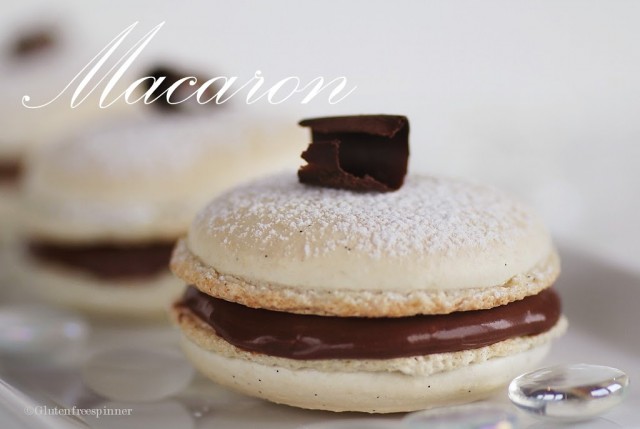 Vanilla Bean French Macarons
It's definitely time for a beautiful dessert, yes?
This summer flew by quickly with a flurry of events filling our sun-filled days. A trip to the East Coast for a friend's birthday kicked off my busy schedule followed by my daughter's wedding, selling our cabin, building a new cabin, celebrating a milestone birthday with four lifelong friends (each needing a week of festivities of course), along with working my full time job and finding time for glutenfreespinner and my love of cooking. Whew!

Don't get me wrong, these are all good things and I'm thankful, just so very busy. And now that I can take a breath, the cool weather is on my doorstep along with a sun that doesn't rise until 6:30 am. Sigh…..I love Summer…..I want to capture each day and enjoy every moment.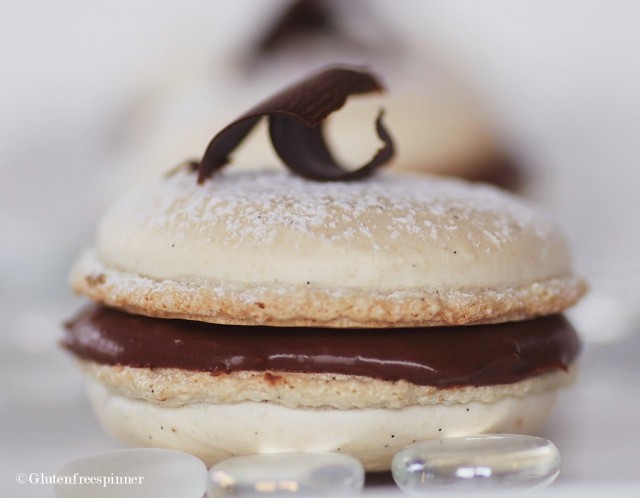 A dessert post is well past due on GFS, so I went the extra mile to make something beautiful and special. Back in April, a friend told me that Macarons were the new dessert craze and mentioned they are naturally gluten free. I made a note to look them up and try my hand at these dainty little treats.
There are many foodie sites with recipes for Macarons; most of them referencing Martha Stewart's version. I read through a few blogs and chose one that had beautiful pictures to accompany her macarons (of course I did!). What I didn't realize, however, is that she either never made the recipe that she posted or had an error in her listing of it. Arrrrgh!! Expensive mistake. An entire vanilla bean in the trash. The error was in her egg white's. She says to whip the whites to a soft peak. Then add the fine sugar and vanilla bean before whipping the whites until stiff peaks form. Well, my soft peaks that were perfectly formed PRIOR to adding the vanilla bean ended up being a soupy mess. Hindsight…..I should have known. Vanilla beans are a bit greasy and when you whip egg whites, there cannot be residue of any kind in the bowl or on the beaters, (muchless a greasy residue) or the whites won't whip to a peak. I had to trash the mixture and start over.
I went back to another site written by Amberlee called giverslog who used Martha's recipe as her inspiration and she detailed each step very nicely. Be sure to visit her site and follow her recipe. Vanilla bean macarons were not listed as an option on her blog, so I decided to add my vanilla bean to the flour/confectioners sugar mixture which is then sifted into the whites AFTER they have formed stiff peaks. It worked perfectly. Can you see the little vanilla beans in the macaron? Yumm.
I filled my Macarons with Chocolate Ganache and they were absolutely yummy and beautiful.
I made them 2″ in size rather than the traditional 1″, and although they taste equally wonderful, I recommend making them smaller so you have more to share.
Enjoy Dessert Tonight, perhaps Vanilla Bean Macarons?