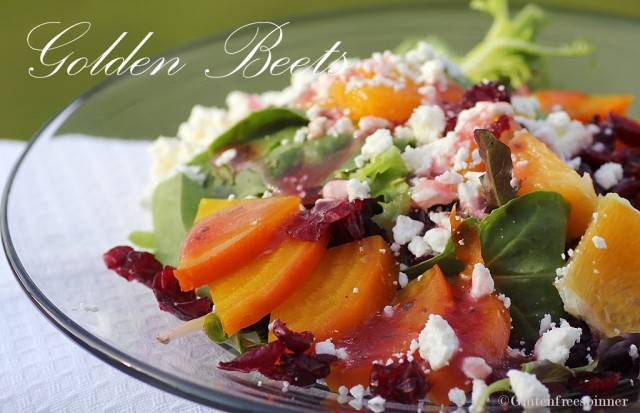 Golden Beet Salad
Last week I met my mom for a late lunch, it was already 2:30 and neither of us had eaten all day.   We stopped at a local restaurant called "3 Squares" as I knew they had a gluten free menu and everything is always fresh and delicious.  With dinner only a few hours away, we both chose to order salads and they had a great selection to choose from.  Mom ordered the Beet Salad.  I reeeeeeally wanted the Beet Salad, but it featured a panko crusted goat cheese disc on top (YUM!!), does anyone miss panko like I do??  How good would that be!  So the second best option was the pear salad, equally yummy with candied walnuts and designated gluten free.  We practically licked our plates clean, I don't think a salad ever tasted so good!
As you might guess, I've been craving a beet salad ever since.  I love golden beets, I also like red beets, but golden are my favorite.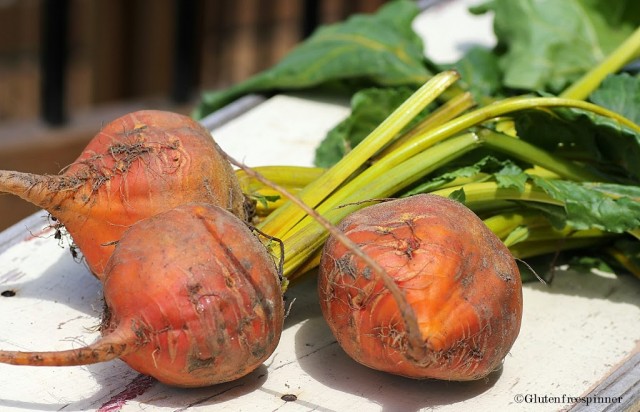 These funny looking guys are almost florescent in color and even more-so once they are baked.  They looked as though just pulled from the soil and I couldn't wait to get them in the oven.  I gave them a gentle scrub to remove the dirt, sliced off the top greens and the sprouted bottom, and onto a baking sheet they went.  400 Degrees for 65 minutes and they were done.  I would recommend laying down parchment paper or spraying your pan because beets have a lot of natural sugars (I put mine on a blank pan and it took quite a bit of elbow grease to clean!)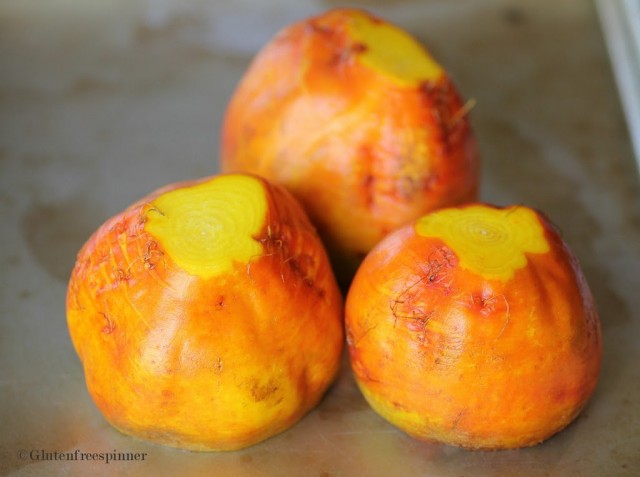 See how vivid their color is?  So cool.
I let them cool a bit then removed the outer skin and put them in the frig until I was ready to make the salad.  It's as easy as that.
This salad is a mixture of spring greens, sliced golden beets, segmented oranges, craisins, red onions, fresh mint leaves, and feta cheese.  Really-really good!  The mint with the beets was inspired by the restaurant…I snuck a beet with shreds of mint off my Mom's plate and the combination was fabulous.  Add crumbled feta to this salad instead of the crusted goat cheese and you have an incredible combination, definitely gets the 'yum' factor.  My recipe below is a no-recipe-recipe, very simple, I just listed the salad ingredients and you determine the amounts of each according to your taste.  As for the dressing, that was a new find.
It's
Marzetti's Simply Dressed Pomegranate Vinaigrette, I found it in the refrigerated produce section at our market, and it's labeled gluten free.  It's a new line for them, and most of the dressings are gluten free, but not all – be sure to check ingredients.  The link above lists all of them so you can plan ahead.  The dressing had great flavor, it was a little sweet, so I added a squeeze of lemon which was perfect.  Vinaigrette's are very easy to make, but if you are in a time crunch or just want the convenience, the Simply Dressed Dressings are very good.
Golden Beet Salad:
Ingredients (Quantities of the ingredients are your preference and vary based on the number of salads you are making – list is ingredients only)

Golden Beets, roasted, cooled, and chilled in refrigerator, then sliced and cut in half (see post for roasting directions)

 Spring Mix salad greens

Orange segments

Red onion, sliced into paper-thin rings

Craisins

Fresh Mint Leaves, julienned

Feta cheese crumbles

Toasted walnuts or pecans (optional)

Marzetti Simply Dressed Pomegranate Vinaigrette Dressing (optional to add squeeze of lemon)