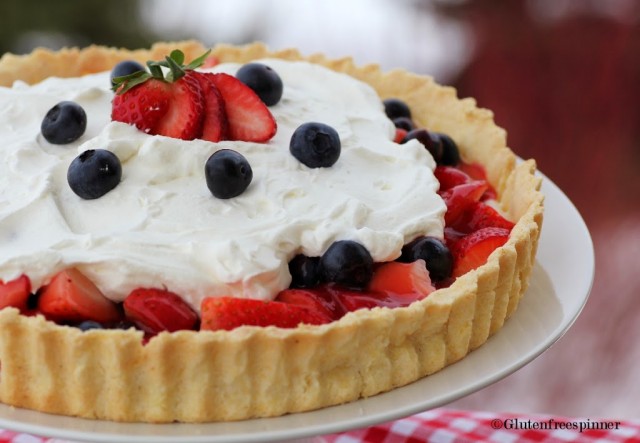 Happy Blogiversary Gluten Free Spinner!
This week celebrates Gluten Free Spinner's one year of blogging, and to celebrate I've made a Strawberry Tart. Why a strawberry tart you say? Because pastries are one of the challenges in gluten free baking and what better way to celebrate my one year of learning to cook, bake, and live gluten free than overcoming a challenge like pastry.
As I look back through my archives and view a few posts and pictures, I realize how much I've learned this past year.

I've learned to plan, to prepare, to make things from scratch and most of all, I've learned to measure. Baking was something I really didn't like to do…it was tedious and boring, and I'm not much for specific measured ingredients. But you must measure when you bake, especially when it's gluten free. My issue with measuring? It's so precise…and that stifled me…so goes my personality. I like flexibility, carefree, unplanned, spontaneous, freedom, and I like variety. But now… I've become the measuring queen! Ha…there's nothing I make anymore without measuring every single ounce. And in turn, I can share every recipe with you.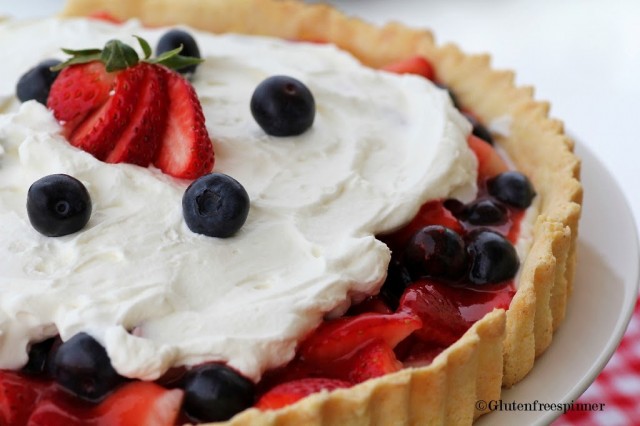 And the best part of all…
I love to bake now, I really do. When you start experimenting with the many ingredients it takes to successfully prepare gluten free foods and your final result is delicious,
there's a wonderful sense of accomplishment
.
It's not unusual to see me dancing around the kitchen as I taste a new recipe or jumping up and down as I reach for my camera to capture the final result.
But there's also a great deal of trial and error, and definitely expense, even now as I continue to build and introduce new recipes.
Say you try your hand at a new found recipe only to have it turn out disastrous. For me, there's a challenge in that so I set out to create one myself… and when it works…that is fun. And that's exactly what happened with my Strawberry Tart. I wanted to try a new recipe for a tart crust. I found it on a gluten free product line's site and it
used a packaged shortbread cookie as the base. It sounded easy and I thought it would be a good crust for my tart filling. But
it came out like a brick…thick, hard, and heavy. Uck. My entire tart…strawberries and all… went in the trash. Arrgh! But to the company's defense, it clearly stated on their website that the recipe was not tested in their kitchens and was the property of a viewer who wanted to share.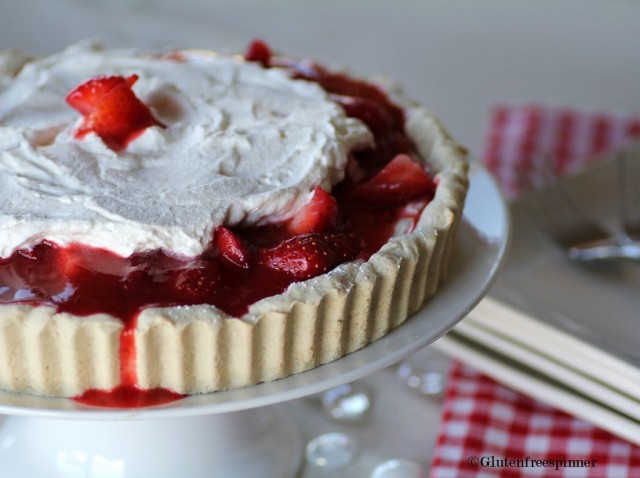 Here's a picture of that tart as I totally intended to post the recipe. But that was prior to tasting it. The crust was heavy and had a weird white color even after it was done baking. I should have stopped there, but I had all my tart ingredients ready so I continued on. I used an entire 32 ounce crate of strawberries for the filling and the glaze, and I whipped fresh cream for the top. It was so pretty! How could it be bad? But it was…unfortunately. Look how thick the edges of the crust are…that should have been my first clue.
So back to the drawing board I went. Actually, back to Dr. Google I went to read-up on pastry. Not gluten free, just pastry as a whole. I had made two pies last summer with pastry crusts, and they were really good, but the lattice one was so much work! A tart shell is slightly different, I wanted the crust to be lighter, crispier, and more delicate.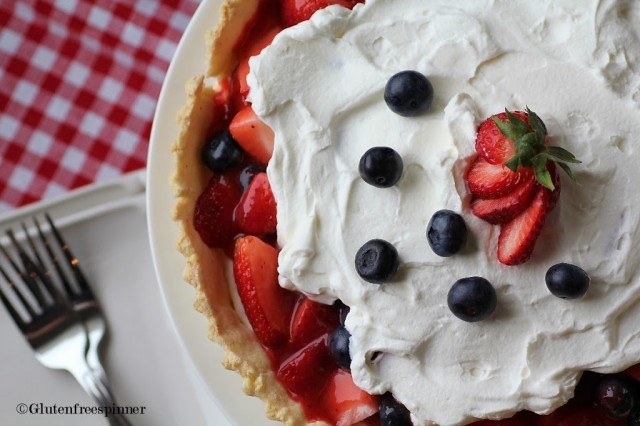 I came across two recipes that looked promising and I took cues from both of them. I based my crust mostly on the one from food52, which isn't a gluten free site, but it had cornmeal in the crust and I liked the idea. It was for a savory galette with tomatoes and Gruyere…yum! I will be trying that one soon with my new gluten free pastry crust! From there I went to the pioneer of gluten free baking, Bette Hagman, who uses all starches in her pastry. But I decided to use sweet white rice flour which I love to use in baking, along with two other starches and cornmeal.
It turned out lovely. It's very delicate so you must be gentle when handling the dough and the finished crust, but it's exactly what I was looking for. I took a picture of the crust before filling it to show that it was sturdy enough to remove entirely from the tart pan yet was thin and crisp….yum.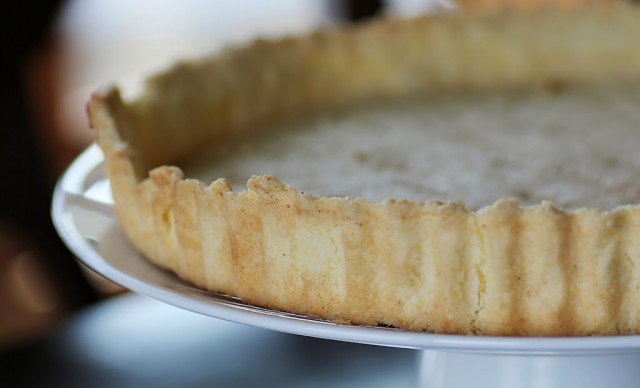 Next, the filling. Mmmm. Low fat cream cheese and light sour cream blended with a touch of almond flavoring makes for a light and delicious filling. Top that off with fresh strawberries and blueberries and a glaze that oozes into the gaps and seals the filling to the crust. A final crowning of heavy whipped cream and the result is a fresh, light, fruit filled yummy tart.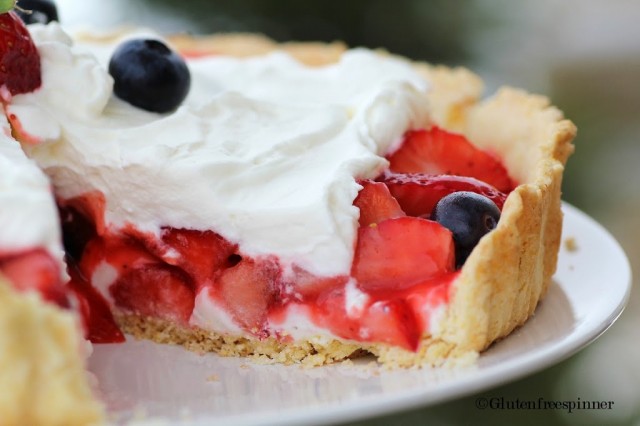 I've absolutely loved my first year of blogging on Gluten Free Spinner and look forward to another year of discovery. Cheers….to more delicious foods and photography and living the gluten free life.
Thank you for sharing this first year with me.

Ingredients:
Cornmeal Pastry:
3/4 cups sweet white rice flour

½ cup tapioca starch

1/3 cup finely ground cornmeal

1 Tbsp light brown sugar

¾ tsp guar gum

1 tsp salt

6 Tbsp cold butter, cut into 1/2-inch pieces

3 Tbsp canola oil

1/4 cup ice water

Powdered sugar for dusting on dough (or sweet white rice flour)
In the bowl of the food processor add sweet rice flour, tapioca starch, cornmeal, sugar, guar gum, and salt. Pulse to blend. Add the chilled butter and pulse until it's evenly distributed but still in visible pieces. Add the canola oil and ice water and mix until the pastry begins to come together, it will still be in large clusters. Gather the pastry with your hands and place on a large sheet of plastic wrap and shape it into a flattened round. (Here is where you need to use your own discretion. It should be workable, but not sticky….if it's cracking, add a little water – drops at a time – and work it in. don't work it too much or it will be tough.)
Wrap the plastic around the pastry and refrigerate for ½ hour. If refrigerated longer, let pastry soften slightly before rolling. Can be made ahead and refrigerated up to 3 days.
Preheat oven to 400 degrees. Prepare the tart shell by adding just a dusting of cornmeal to the bottom.
Remove the pastry from refrigerator, dust with a little powdered sugar (or sweet white rice flour) and roll out between two sheets of plastic wrap until it's the size of the tart pan. Place in the pan and mold the sides of the shell. Prick the pastry with a fork on sides and botton. Bake the crust in a pre-heated 400 degree oven for 10 – 12 minutes, or until lightly browned. Allow to cool before GENTLY removing tart mold and sliding onto serving plate. Set aside while you make the filling.
Cream Cheese Filling
6 oz 1/3 less fat cream cheese

1/3 cup light sour cream (check ingredients – I use Daisy brand)

3 Tbsp sugar

½ tsp almond flavoring
Blend all ingredients with hand mixer until smooth and creamy.
Fruit:
Fresh strawberries (16 oz) rinsed, hulled, and cut into quarters

Fresh Blueberries (6 oz) rinsed

(Save a few of each for garnish)
Glaze:
2 Tbsp sugar

2 tsp cornstarch

1 cup fresh strawberries

Juice of ½ lemon
Combine the sugar and cornstarch in a small sauce pan. Add the strawberries and lemon juice and turn heat to medium. Bring to a slow boil and reduce to low. Cover and simmer until strawberries are soft and it begins to thicken. (check often and stir). Remove from heat and blend with an immersion blender until smooth. Set aside to cool.
Whipped Cream:
½ pint Heavy Whipping Cream

3-4 Tbsp Powdered sugar – taste for your choice

Just a hint of almond extract (or vanilla if you don't have)
In a medium clean and dry stainless steel or glass bowl add the cream, powdered sugar, and hint of almond extract. Whip until peaks form that hold their shape.
Assemble Pie:
Gently pour the cream cheese filling into the prepared tart shell being careful as you spread to cover the entire tart area. The shell is delicate so it might break. This is ok, just push back in place and continue.
Top the cream cheese filling with the prepared strawberries and blueberries, distributing evenly. Drizzle the glaze over the top…you won't use all of it, just enough to cover the entire tart. Reserve the rest for pancakes or ice cream.
Finally, top with the whipped cream and smooth out over the top ¾ of the tart, leaving ¼ of the edges without to show the fruit. Garnish with a sliced strawberry and blueberries.