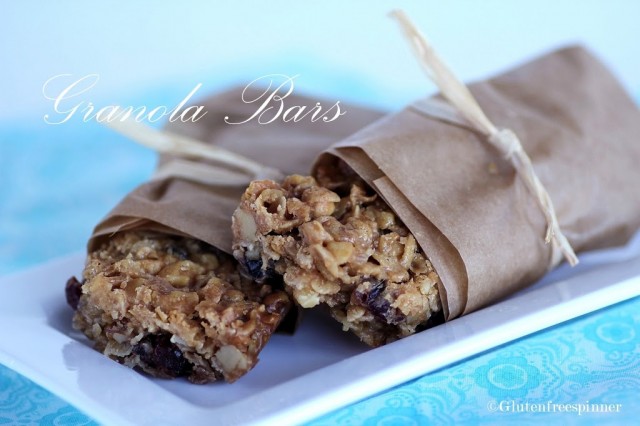 I've been super busy lately with no time for breakfast, which means no time for vitamins. Not good…we need our vitamins. Solution? Granola Bars…but they have to be chewy ones.
I have a great go-to granola recipe that is a constant in my house, but I honestly haven't made granola bars before. I found a promising recipe on Smitten Kitchen who adapted her recipe from King Arthur Flour.
My first attempt at this recipe was super yummy, but it crumbled and didn't hold it's shape. My brother was visiting from Arizona and I sent him off with two bars wrapped in parchment for the trip back home. I fear he spent his flight back home in a lap full of granola crumbs. But…they were irresistibly good.
Back to the drawing board…I wanted the same taste, but they needed to hold together better.
This time I used almond flour in the recipe which worked great, and I refrigerated the bars after cutting them while still in the pan
. It worked beautifully!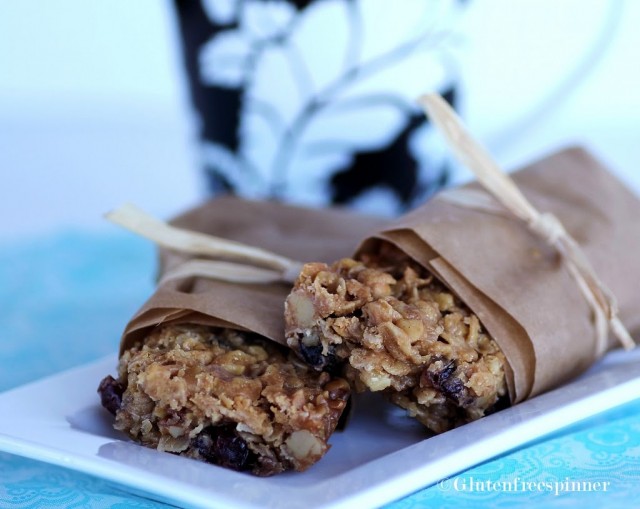 I think I ate four bars in one day, and they aren't necessarily calorie friendly. But they pack protein, fiber, and the needed grains so often missing in a gluten free diet. I even crumbled them in my vanilla Greek yogurt, which was a protein power breakfast but tasted like dessert to me.
Mmmm-good.
1 2/3 cups gluten-free oats

1/2 cup granulated sugar

1/3 cup almond flour

1/2 teaspoon salt

1/4 teaspoon ground cinnamon

1 cup dried berry medly (I used a 5oz pkg Good Sense Brand berry medly)

1/3 cup chopped pecans – not too large of chunks or they won't hold together (or walnuts)

1/3 cup peanut butter or another nut butter

1 tsp gluten free vanilla extract

6 tablespoons melted butter

¼ cup light corn syrup

3 Tbsp 100% maple syrup

1 tablespoon water
Preheat the oven to 350°F. Line an 8″ x 8″ x 2″ pan with parchment paper, allowing it to overhang about 2-3" on two sides (will use as handles to pull out of pan). Lightly spray the parchment paper with a non-stick spray.
Stir together all the dry ingredients, including the fruit and nuts. In a separate bowl, whisk together the vanilla, melted butter, corn syrup, maple syrup, peanut butter and water. Toss the wet ingredients with the dry until the mixture is evenly crumbly. Spread in the prepared pan, pressing ingredients firmly in pan and corners to ensure they are molded to the shape of the pan. (A piece of plastic wrap can help with this, as you press down on the back of it.)
Bake the bars for 30 to 40 minutes, until they're brown around the edges — don't be afraid to get a little color on the tops too. They'll still seem soft and almost underbaked when you press into the center of the pan but do not worry, they'll set completely once completely cool. When cool, cut into the desired length of bars while still in the pan and refrigerate for 15-20 minutes. Remove with the edges of parchment paper and waaalaaaa….beautiful granola bars.