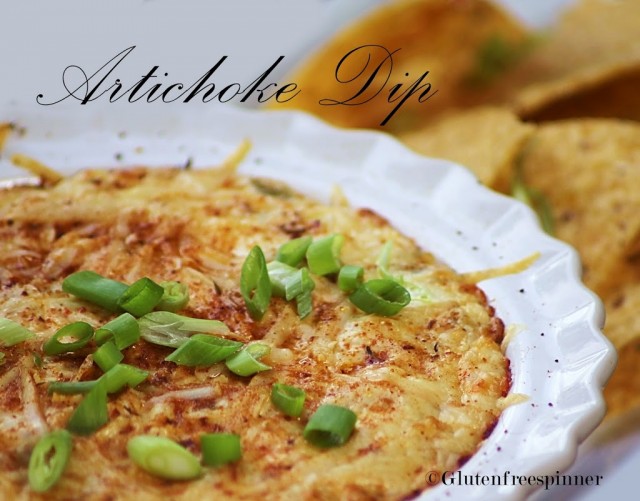 Artichoke Dip
Everyone has their version of Artichoke Dip whether its the addition of spinach, crab, red peppers, or jalapeno's, they're all delicious. This is mine, and it's a weekly request at the cabin each summer as we sneak through the warn path in the woods to visit our neighbors. We bring Artichoke Dip and Jack makes his refried bean nachos on the grill, and we never tire of either.
Cheesy creamy bubbling hot artichoke dip is comfort food gone appetizer. Artichokes and
Parmesan cheese are a perfect pairing with the addition of green chili's and Emeril Essence to add a little kick. Top with chopped green onions for a fresh burst of flavor and serve with organic corn tortilla chips. This easy appetizer is best served hot out of the oven, so use a warming plate or serve in a small Crockett to keep warm.
1 – 8 oz pkg whipped cream cheese

1/4 cup Mayonaise

1/2 cup sour cream

1/3 cup grated Parmesan Cheese

1 clove garlic, peeled and minced (or garlic powder to taste)

1/2 tsp dried basil

1/4 tsp garlic salt

1/2 – 1 tsp Emeril's Essence (your preference)

1 small can diced green chili's

1/4 cup chopped green onions

1 – jar marinated artichoke hearts drained and chopped

1/4 cup shredded swiss, mozerella, or Italian blend cheese

Emeril Essence and Parmesan for top

Chopped green onions
Directions:


Mix all ingredients, pour into pie plate or shallow casserole dish and smooth out the top. Sprinkle a little Parmesan cheese and Emeril Essence over top and bake 350 degree oven for 25 minutes until brown and bubbly.
Top with chopped green onions and serve with organic corn tortilla chips.