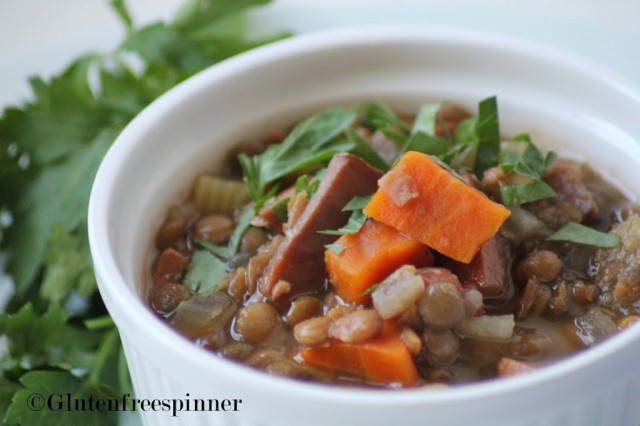 Fall is just around the corner and nothing sounds better than a hearty bowl of lentil soup. You'll love the ease of this soup as you layer the ingredients in a slow cooker, cover, cook for 8-10 hours and return home to the aroma of home cooked soup that's ready to eat. The carrots, celery, onions, and ham flavor the broth while the vegetables stay firm and bright. The lentils add a meaty texture to the soup and a final splash of fresh chopped parsley adds brightness upon serving. The savory flavors in this soup last for days making it a great pack-n-go lunch too.
1 (16 ounce) pkg dried Lentils, rinsed

2 cups diced ham

3 carrots, peeled and sliced

1 large onion, chopped

3 stalks celery, chopped – large dice

2 large cloves garlic, minced

1 tsp gluten free seasoning salt (low sodium)

2 bay leaves

1 tsp dried oregano leaves

1 tsp fresh ground black pepper

1 – 32 oz container, plus 1-14 oz can organic chicken broth – low salt

1 – 14 oz can organic less salt beef broth

1 – 14.5 oz can Petite diced tomatoes with garlic and olive oil

Fresh chopped parsley for garnish
Directions:
Layer ingredients in crock pot in the order listed, pouring chicken and beef broth and diced tomatoes over top of all. Cover and cook in crock pot on Low for 8-10 hours. Remove the bay leaf and stir. Serve with fresh chopped parsley and fresh ground black pepper. Stores well in separate lunch containers for days.