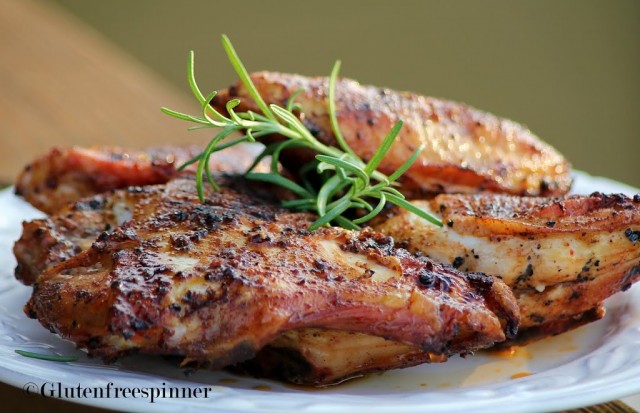 Rosemary Garlic Grilled Chicken
The combination of Emeril's Original Essence Cajun Seasoning and fresh rosemary followed by a garlic butter glaze creates a golden outer crust for this moist, flavorful, fall off the

bone chicken. The grill does all the magic in this recipe and it couldn't be easier. Serve with a side of Parmesan Steak Fries for a winning combination.
4 bone-in chicken breasts, skin on

1 Tbsp Emeril Original Essence Seasoning

2 tsp fresh chopped rosemary leaves (use 1 tsp if dried but fresh is so much better)

1tsp sea salt

1/2 tsp fresh ground black pepper

2-3 Tbsp butter melted with 1 tsp minced garlic

Directions
Rinse the chicken breasts under cold water and pat dry with paper towels. With a mortar and pestle, grind the Emeril seasoning, rosemary, salt, and pepper together breaking up the rosemary leaves to combine. Sprinkle the rub over both sides of the breasts (using all) and lightly rub in.


Preheat grill on high that has been sprayed with non-stick grill spray or brushed with oil. Reduce heat to medium and place the chicken on grates, rib side down first. Grill for 8 minutes, turn and continue grilling for another 8 minutes. Continue turning every 8 minutes until done for a total of 32-40 minutes. Brush with the garlic butter the last 3-4 minutes.


Remove from grill and tent with foil for 10 minutes. Serve with Parmesan Steak Fries and corn on the cob for an easy delicious summer dinner.