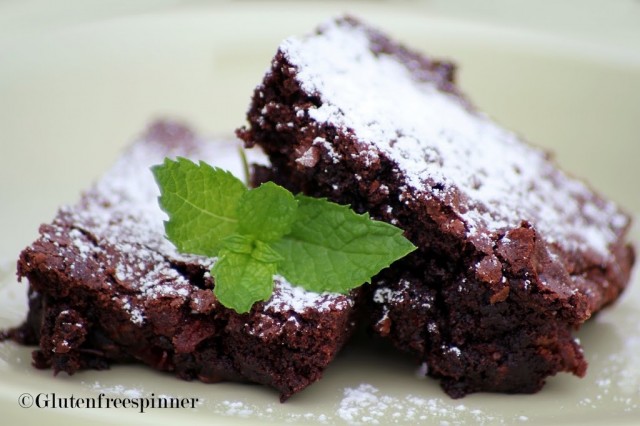 Betty Crocker Gluten Free Brownie Mix
I've been noticing many new gluten free products showing up on the shelves of my grocery store; not just the coop's and natural foods stores, but the regular grocery chains. What great news for all of us living gluten free! With busy schedules and time constraints, it's nice to know we have options like Betty Crocker's Gluten Free Brownie Mix for a quick dessert.
Since Gluten free products are much more expensive than the regular glutenous products, I thought it helpful to prepare this particular mix and give a review. It's also good to know I do not receive any sort of royalties or acknowledgment, I'm writing this as my own product review.
There are only two additional ingredients needed with the mix, 1/3 cup oil and 2 eggs. I added chopped dried cherries for an extra decadent brownie (and they were amazing I might add), but the mix as is produces a wonderful brownie. I recommend this product and kudos to General Mills for supporting the gluten free community. I've listed the easy directions below to show just how easy these are to make.
1/3 Cup Vegetable Oil

2 Eggs

Optional – My addition to the recipe – 1/2 cup chopped dried cherries
1. Heat oven to 350°F for shiny metal pan or 325°F for dark or nonstick pan. Grease (or use cooking spray) bottom of pan.
2. Stir Brownie Mix, oil and eggs in medium bowl until well blended. (If using my addition of cherries, add them here.) (batter will be thick). Spread in pan.
3. Bake as directed below or until toothpick inserted 2 inches from side of pan comes out almost clean; cool. To cut warm brownies easily, cut with plastic knife using short sawing motions. Store tightly covered.

Pan Size: 8″ x 8″ 9″ x 9″ 11″ x 7″
Bake Time (in minutes): 28-31 26-30 23-26