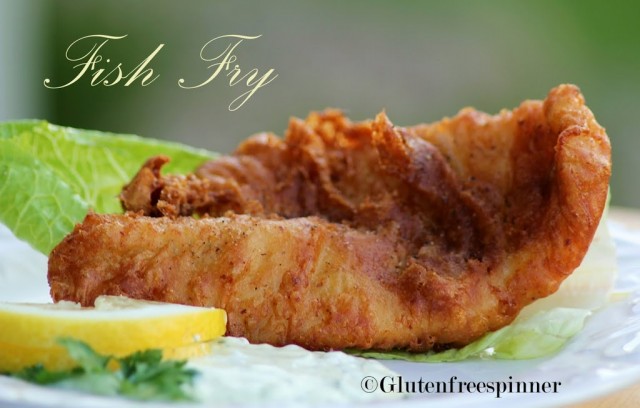 Crunch! These crispy fillets were even more delicious than they look.
I haven't enjoyed beer batter fish since living gluten free, and last night we made the best recipe we've ever had…even in our gluten-filled days.
I started with a basic recipe posted by Teri Gruss, and I give her credit, it's wonderful. We changed a few of the seasonings to add our own preference, but this will be our new Beer Batter Fish from now on. It was like a tempura batter; light and crisp without overpowering the fish. You can use any fish for this batter and I can't wait to try it with shrimp and onion rings!
Don't forget my tartar sauce, it's creamy and full of flavor to compliment the fish.
Ingredients
Prepare your deep fryer with Peanut oil and heat to frying temperature
4-6 Walleye Fillets – or other fish of choice

7 oz of gluten free beer (we used Redbridge) or club soda

Dry ingredients:
½ cup Pamela's baking mix

½ cup cornstarch

½ tsp baking powder

½ tsp sugar

¼ tsp old bay seasoning

½ tsp garlic powder

½ tsp onion powder

½ tsp salt
Directions
Combine all dry ingredients in a bowl and mix until well blended. Add the beer/club soda and mix until the batter is smooth.

Dip the fish fillets in the batter and coat all sides letting the extra drip back into bowl.
Fry in the hot peanut oil until golden brown, best to fry one fillet at a time unless you have a very large fryer. Remove and place on paper towels, season immediately with salt and pepper. Serve with tartar sauce (below).

Tartar Sauce
½ cup mayonnaise (not miracle whip)

2 Tbsp dill pickle relish

1 tsp yellow mustard

1 tsp fresh lemon juice

1 tsp dill weed

1 Tbsp chopped red onion

1 tsp chopped fresh chives

½ tsp honey

¼ tsp onion powder

¼ tsp garlic powder
Mix all ingredients together and serve with the fish.