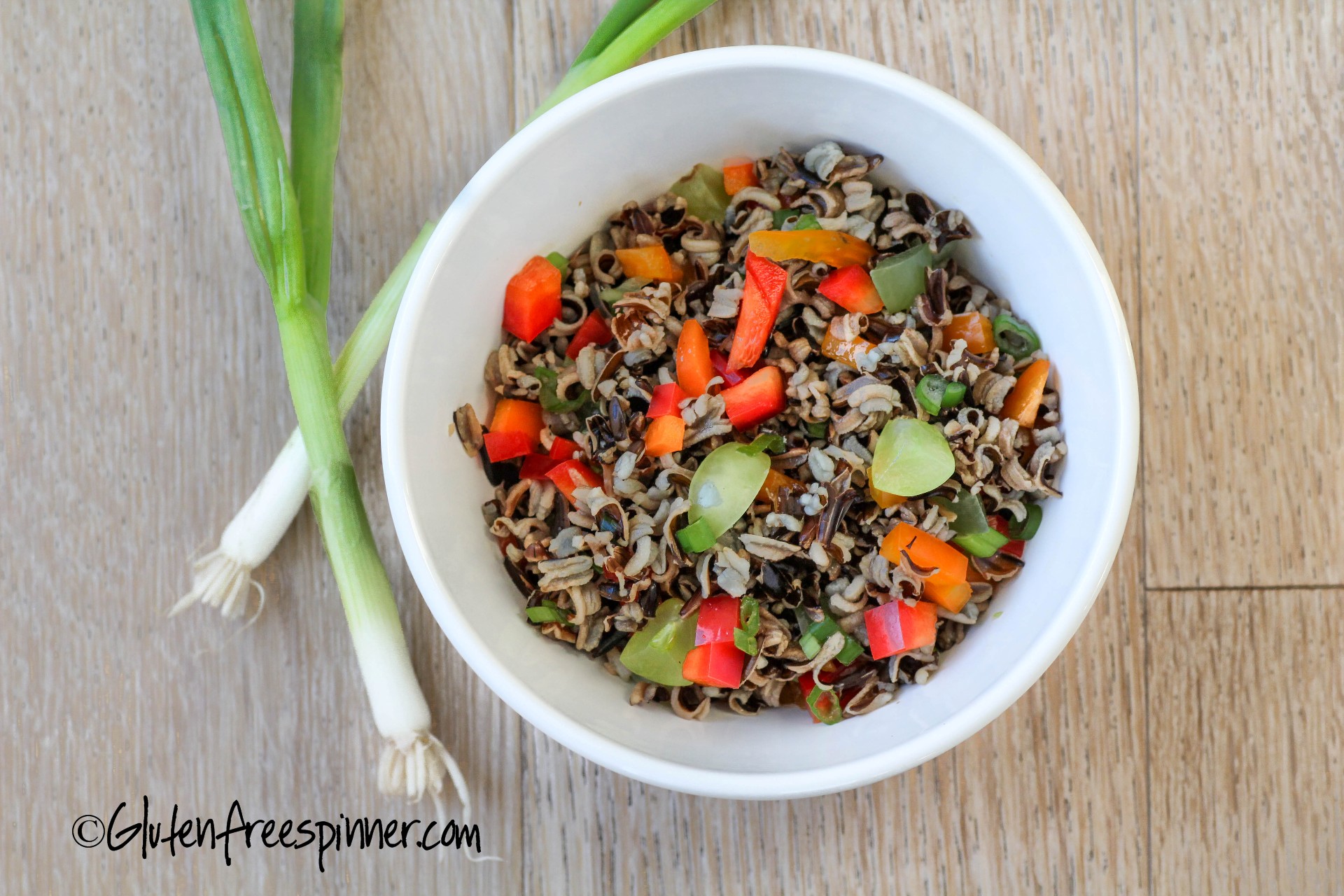 Wild Rice, Peppers, and Grape Salad
YUM!
Four fresh flavorful ingredients make one colorful delicious salad, there's no oil, salt, dairy, nuts, or sugar.
Only 50 calories in each 1/2 cup serving, but for me….I ate a whole cup and it might have been the best 100 calories I've enjoyed in a long time.
Last night we added a side of grilled shrimp, so-so good!  We've added this meal to our weekly rotation.  Try it with a grilled chicken breast or even better….grilled salmon. Mmmmmm.
It's easy, light, fresh, and beautiful.
I use the shortcut of Canoe Brand Wild Rice that is already cooked.  The ingredients are simply Water, Wild Rice, and Salt.  It's consistently good and I've used it for years.  You will drain the rice when making the recipe, but the little salt it's packed in flavors the salad while allowing the peppers, green onions, and grapes to shine.  This summer I might add fresh herbs like a little mint or parsley, but it's not needed.  And by all means if you have the time, make your own wild rice, just be sure it's cooled before making the salad.
Enjoy!

Wild Rice, Peppers, and Grape Salad
Author:
Gluten Free Spinner
Recipe type:
Healthier Options / Salad
Ingredients
1 - 15 oz can of Canoe Brand cooked wild rice, drained well (1½ cups) or make your own
1 cup total red and yellow bell peppers, chopped
3 green onions, chopped (white part too)
1\2 cup green grapes, quartered (red grapes work too)
Instructions
Drain the can of wild rice in a mesh strainer removing all water and add to a medium sized bowl.
Add the chopped peppers, green onions, and green grapes.
Toss to combine and enjoy!
Saves well in refrigerator for a few days.
You can add slivered almonds or walnuts for extra crunch...just note this adds more calories too.