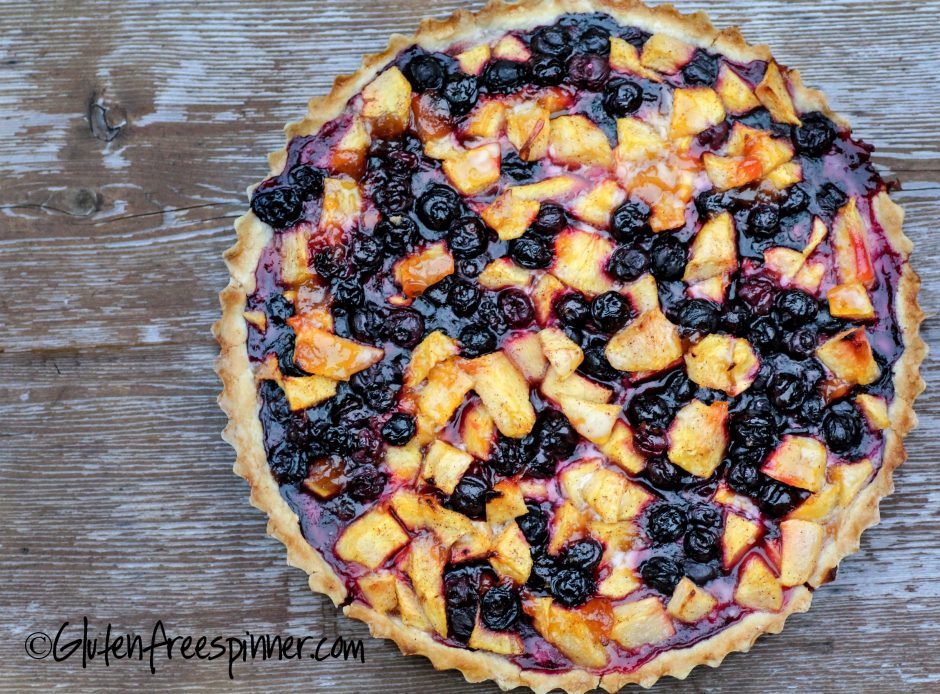 Peach Blueberry Tart
A cool Fall Saturday afternoon with windows open and a soft breeze streaming through my screens.  The leaves are falling….slowly…. giving way to a glimpse of the lake that's hidden by Summer foliage.  The changing seasons; one of the many reasons we live and love Minnesota.
My morning was spent with a good friend shopping in a boutique called A Wreath of Franklin in the small town of Buffalo offering unique clothing, home furnishings, and artwork.  We spent 2 1/2 hours browsing every inch of the store trying on racks of clothes and sitting in leopard wing-back chairs (I was dying for that chair) eventually skipping out the door with our new-found treasures.  What a fun day.
Then it was back home with enough time to bake something wonderful for Mr. Spinner and I for a Saturday night in.  The Jungle Book movie was our planned evening, a little out of the ordinary choice but the trailer was intriguing.  If I haven't mentioned it before, Mr. Spinner is an audio guy…Shere Khan's roar, King Louie's massive presence, and Bagheera's fatherly wisdom must be heard, felt, and experienced as if they were in the room with us.  And I must tell you his system didn't disappoint.  I screamed a few times, hiding behind my feather pillow while peering out just enough to catch sight of the action.  Disney does it again….a fabulous movie….although not for the little ones.
To top off the evening…my Peach Blueberry Tart, so very good.
This dessert was made with Mr. Spinner in mind, afterall, it's Saturday night.  He's not a cake guy…nope, he'll pass on that every time.  But fruit pies, crumbles, and tarts?  Well, lets just say he ran to the store for me to get the peaches and blueberries.  Heee-hee, and isn't that the best part of baking?  The sheer joy of oooooh's and ahhhh's from those you share it with.
My tart crust is perfect every time.  It's so easy and there's no rolling it out with worries of cracking or breaking.  I added a picture to show just how easy.  You simply press the pieces of dough together to form your crust.  Done.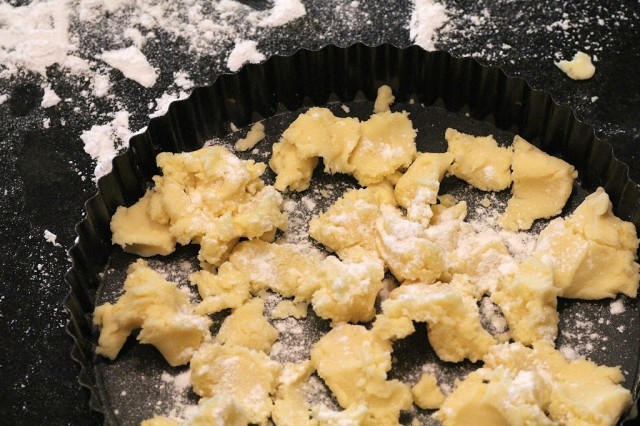 The fruit is simply cut and tossed together with sugar, lemon, cornstarch, and warm spices then poured into the shell.  A light glaze drizzled on top, bake, and waaalaaa….you've got a beautiful tart.   The sweetness will be determined by the ripeness of the peaches and berries, so adjust the sugar as needed.  My peaches were hard as an apple, not ideal, but once sweetened and baked, you'd never know.  I made one in August with deliciously ripe peaches that drizzled sweet juices just slicing them, so I used less sugar and a little more cornstarch to thicken the juices.  You can alter my recipe below to your liking.
This tart is best served slightly warm topped with vanilla bean ice cream or Gelato.  I store mine in the refrigerator since it's just the two of us and I want it to last a few days, but it's not necessary.
However you spend these Fall weekend days/nights, may they be with those you love sharing new adventures, sounds, tastes, and joys.
Enjoy!
Peach Blueberry Tart
Author:
Gluten Free Spinner
Cuisine:
Fruit Pie Pastry Tart
Ingredients
Tart Crust
1¼ cups all purpose gluten free flour
Pinch of salt
4 Tbsp cold butter cut into cubes
3 Tbsp Crisco butter flavored shortening
1 egg, beaten
2-3 Tbsp Potato Vodka
¼ cup powdered sugar for kneading/dusting
Fruit Filling
2-3 fresh peaches sliced/large dice, skin and pit removed
6 oz fresh blueberries
2 Tbsp fresh lemon juice
⅓ cup sugar (adjust for sweetness)
1½ tbsp cornstarch
½ tsp cinnamon
¼ tsp fresh grated nutmeg
Glaze
¼ cup apricot preserves
1 Tbsp fresh lemon juice
¼ cup Heavy cream
Instructions
Preheat oven to 350 degrees and spray non-stick on tart pan sides and bottom (use a tart pan with removable bottom if you want to display the crust as shown)
Pulse the flour, salt, butter, and shortening in food processor until small pea like crumbles form.
Add the beaten egg and blend until totally combined into the dough.
While pulsing, add the vodka just until the dough comes together.
Dust your working surface with the ¼ cup of powdered sugar and gather the dough in to a ball. Knead the powdered sugar into the dough, not working too much, but blending.
Break the dough into pieces and distribute around the tart pan. See picture in post. Start pressing the dough from the middle out to cover the bottom of pan, creating a bottom 'crust' then halfway up the sides. Dust a little of the remaining powdered sugar onto the dough when done. Prick the bottom with a fork.
Bake in preheated 350 degree oven for 10 minutes. Remove and set aside to cool.
Filling
In a medium glass bowl add the peaches and blueberries along with the filling ingredients tossing to combine. If your peaches are extremely ripe and you have alot of juice, add ½ Tbsp more cornstarch.
Pour filling into prepared tart shell and arrange evenly.
Glaze
Combine the apricot preserves and lemon juice, microwaving for 30 seconds just to melt the preserves so it can be drizzled.
Drizzle over the filling.
Brush the edges of the crust with the heavy cream, then drizzle the remaining over the top of tart.
Bake in preheated 350 degree oven for 45 minutes until the tart is golden and peaches are done.
Allow to cool before gently removing outer ring.
Serve with vanilla bean ice cream or gelato