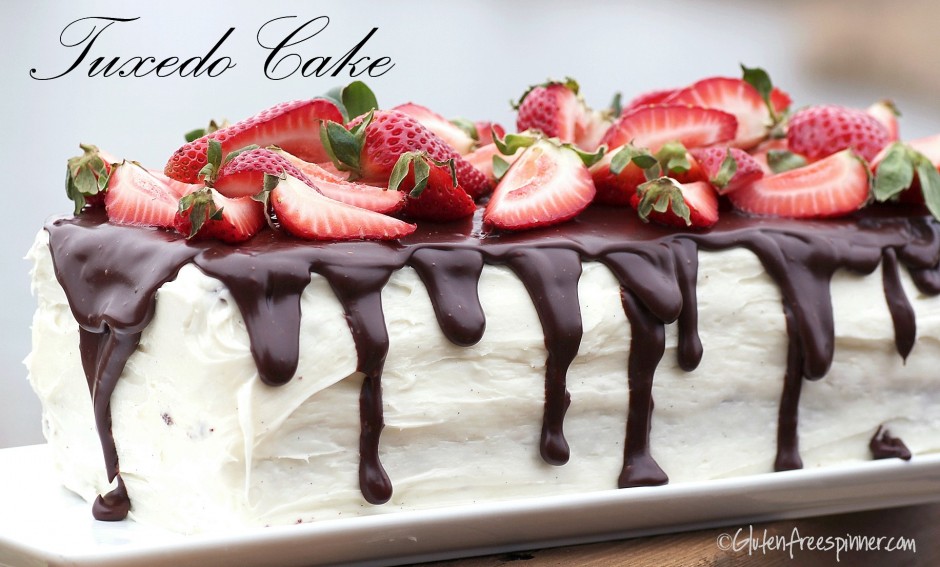 Tuxedo Cake
Many of the inspirations I get for creating recipes come from seeing something that looks so amazingly delicious I just have to have it.  This is one of them.  My first inspiration came from the Tuxedo Cake at Costco.  I don't know why, but that gorgeous cake gets me every time I see it.  I just want to bite into the ganache that covers the top and fills every layer…I imagine it's so thick you can see your teeth marks after the first bite…YUM.
I needed to make this cake…remember, "Don't miss it, Make it!"  But first I needed to learn how.
I found the most incredible looking cake posted on Bakers Royale , it was stunningly beautiful.  Her cake was my inspiration for how I decorated mine, and although I've seen many using her idea, somehow they didn't give her credit.  Well she's got it here….she gave a beautiful presentation.  My cake and recipe, however, is very different…and gluten free.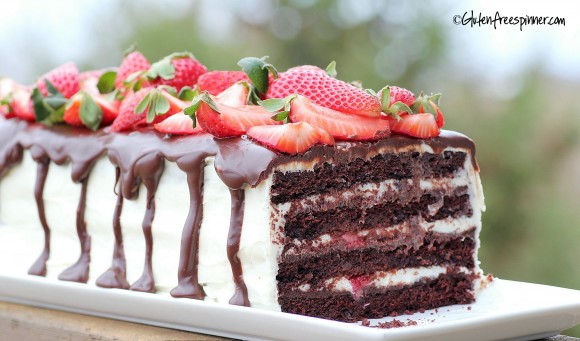 I kept my Tuxedo Cake all chocolate…like the one at Costco, and added strawberries.  Oh goodness it was good!
And even better….very easy.  Yep, it doesn't look like it, but it's easy.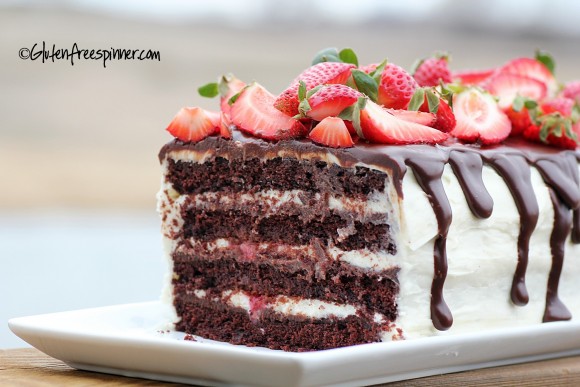 I start with Betty Crocker's Gluten Free Devils Food Cake Mix…it's my go-to for quick easy chocolate cake desserts.  I jazz it up a bit to make a very moist cake, but the mix makes things easy.  And for the layers?  I used a sheet pan and cut the cake in fourths.  Done…easy…no slicing through a thick cake to make the layers.
For the filling, it's chopped strawberries, chocolate ganache, and marshmallow frosting.  Then the whole thing gets covered in more marshmallow frosting and drizzled with more ganache.  Top with sliced strawberries and waalaa!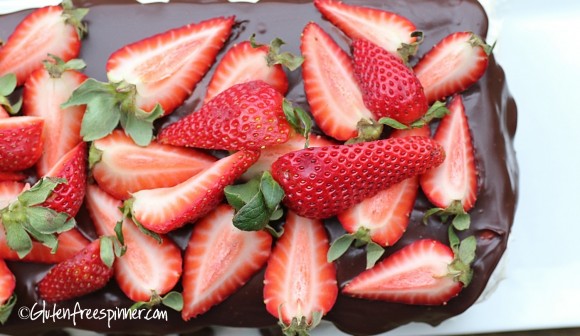 An edible work of art…
Here are a few pics of the layering process to help visualize when you assemble: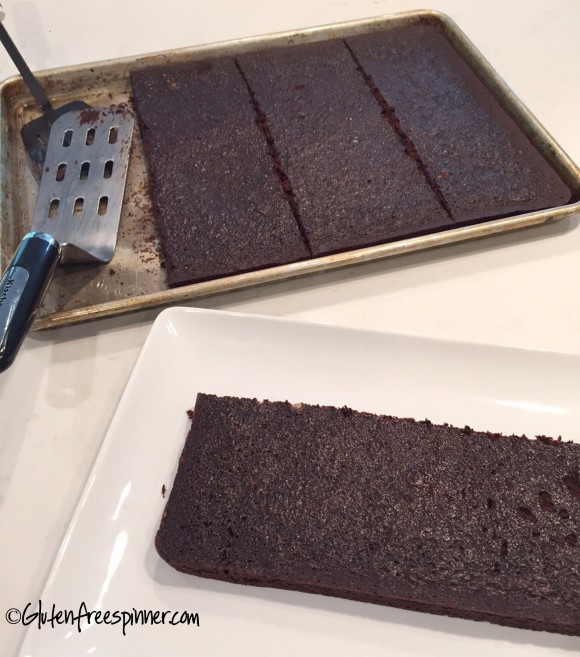 Cut the cake in half, then each half in half again to create 4 even layers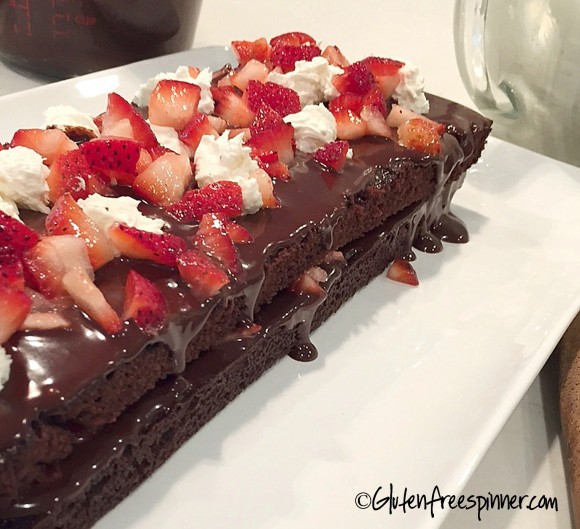 Layer with the ganache, dots of frosting, and strawberries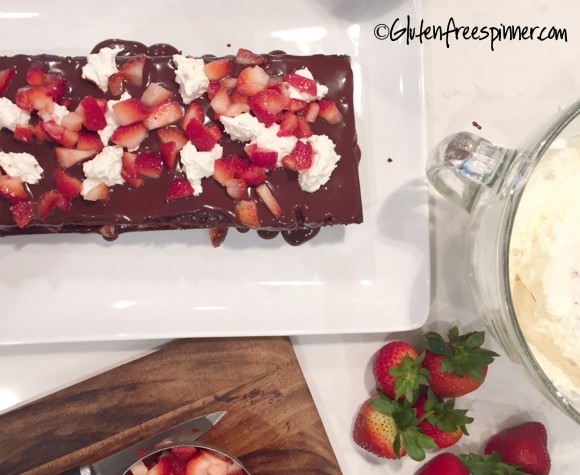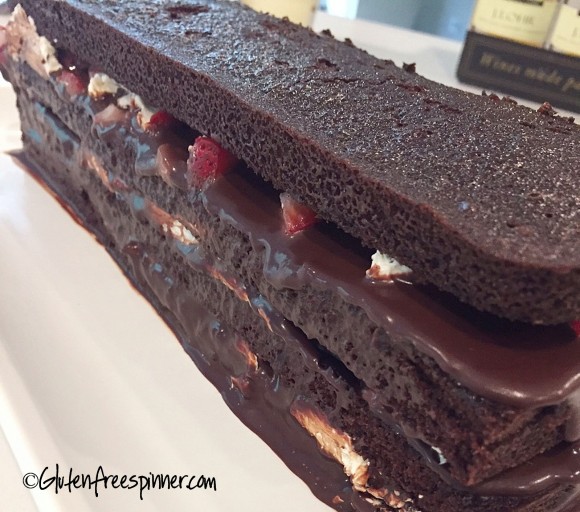 Enjoy!
Tuxedo Cake
Author:
Gluten Free Spinner
Recipe type:
Layer Cake/Dessert
Cuisine:
Chocolate/Strawberry/Ganache
Ingredients
Cake:
1 pkg Betty Crocker Devils Food Cake Mix
⅔ cup vanilla Greek yogurt
¾ cup water
1 stick butter, softened (1/2 cup)
3 eggs
Ganache:
10 oz bag Ghirardelli bittersweet choc chips
1 cup heavy cream
Marshmallow Frosting:
1 (7 oz) jar marshmallow cream (check Ingred)
2 sticks butter softened (1 cup)
1 tsp vanilla bean paste or extract
2 cups powdered sugar
2-3 Tbsp heavy cream or milk
1 (16 oz) pkg fresh strawberries, rinsed and patted dry
Instructions
For the Cake:
Preheat oven to 350 degrees. Spray a large baking sheet (about 17x12) liberally with non-stick spray or cover with parchment paper and spray paper too.
With a hand mixer, beat the cake mix, yogurt, water, butter and eggs together in a large mixing bowl on low for 30 seconds. Increase speed to medium and beat for 2 minutes, scraping bowl.
Pour the batter into prepared baking sheet and spread to cover evenly, smoothing the top.
Bake in preheated 350 degree oven for about 14-15 minutes or until springs back to the touch. Don't over bake.
Set aside and allow to cool.
Make the Chocolate Ganache:
Pour the heavy cream into a glass measuring cup and microwave 1-1½ minutes, or until just barely simmering...don't boil. Stir. Add the chocolate chips and allow to sit for 1 minute before stirring. Continue stirring as the chips will melt into a wonderful creamy ganache. Place in refrigerator to allow it to set.
Marshmallow Frosting:
In a glass mixing bowl whip the softened butter, marshmallow cream, and vanilla until smooth and creamy. Add the powdered sugar and starting on low, incorporate into the butter mixture. Turn mixer to high and whip until creamy and smooth. Add the heavy cream to desired consistency, I used 2 Tbsp.
Set aside 8-10 strawberries with leaves for decoration. For remaining strawberries, remove stems and leaves and chop into small dice, you should have about 2 cups.
Assemble:
Take the cooled cake and cut it evenly down the middle. Then cut each half down the middle creating 4 even layers. With two spatula's (helpful if one is a long-nosed), carefully remove the first layer from the baking sheet and transfer to the platter. The cake is moist enough where it should be forgiving a little and not break, but you do need to be gentle. Pour about ⅓-1/2 cup ganache over the top, smoothing with a spoon to cover. but not too much as it will ooze down the side. Don't worry if it oozes a bit, you can clean the presentation when you're done.
Next "dot" the frosting on top of the ganache (see picture). I used about a teaspoon for each dot creating about 10-12 dots each layer. Remember you need to have enough to frost the cake when done.
Then add ⅓ of the chopped strawberries, distributing evenly over layer.
Repeat the same process for the next two layers, ending with the fourth layer on top without any filling. At this point if it seems the ganache is too wet to frost, put in the refrigerator to set for about 20 minutes.
Start frosting the cake by adding the frosting to the top and smoothing down the sides. It's not a thick layer as there is enough going on with this cake, it's just to cover the entire surface in white. I had exactly enough for all sides and top.
Drizzle Tablespoons of ganache down the sides of the cake and end with a light coating over the entire top.
To garnish: Cut each of the reserved strawberries in quarters and lay on top of the ganache.
I refrigerated mine at this point for 20 minutes just to make sure everything was set.
Waaaaa-laaaa!! Done! And beautiful.