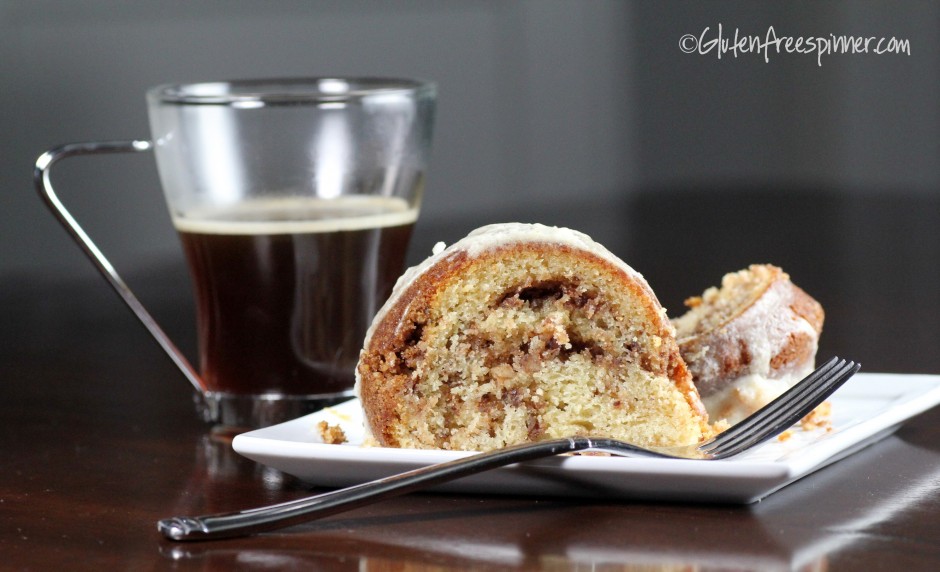 Happy National Coffee Cake Day!
I woke this morning with the reminder of a busy day ahead of me, and the first item on my list was a new post.  With a line-up of recipes to post for the month, I chose my coffee cake being I just inhaled a piece with a good cup of Joe.  It was the last piece left from Easter Sunday, and it was still as moist and tender as the day I made it.  That, in itself, tells you how good this is!
But you won't believe the ironic chance that as I chose to post this today, it also happens to be National Coffee Cake Day.  I'm not kidding….I jokingly said to myself, 'hmmm, I wonder what food day it is…maybe coffee cake day' (followed by ridiculous chuckle).  Lo-and-behold…it came up as the food day for today, April 7th!  I kid you not….I even went to a new browser to check another site as I thought perhaps Google was tracking my words or something.  Nope, it really is National Coffee Cake Day.
So, I guess it's one of those "there are no coincidences in life" kind of days….and my coffee cake was meant to enter the world of food blogging.
Moist and tender vanilla cake infused with vanilla bean and sour cream surrounded by cinnamon and pecan streusel with a vanilla bean orange glaze.  Out of this world delicious.
Enjoy!

Cinnamon Streusel Coffee Cake
Author:
Gluten Free Spinner
Recipe type:
Breads and Muffins
Ingredients
Cake:
2 cups Pamela's baking mix
⅔ cup butter, softened
1 cup sugar
2 large eggs
2 tsp vanilla bean paste (or vanilla extract)
1 cup Daisy light sour cream
Streusel:
1 cup finely chopped pecans
⅓ cup sugar
⅓ cup brown sugar
2 tsp cinnamon
Glaze
1 cup powdered sugar
2-3 Tbsp orange juice
1 tsp vanilla bean paste (or vanilla extract)
Instructions
Preheat oven to 350 degrees
Combine all streusel ingredients with a fork and set aside.
In a large mixing bowl, add the butter and sugar and cream together about 2 minutes until fully blended and light. Add the eggs, one at a time and beat in the vanilla bean paste.
With the mixer on low, add half of the baking mix and ½ cup sour cream and mix only until combined. Add the remaining baking mix and the remaining ½ cup sour cream and mix again just until blended.
Spray a 9" bundt pan with non-stick spray and spoon half of the cake batter into the bottom of pan, distributing evenly. Sprinkle ½ of the streusel mixture over the top. Add remaining batter by spoonfuls around the pan to cover the streusel. You will see pockets of streusel and that's good, don't smooth.
Sprinkle remaining streusel evenly over batter.
With a butter knife, cut straight down into the batter and using zig-zag motions, cut through and pull out. Continue all around the entire pan to marbleize the streusel into the batter. The top will be lumpy...not smooth when done.
Bake 42-48 minutes or until toothpick comes clean.
Allow to sit for about 10 minutes before inverting onto cake platter. Cool completely before topping with the glaze or it will pool in center of cake.
Mix all glaze ingredients together and adjust to your desired consistency. The thicker the glaze, the more it will show up on the cake. Drizzle in zig-zag motions across top of cake.
Store covered with plastic wrap...equally good for three-four days.
*  Adapted from Pamela's Sour Cream Coffee Cake