Smash Potatoes with Dill Creme Sauce
Looking for a potato side dish that's not only easy and light, but drool-worthy?  These crispy skin seasoned potatoes with a tender fluffy inside will become your new favorite, especially when you add the Dill Creme Sauce….YUM!
And they're easy!  Russet potatoes are simply scrubbed, cut in half, baked, smashed, and topped with love.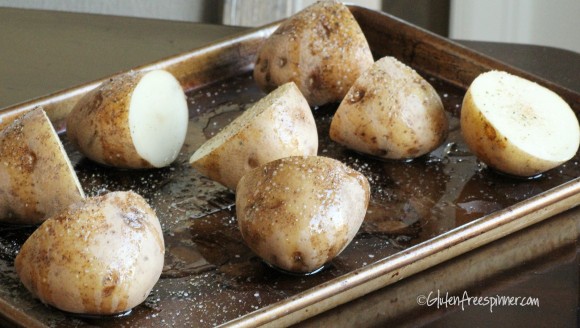 No kidding, it's that simple.
Once they're baked, smash with the smooth side of a meat tenderizer, brush with a little butter, sprinkle some sea salt and pepper, then dust with grated Parmesan and chopped green onions.  Pop back in the oven for a few minutes and they're done.  Boom!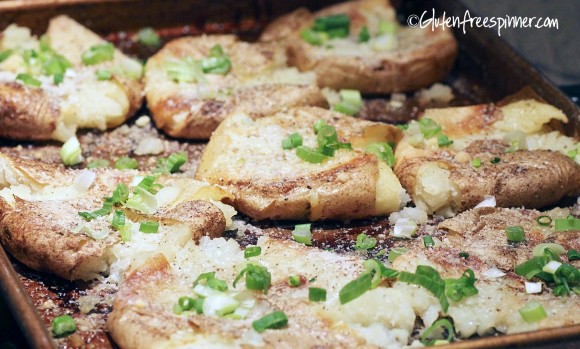 The Dill Cream Sauce takes them over the top and consists of a light sour cream base with a touch of sweet from honey and a little zip from fresh lemons and green onions.  It's sooo good.
Combine these tasty gems with grilled/roasted chicken or a pork chop, hamburgers or meatloaf, or even brunch with your favorite eggs.  Once you make them you'll want to serve with everything.
And bonus…you can make them ahead!
Same day:  Place the cooled baking sheet of smash potatoes in the refrigerator with first a loose layer of paper towels on top then a piece of plastic wrap loosely covering (paper towels prevent moisture from the plastic so the potatoes don't become soggy).
Freezer:  Bake, smash, season and cool then place a piece of parchment paper between each one before storing in a resealable freezer bag in freezer until ready to enjoy.
Enjoy!

Smash Potatoes with Dill Creme
Author:
Gluten Free Spinner
Ingredients
4 medium russet potatoes
Olive oil
Sea salt and pepper
Topping:
3-4 Tbsp melted butter
Sea salt and pepper
3 Tbsp grated Parmesan cheese
2-3 green onions, chopped
Dill Creme Sauce:
½ cup Daisy light sour cream (or your fav)
2 tsp honey
2 chopped green onions
1 tsp Lawry's season salt (or your fav)
1 tsp dill weed
½ lemon, juiced
Instructions
Preheat oven to 375 degrees
After scrubbing each potato, cut in half width-wise and place on baking sheet.
Drizzle each with some olive oil and sprinkle sea salt and pepper over all.
Bake in preheated 375 degree oven for 1 hour, or until fork tender.
Remove from oven and with the smooth side of a meat tenderizer mallet, gently smash (not beat) each potato starting in the middle and working our way around the potato until it's about ¼ inch thick.
Continue with each potato.
With a pastry brush, brush each potato with the melted butter, then sea salt and pepper to taste, then sprinkle the Parmesan cheese.
Return to oven for about 6-8 minutes, just until the top becomes lightly browned.
Remove and sprinkle with chopped green onions.
With a spatula, scoop each potato from baking sheet onto plate and top with Dill Creme
Dill Creme Sauce:
Combine all Dill Sauce ingredients and serve along side the potatoes.
Can make ahead and store in refrigerator.