Red Curry Chicken Noodle Bowls
I've been wanting to make Asian noodle bowls for a long time now…they look so fresh and flavorful.  Being I just made my Oriental Chicken Salad, I had all the ingredients and couldn't wait to get started.
Just prepping the ingredients and laying them out on the cutting board was a beautiful sight.  The colors are vibrant and contrasting which made me anxious for the photo shoot.  But first I needed to decide on the flavor profile for my broth, which is typically a simple chicken broth.
I decided on Red Curry because I wanted to kick-it-up a bit.  The color in red curry comes from red chili's which gives a wonderful spicy zing, making it perfect for my noodle bowl.  I love red curry and if you haven't tried it, I recommend one of my favorite Thai dishes, Thai Basil Chicken, which I recreated from a dish I had at Sawatdee restaurant called Holy Basil Supreme.  It has a spicy sweet sauce with chicken, broccoli, jalapenos, and basil….yum.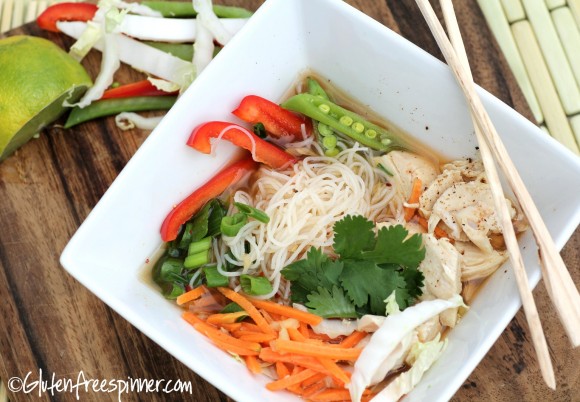 One of the best things about noodle bowls are the ingredients that can be altered to everyone's liking.  First, the prepared noodles are added to each bowl.  Next, everyone chooses their favorite ingredients placing them with the noodles.  Then you ladle the broth over each bowl of goodies and offer a squeeze of lime and fresh black pepper.  The broth enhances all the veggies and coats the noodles, which is why it's so important to have a flavorful broth.  These bowls are fun and festive….and so very good.
I left my bell peppers and cabbage pieces large to show-off in the photo, but you can cut the veggies into bite-sized pieces to make it easier to eat.  Either way works.
Enjoy!

Red Curry Chicken Noodle Bowl
Author:
Gluten Free Spinner
Recipe type:
Soup/Noodle Bowl
Ingredients
1 bundle (1/2 pkg) thin rice noodles (Thai Kitchen)
1½ cups shredded or cubed cooked chicken
1 red bell pepper, seeded, sliced or diced
About 20 Sugar snap pea pods, cut in half lengthwise
¾ cup Carrot matchsticks
½ cup chopped green onions
1 cup shredded Napa cabbage (or favorite)
Fresh cilantro leaves
Lime wedges for serving
Broth:
4-5 cups good chicken broth/stock
2-3 tsp red curry paste (Thai Kitchen)
1 Tbsp GF tamari
2 tsp minced ginger
1 Tbsp honey
Dash of red pepper flakes (optional)
Juice from one lime
Instructions
Bring 8 cups of water to boil and remove from heat. Add the rice noodles and let stand 3-5 minutes or until tender. Drain and rinse under cold water. Drain well. Divide noodles amongst the four bowls.
Broth:
Bring the chicken broth, red curry paste, Tamari, ginger, honey, carrot matchsticks, and red pepper flakes to a boil.
Serve:
Add the desired veggies and chicken to your bowl of noodles and ladle the broth over all. Offer a squeeze of lime and fresh black pepper.