Oriental Chicken Salad
Fresh Spring flavors and colors are all I can think about with this beautiful weather we're having.  No comfort food today, it's all about fresh, bright, and crisp!
My Oriental Chicken Salad fits the Spring-fever menu perfectly with snappy pea pods, crisp celery, fresh bean sprouts, carrots, green onions, Napa cabbage, iceberg lettuce, and of course, chicken.  For crunch and texture I added fried tortilla strips and cashew halves.  Typically, fried won-ton strips are used, however they're not gluten free…and honestly, you won't miss a thing.  You certainly can fry your own corn tortilla strips as well if you have time.
Now for the dressing, Honey Lemon goodness!  I wanted a thicker dressing (not oil & vinegar) so I used Mayo for the base.  I only use olive oil based Mayo so it's lighter…1/2 the calories and fat lighter!  I never use the full fat, there's just no reason to (IMHO).  Then fresh squeezed lemon and honey, rice wine vinegar, Dijon mustard and a few drops of sesame oil to make an amazing dressing.  If you like it thinner, add a little water or orange juice.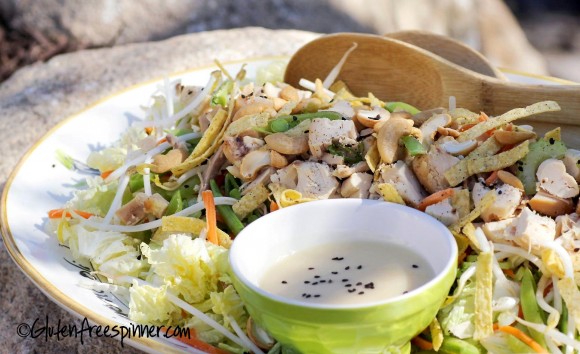 Mr. Spinner and I enjoyed our salad on the deck this afternoon, sort of an initiation for the coming of Spring.  Just listening to the birds chirping and watching them flit back and forth was a day brightener.  The air is still brisk and the ground is frozen, but we can see the light……the sun……and the warmth.
Happy Early March to you and yours.
Enjoy!

Oriental Chicken Salad with Honey Lemon Dressing
Author:
Gluten Free Spinner
Ingredients
Salad:
2½ cups Napa Cabbage, rinsed, drained, shredded
1½ cups iceberg lettuce, shredded
1 cup celery diced on diagonal
2 cups cooked chicken
3 green onions diced on diagonal (greens and whites)
1 cup fresh bean sprouts
½ cup matchstick carrots
1 cup sugar snap pea pods cut in half lengthwise
Cashew halves
Pepper and optional black sesame seeds
Dressing:
½ cup Mayonnaise - Olive oil based - less fat
4 Tbsp honey
2 Tbsp rice wine vinegar
2 tsp Dijon mustard
2-3 drops sesame oil (careful-strong)
Juice of one whole (small) lemon, about 3-4 Tbsp
Instructions
Combine the cabbage and lettuce and toss into a large salad bowl or serving platter.
Top with remaining salad ingredients in order listed, layering over cabbage.
Combine dressing ingredients with a wire whisk until smooth and creamy...the whisk will break up the mayonnaise creating a creamy texture. Add a little water or orange juice if you like it thinner.
Toss the dressing into salad, lightly fluffing the ingredients to coat starting with ½ the dressing and adding as needed. You can also serve with the dressing on the side for individual serving.