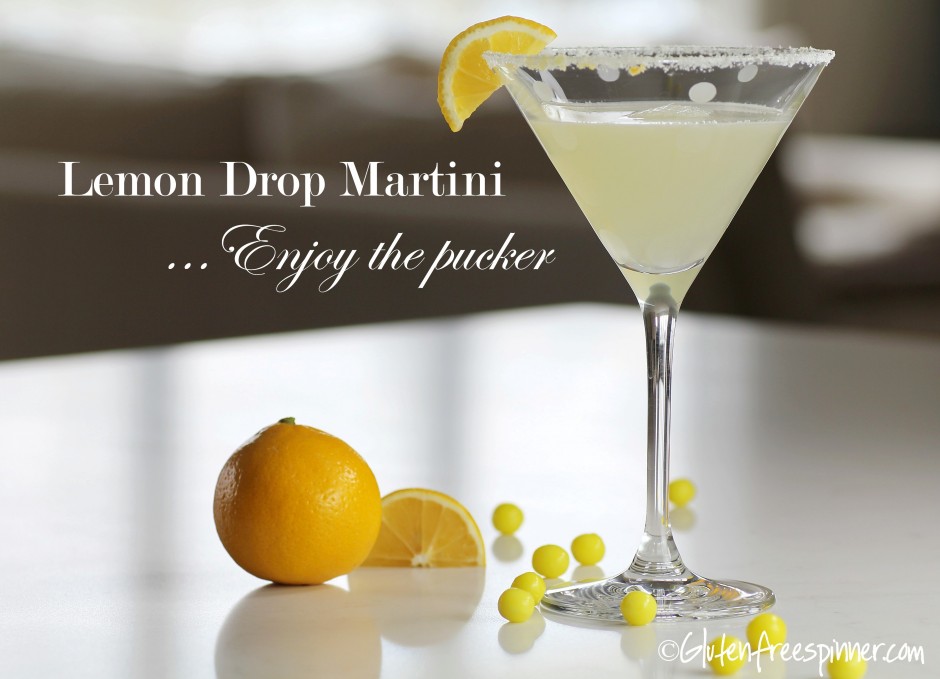 Happy Spring!  Happy Weekend!
I couldn't think of a better post for the first day of Spring than a bright, fresh, sunny Lemon Drop Martini to kick-off the weekend.  I'm typically a wine girl, but on occasion I love a good Lemon Drop Martini.  The hint of sweet from the Grand Marnier and super-fine sugar combines with the lemony tartness of fresh squeezed Meyer lemons, making these super refreshing.  The lightly sugared rim is combined with lemon zest and adds another sweet-tart sensation.  They keep you sipping….slowly.
And not only are these pucker-worthy beauties a favorite of mine, they also hold memories of a special place, date, and person….Stacy.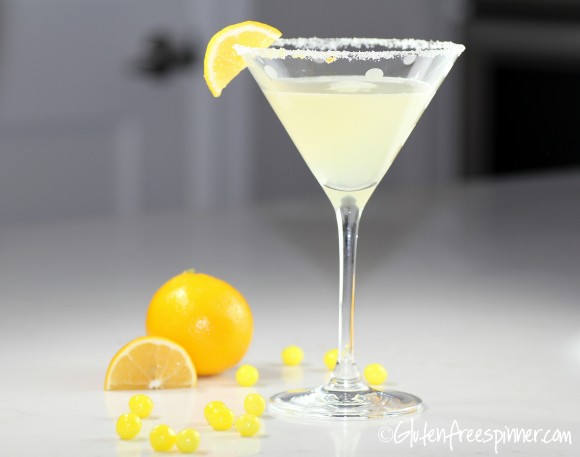 You see…two years ago while vacationing in the Caribbean I met Stacy from New Jersey and she and I fast became BFF's.  We drank Lemon Drop Martini's, danced, sang karaoke, laughed, hugged, and said our goodbye's all in a matter of five (5) fabulous hours.  At 3am and many Lemon Drop Martini's later, we headed toward our separate rooms.  Her hubby put my cell number in his phone and we promised to stay in touch.  The next morning they were off…they had an early flight back to New Jersey and Mr. Spinner and I still had five days to enjoy the sun.
As I peeled my eyes open and lifted my dizzy head off the pillow I commented how much fun it was and wished we had met them earlier.  But we always meet people on vacation…from all over the world…that's half the fun!  Yet this connection felt like we'd known each other forever.
Fast forward two years later….yes, two years….and I receive a text from "Lemon Drop".   What a welcomed surprise, Stacy was wondering if we would be vacationing somewhere this year and maybe we should hook-up.  The crazy thing was we had just booked our trip 1/2 hour prior, no kidding!  The rest is history.  We met-up again, this time in Mexico, and it's like we were never apart.
We drank our Lemon Drop Martini's, basked in the sunshine, went for massages (Stacy and I had a 'couples massage' to save a few $$, hilarious!), we ate lobster and ice cream, and this time we had a whole week to bond.  And there's a bonus….Mr. Spinner and Mr. Lemon Drop are so much alike we teased they were cloned.  Two strong conservative men with definite opinions…who happen to be married to two strong women who love Lemon Drop Martini's.
Isn't life wonderfully funny?  And it reminds me of a saying that proves itself over and again.  "There are no coincidences in life…"  I would have to agree.  We've gained a friendship that will last a lifetime.
Cheers to you!  And cheers to Lemon Drop…..my new friend.

Lemon Drop Martini
Author:
Gluten Free Spinner
Ingredients
1½ ounces Grey Goose Vodka
Splash of Grand Marnier
1 tsp super fine sugar (or simple syrup)
¾ ounce fresh squeezed lemon juice
Lemon twist or wedge for garnish
superfine sugar and zest for rim
Instructions
Fill a cocktail shaker halfway with ice. Add the vodka, grand marnier, sugar, and lemon juice. Shake vigorously and strain the liquid into the sugar rimmed martini glass. Garnish.