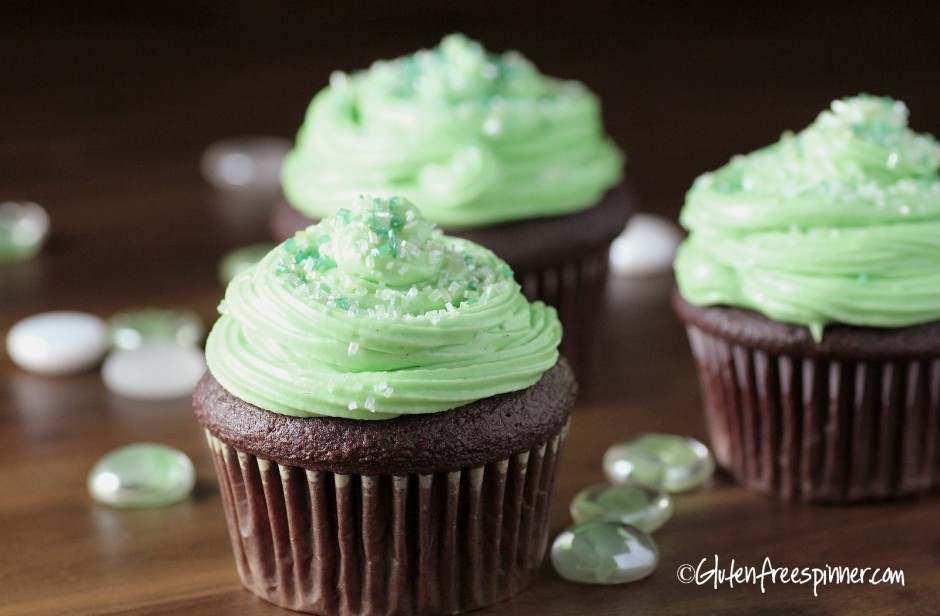 St. Patrick's Day Cupcakes
Top-o'-the-mornin' to ya!
It's March 17th at 4:30 am and I'm quickly sharing a few Leprechaun Cupcakes to start your day.
My Devils Food Cupcakes are not only easy but they are the most requested cupcake for all occasions.  They are incredibly moist, tender, and rich with chocolate goodness and the cream cheese frosting has a hint of almond to bring these over the top.
I use the Betty Crocker Gluten Free Devils Food Cake Mix and kick it up with ingredients to make it moist and flavorful.  The mix alone doesn't produce this moist cake, I experimented until I got the perfect blend of ingredients.  It really is better than most regular cupcakes…just wait until you hear the raves.  And again, not only are they EASY, they are perfect every time.
These beauties have made their way to countless celebrations being decorated in every imaginable way…and they're always a hit.  Today they take on Green for St. Patrick's Day and I must say they do it well.
Happy Trails to Ya…..Until we 'meet' again……

Cupcakes for St. Patrick's Day
Author:
Gluten Free Spinner
Ingredients
Cupcakes
1 pkg Betty Crocker GF Devil's Food Cake Mix
⅔ cup less fat Real Mayonnaise (I used Hellmann's with olive oil)
¾ cup water
1 stick butter, softened (1/2 cup)
3 eggs
Frosting
1 (8-ounce) package cream cheese, room temperature
½ cup (1 stick) butter, room temperature
4 cups confectioners' sugar
1 tsp almond extract
1 tsp vanilla extract
Decorative food coloring and sprinkles
For chocolate…add the following:
4 (1 oz) squares unsweetened chocolate
Pinch of salt
1 Tbsp half and half (as needed)
Instructions
Cupcakes:
Preheat the oven to 350 degrees.
Line cupcake pan with paper baking cups. For large cupcakes you'll get about 13-15 cupcakes, and using a ¼ cup level measure you can yield about 23 cupcakes.
Beat the cake mix, Mayo, water, butter and eggs in a large bowl on low speed for 30 seconds. Increase speed to medium and beat for 2 minutes, scraping bowl. Pour the batter evenly into the cupcake liners
Bake at 350
Bake 18-20 minutes for larger cupcakes or until toothpick comes out clean
Bake 15-18 minutes for smaller cupcakes or until toothpick comes out clean
Cool for 5 minutes in the pan then remove to a cooling rack to cool completely before frosting.
Frosting:
Beat the cream cheese and butter in a medium bowl with hand mixer until creamy.
Slowly add the powdered sugar, scraping down the sides as necessary to combine all ingredients and blend until it becomes creamy.
Add the almond and vanilla extracts and blend in.
For Chocolate Almond Frosting:
Melt the chocolate squares in a small glass bowl at 30 second intervals, stirring after each until melted. Be careful not to over-melt as you can easily ruin the chocolate – melt slowly and stop once it is creamy. It won't be hot, just melted.
Add the melted chocolate and pinch of salt to the frosting and increase mixer speed to medium. Blend until frosting is fluffy, about 1 minute.
Add 1 Tbsp half and half if needed for a creamier texture.