Coconut Orange Dream Cake
It's Easter Week!  What a perfect time to share my Coconut Orange Dream Cake.
Light, fluffy, moist, creamy-dreamy cake with coconut and orange goodness topped off with sweetened whipping cream.   It almost screams Easter, doesn't it?  Like a fluffy white bunny kind of Easter, all hippity-hoppity excited.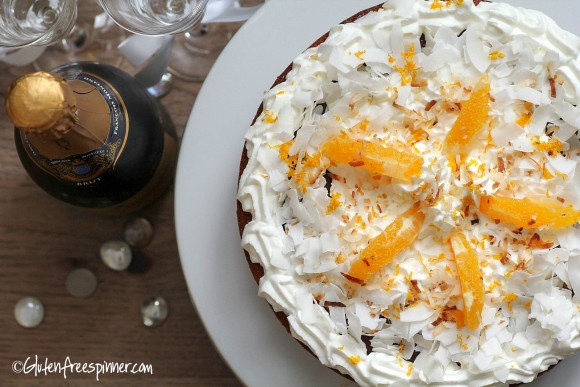 So lets add champagne bubbles and celebrate, for he is risen, and this is the single most important holy day of the year.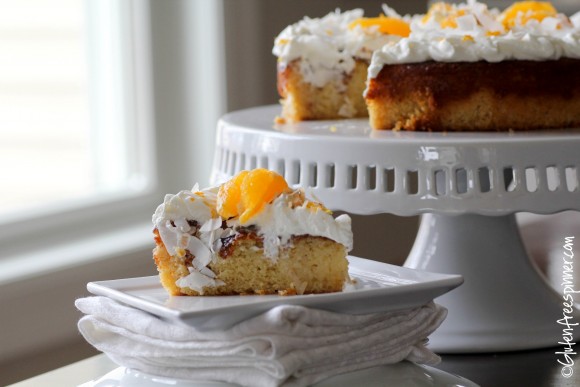 Like the dawn of morning…….fresh, bright, new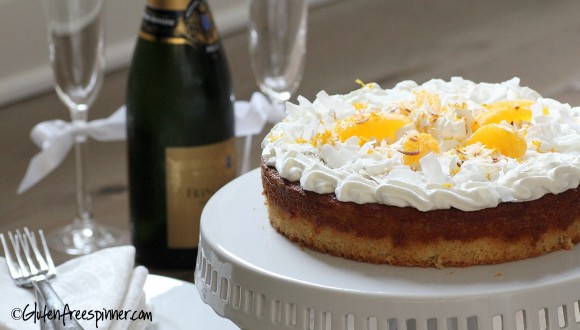 Happy Easter….
From our home to yours……with delicious love.
Enjoy!
Coconut Orange Dream Cake
Author:
Gluten Free Spinner
Cuisine:
Cake/Speical Occasion
Ingredients
½ cup butter, softened
1 cup sugar
3 large eggs
¼ cup orange juice
¼ cup half and half
2 tsp vanilla bean paste or extract
1 Tbsp orange zest
1¾ cup Pamela's Baking Mix
⅔ cup unsweetened coconut milk
⅔ cup sweetened condensed milk
Topping:
8 oz heavy whipping cream
3 Tbsp powdered sugar
Coconut flakes and toasted coconut for deco
Orange zest and orange segments for deco
Instructions
Preheat oven to 350 degrees
Spray a 9" round pan with gf non-stick spray and fit the bottom with a piece of parchment paper. Spray the parchment paper too. Set aside.
Beat the butter and sugar together until combined and fluffy.
Add the eggs, one at a time mixing until combined.
Add the orange juice, half and half, vanilla, and orange zest and beat until just combined.
With a rubber spatula add the Pamela's baking mix ½ cup at a time mixing each addition until incorporated and the batter is smooth.
Pour into prepared pan and smooth top.
Bake for 30-35 minutes or until the middle is done, testing with a toothpick coming clean.
While the cake is baking, combine the unsweetened coconut milk and the sweetened condensed milk, mixing with a whisk until combined. Set aside.
When the cake is done, remove from oven and gently poke holes in the cake with the end of a chopstick or similar size utensil all over the surface of the cake, including the edges. Pour all of the sweetened milk mixture over the cake and allow to seep into the holes.
Let rest and cool for 2 hours.
The cake should easily invert onto a serving platter by first running a knife around the edges. Remove the parchment paper from bottom.
In a stainless or glass bowl add the 8 oz whipping cream and 3 Tbsp powdered sugar and whip until stiff peaks form. Pipe the whipping cream over the cake as you wish (or spreading with spatula works too).
Top with coconut flakes, toasted coconut, orange zest, and orange segments.
Store the remaining cake in refrigerator, equally good for two days.