Asian Chili Ribs II
My Asian Chili Ribs Recipe is among one of our favored rib recipes to date so it deserves a re-post.  I'll call it Asian Chili Ribs II so the original recipe which was posted in 2011 won't be lost when searched.
Spring has sprung in Minnesota, or at least this past weekend gave us hope that it's not far away.  And being the foodies we are, the first thing we gravitate to is our grill.
During the Winter months we move our grill from deck to garage (with doors open of course) so we can still grill in frigid temps, mostly quick-grill items.  But when Spring rolls around….there's never a doubt that Ribs are on the menu.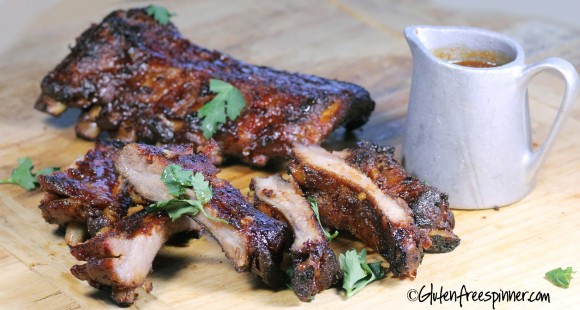 Mr. Spinner truly is the Grill Master, and one of his specialties is Ribs.
I have to say when I first approached him with my idea for an Asian Chili Rib, he wasn't as excited as I…you see he's a traditional BBQ Ribs guy.  But once he tried them?  Well lets just say he has stepped out of his BBQ box.  He loves them.
My Chili Ribs are first seasoned with a maple smokey seasoning, using a generous amount and rubbing it into the rib.  Then they are infused in a marinade of orange juice, hoisin, chili sauce, Sriracha sauce, and brown sugar (yep, sweeet-hot).
Really good ribs take time…it's a labor of love and planning ahead is essential.  These are incredibly easy to make and the results are perfect every time, just follow the steps.  The first step, and one of the keys to tender ribs, is taking the membrane off the back of the rib.  Here's how:
This is done before seasoning the ribs.  Not everyone does this, but since we learned about the "secret" to amazing ribs, it makes all the difference in the world.  You have to take the membrane off the back of the ribs.  There's a silver-skin like membrane on the back and you peel it down the length of the rib.  We use a needle-nose pliers to take it off and it works well once you are able to get ahold of it.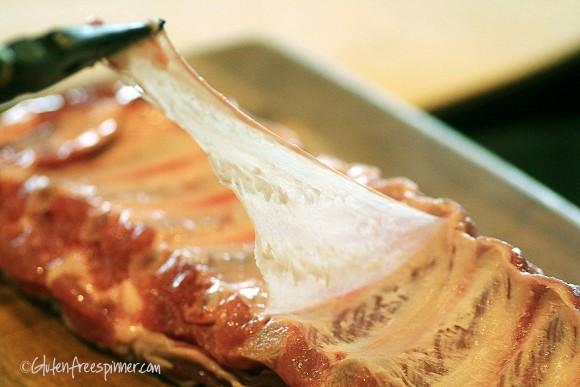 Then season away….apply liberally, this is the base of the flavor for these ribs.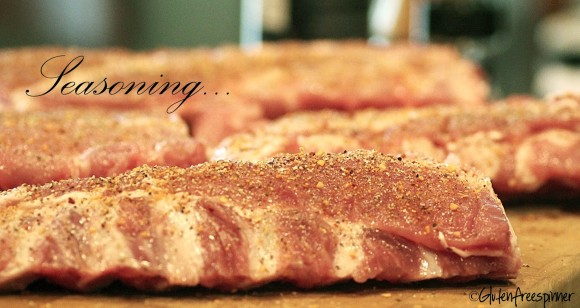 Next, make the marinade and allow the ribs to become infused with the flavors at least 4 hours, we prefer overnight.
Then it's slow cooking in the oven…before the grill.  This is where we made a change, we've since lowered the oven temp to 225 degrees.  The ribs are covered tightly with aluminum foil and slow roasted for 2 1/2-3 hours, depending how meaty your ribs are.  Next it's grill time!  This is the step that gives the ribs their signature flavor and texture.  You'll baste with the sauce while they're becoming beautifully caramelized.
Once they're done, remove from grill and allow to sit under foil for up to 20 minutes.  This is a must, as  hard as it is to wait, they need the time to rest.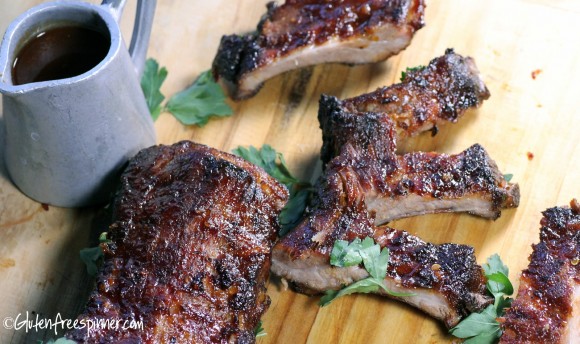 Then cut the ribs and serve family style with a side of the sauce.  Seriously…delicious!
Enjoy!

Asian Chili Ribs II
Author:
Gluten Free Spinner
Recipe type:
BBQ Asian Style
Ingredients
2 full racks baby back pork ribs, remove the sliver skin from back, and cut the racks in half (yielding 4 racks of ribs)
Sea salt
Fresh black pepper
Marinade:
1 ½ cups orange juice
½ cup Huy Fong Foods, Inc. Chili garlic sauce (or other GF chili sauce – be sure to check)
2 heaping Tbsp Dynasty Hoisin sauce (or other GF Hoisin)
1 Tbsp San-J GF organic Tamari
1 Tbsp GF hot sauce (Sriracha Hot Chili Sauce)
2 Tbsp brown sugar, firmly packed
Infused Asian BBQ Sauce:
¾ cup favorite GF Spicy BBQ sauce
¼ cup apricot or orange marmalade
¼ cup GF garlic chili sauce
½ cup orange juice
Instructions
Prepare the ribs as directed above removing the silver skin and cutting racks in half.
Lightly season both sides of the ribs first with the sea salt and pepper.
Next generously season with the Smokey Maple seasoning, using about 4-5 Tbsp between front and back of both ribs.
Gather two resealable plastic bags and place two sections in each bag.
Combine all marinade ingredients and pour 1 cup of marinade over the ribs in each bag. Marinate for at least 4 hours….or overnight (preferred).
Bake:
Preheat oven to 250 degrees
Remove ribs from marinade and place on a foil lined baking sheet. Completely cover with foil and seal edges.
Roast in 250 degree oven for 2½-3 hours.
Remove from oven and preheat your grill on high.
Asian BBQ Sauce:
Combine all sauce ingredients, using microwave for a few minutes to soften the marmalade if it's too stiff. Divide the sauce in half-one for basting and one for serving. Set aside.
Grill:
Once the grill is preheated, lower to medium and place the ribs on grates.
Baste the top with sauce and allow to cook for 5-7 minutes.
Turn the ribs over, baste again, and grill for another 5-7 minutes.
Remove from grill and baste with the BBQ sauce again and allow to sit under foil for at least 20 minutes before serving.
Serve with extra sauce and sides of Steak Fries and Beans.