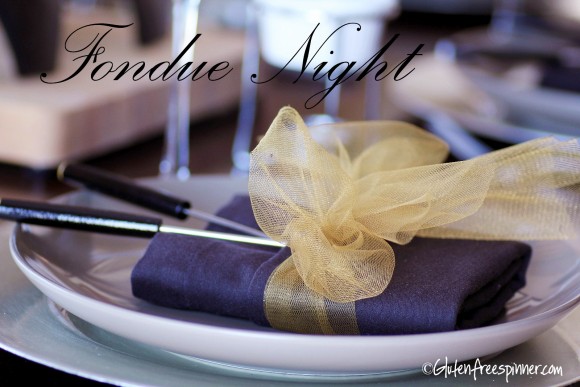 I'm excited to bring you this post today as it's one of my favorite entertaining events/menu.
Fondue!
My favorite part of fondue is the time spent with friends and family.  The meal and conversation lasts 2-3 hours and there isn't a better time for sharing the joy of simply being together than sitting around your dinner table laughing, telling stories, and eating great food.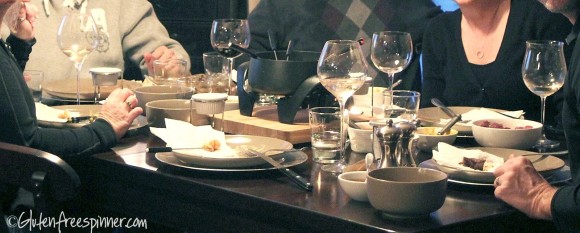 I'll detail the menu, method, tablescape, napkin fold, sauces and theme ideas.  It's a very special evening of long conversations, delicious food, pretty tablescapes, laughter, fun, and new cherished memories.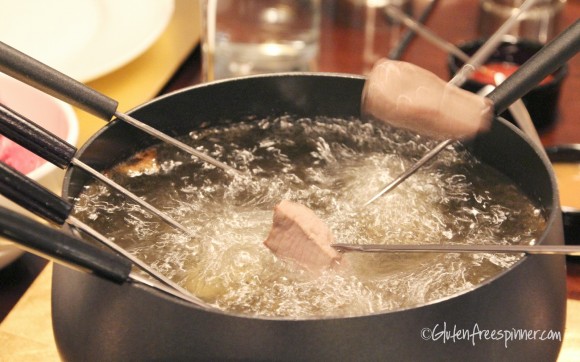 The Fondue Pot:
For starters, I recommend using an electric fondue pot and I'll explain why.  Fondue has been a tradition in our family on Christmas Eve for over 13 years and we've expanded the fun to dinner parties and birthdays so we consider ourselves Fondue-Junkies.  When we first started, we used a fuel-heated fondue pot that uses a sterno canister.  It worked great….until we realized the oil wasn't cooking the food any longer because the fuel had run out.  We had an extra, but it needs to be exchanged in the middle of dinner, then wait for the oil to reheat up to temperature.
As I mentioned, we make an event out of fondue at our house so it goes for hours.  The electric pot goes for as long as you have food to fondue….or until the wine runs out.  I think ours is an Oster from Target, but I can't remember….looks very much the same.  Of course, if you already have a fuel-burning pot, it will work totally fine…just try to catch it before it runs out.
The fondue pot sits center stage on your table and acts as the centerpiece of the meal.
Be sure to place the pot on a charger or stable cutting board to avoid any mishaps on your dining table.
Safety note:  Be careful of where the power cord dangles from the table.  The plug is magnetic to the pot and engineered to pull out if yanked so as not to spill the hot oil, but to be extra careful, we tape the cord on the leg of the table with blue painters tape and place a nice little rug over the cord on floor to outlet.  You can't see it and it's just a safety precaution to avoid any oooops.
Guests
Plan your attendee's.  We have found 6 guests to be the maximum head count for one fondue pot, and 4 the the most comfortable.  If you have a larger crowd, use two pots.
Plan your theme…is it a holiday?  Birthday?  Romantic night for two?  Or maybe just a great reason to get together.  Whatever the case you can make it as fancy or casual as you choose.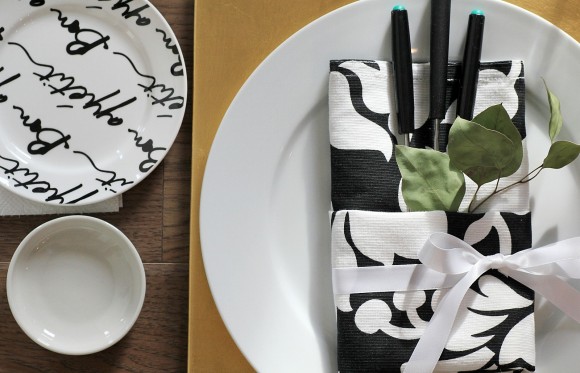 Tablescape:
Ideas and needed items:
I use chargers under each plate just to add a little 'specialness' to the table…it's optional.
Use a dinner sized plate on top of the charger unless you have limited space…then use a 9″ salad plate.
Use a smaller plate on the side, like an appetizer sized plate or cup-saucer.  To this little plate you will fold two paper towels in quarters and set them under the plate, the guests will use them as "blotters" when taking their food out of the oil.  (see example above)
Little individual sauce dipping bowls at each place setting are optional…not necessary.  I've only used them once.  They just looked cool.  ; >
Wine glasses and a good bottle of wine – your choice  (or sparkling Catawba juice if non-alcohol)
Water glasses
Fork and table knife at each setting
Salt and pepper shaker to season after removing from oil (for the steak & chicken)
Sauce dishes…for as many sauces as you choose
Butter warmers for Shrimp
Candles – love the ambiance!
Napkins – decorative!
And finally the Fondue Forks

Try to have 2-3 forks of the same color for each person.  This allows everyone to keep track of their own food cooking and they can have 2-3 forks in the pot at a time.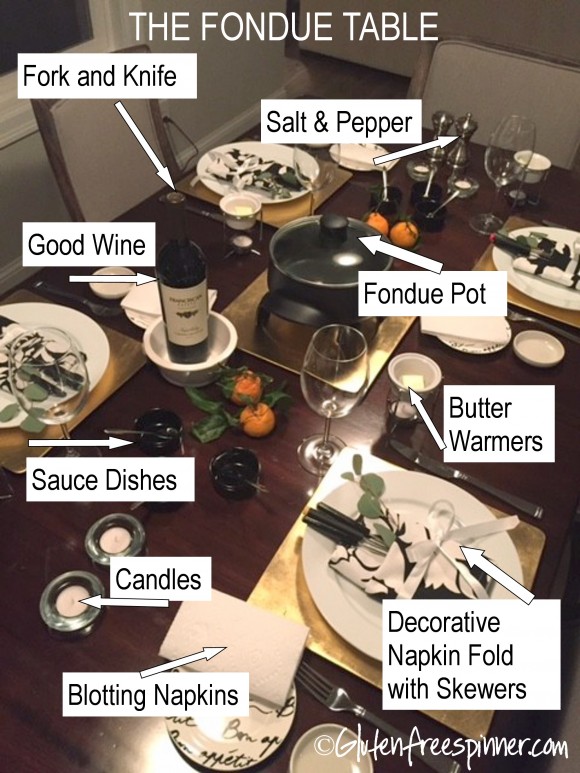 Napkins:
The napkins at my fondue table are the place for decoration, bling, specializing and personalizing.
I usually fold my napkins in a pocket to hold the fondue forks and I tie them with whatever coordinating theme I have going. (See tutorial)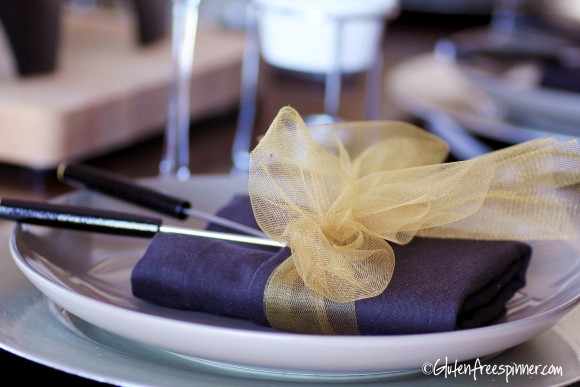 In this example I used gold tulle ribbon to tie each black napkin, it's easy to create a dramatic look with tulle because it's fluffy and ties beautifully.  You can find many colors at your local craft store.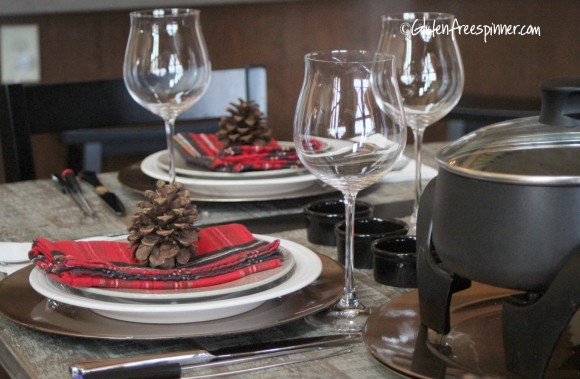 I've also simply folded the napkins and placed an item related to the theme on top, like a pine cone for Christmas…equally festive.
Here's my step-by-step tutorial on how to fold the pocket napkin.  It's very easy and you can use any sized napkin you have.  There's also other ideas for dressing your table.
The Food, Sauces, and Fondue Method
Heat the Oil:
I really recommend using Peanut Oil as it has a higher smoke point at 450 degrees which is ideal for fondue.  Also, while it contains more saturated fats than canola oil, it has high levels of beneficial polyunsaturated and monounsaturated fats.  Of course you can use canola, vegetable, or any oil you choose.   The oil is heated to 350-375 degrees.
Meat and seafood:
We like to serve our fondue with four choices; Filet Minion, Chicken Breast, Shrimp, and Polish Sausage.  It's a perfect variety of flavors and choices and it's fun to cook each at different times and try all the sauces to find a favorite.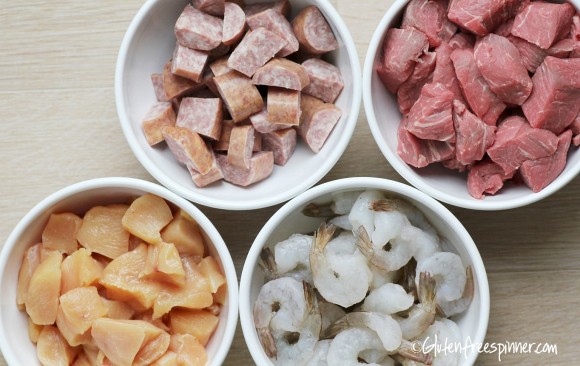 Simply remove any fat from chicken and beef and cut each into 1-1/2″ pieces and place in white bowls…(white bowls just seem more appetizing when placing raw food on the table).  Our choice to use Filet Minion is based on the fact it's always tender and flavorful.  When you're cooking steak so quickly and without any seasoning or tenderizing, the filet will always satisfy.  If you use another beef, just be sure it's tender and without fat or gristle.  **  If you have a large party, you may want to keep the meats in a separate zip-lock bag and fill the bowls as needed.
For the shrimp, don't get them too large, medium-small is best and be sure they are de-veined and rinsed.  We leave the tails on.
For the Polish sausage, cut in half wheels.
You can prepare these the day ahead if needed (not the shrimp), wrap tightly in plastic wrap and refrigerate until your ready to fondue.
Sauces:
This is the really fun part!  We spent years buying different sauces to go with each menu item and had taste-tests during the night.  We made notes on our favorites and listed the "must-haves" until we had it right.  Now we pretty much purchase the same sauces each time we fondue.  Here are our favorites: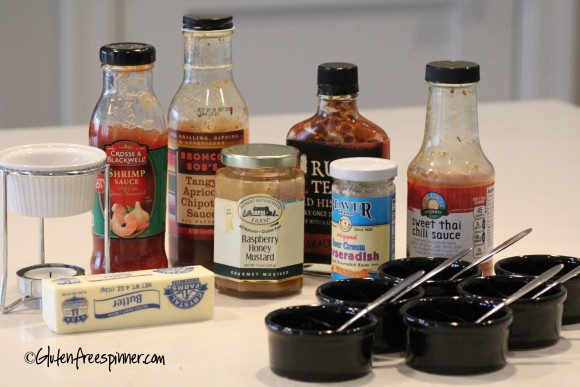 Of course you can use any brand or variety of sauce you prefer, but since we need our sauces to be gluten free, we use these particular brands.
The sauces are poured into little dishes…like ramekins, and I have small spoons for each.  They are passed around through out the night as each person adds a sauce to their own plate….we don't double dip into the dishes, it would get pretty gross by the end of the evening.
Here are suggested sauces for each menu item:
Chicken:  Sweet and sour sauce, BBQ sauce, Chipotle sauce, honey mustard sauce
Filet Minion:  First we salt and pepper after removing from oil.  Then horseradish sauce, spicy steak sauce, chipotle sauce, or Bearnaise sauce
Shrimp:  We like to use butter warmers and dip in butter, or cocktail sauce
Polish Sausage:  Variety of mustard's; hot, sweet, horseradish, honey.  Also, maple syrup (son's favorite)
Method:
When guests arrive, your table will be beautifully set and watch how it draws anticipation for the actual event!  We usually have a cocktail hour with a small tray of cheeses and nuts.  Nothing heavy…you don't want your guests full.
You'll want to have filled the fondue pot with oil about 1/2 – 2/3 up the pot ahead of time and cover.  About 15-20 minutes before you plan to be seated, turn the dial on electric pot to 350 degrees to preheat the oil.  When it's up to temp, pour the water glasses full, pour the wine, (don't forget to light the candles), place the food on the table two on each end of table, then place the sauce dishes around the table.  Ask guests to be seated.
The meat/seafood is passed around the table and everyone skewers their choices to add to pot.  This is where each person will determine how 'done' they want their food.   When you remove your skewer from the pot, place on the 'blotting' towel on small plate.  This will drain off any extra oil before eating.  Be sure to use the silverware fork to eat, not the fondue fork (one of our guests used the fondue fork and almost burned his lip).
Then the sauces are passed around, tasted and tested, favorites are found and the conversation inevitably involves what's the best, how long to cook each, what you just ate, "try this one!!", and so on.  The evening will continue on as long as there is food, appetite, conversation, and wine.
For dessert, (if you are serving one), Creme Brulee is a perfect choice as it's made ahead and will WOW everyone.  I give you step by step instructions in my recipe.  I would serve the Creme Brulee with coffee in another room, not at the fondue table.  It's a special dessert to celebrate the end of a very special evening.
I promise you a very enjoyable and memorable time for all.