Vanilla Bean Cupcakes
I was so excited to try these cupcakes when they first came out of the oven that I ate two in a row just to be sure I wasn't dreaming.  Yes, dreamy, fluffy, vanillay, light, airy, moist….delicious!
I was given the task of bringing gluten free vanilla cupcakes to a shower last weekend for a special bride-to-be, Kristin.  Being my calendar showed little time for baking, I settled for a recipe I found online hoping they would prove as good as they looked.  They were a horrible flop; gummy and dense…all 18 went in the trash.  What a waste…of both time and ingredients….grrrrr.  If I had been creating my own recipe I wouldn't have minded as much being most really good recipes are born by trial and error until I get it right….that's just how I roll.
So creating a vanilla cupcake recipe was added to my list and when the alarm buzzed at 3:45 am I crawled out of bed, reached for my slippies, and with coffee in hand I started my journey into cupcake haven.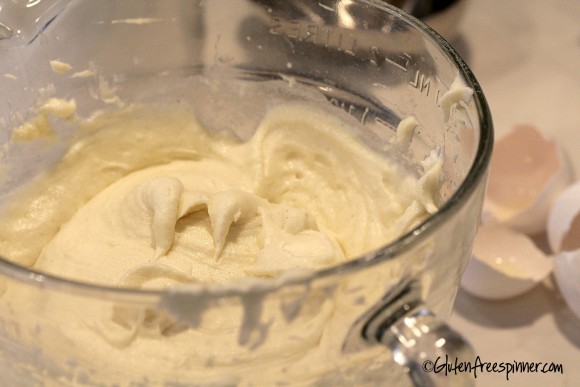 Mr. Spinner was at the cabin for the weekend and the house was much too quiet.  Surely a little Norah Jones singing 'Sunrise' would get my creative juices flowing to start baking.  Have I told you how much I love music?  It's my cure-all, my go-to, it's my muse….and ironically, I can't sing or play a tune (that is unless my hairbrush guitar and squeaking vocals are considered music).  Nope, I just listen – loudly – and all things become right again.
My first course of action was deciding the strategy behind my cupcakes; relying on what I already know works.  Take my Macadamia Nut Cake/Donuts and Anne's Apple Cake recipes, they are two consistent winners.  So what is it about these two recipes that make them so moist and delicious?  A combination of apples, Greek yogurt, cream cheese, and vanilla beans…it was worth a try.  The batter was rich, creamy and delicious, and I knew I was off to a good start.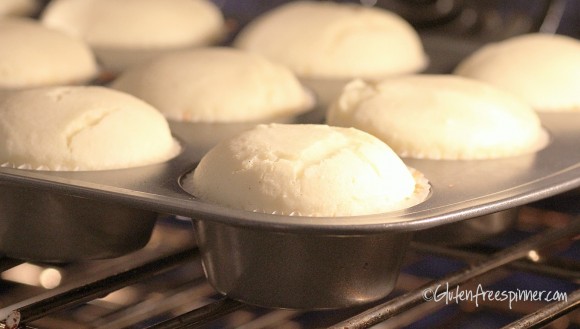 And as I watched these little cakes rise past their paper liners I became even more encouraged…look at the puff!  Jumping up and down excitement!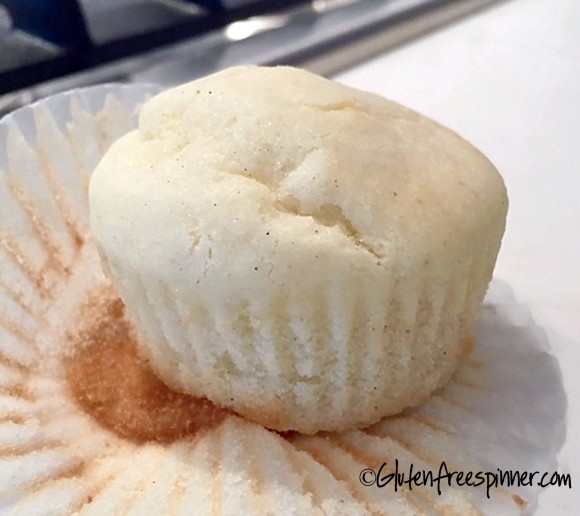 Even as they cooled, they stayed beautifully pillowed and light.
Another 'Yay!"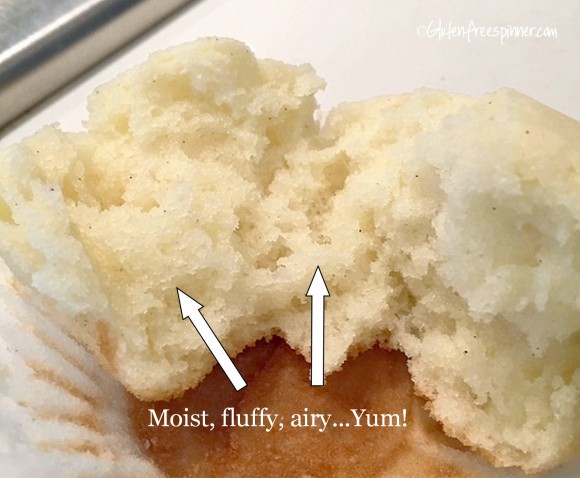 But the real test was coming…texture and flavor.  As I always say, the proof is in the middle……you have to see the inside.  They were little clouds of tender, moist, gently sweetened love with tiny flecks of vanilla beans.  Happy-Happy-Joy-Joy!  And the flavor?  Vanilla bliss….and they weren't even frosted yet.
I chose to frost them with my Cream Cheese Buttercream Frosting….it's a favorite.  Being this was a bridal shower, all things light and white, I kept my frosting vanilla, but I also give you directions for chocolate.  Yum….chocolate frosted vanilla bean cupcakes?  OK!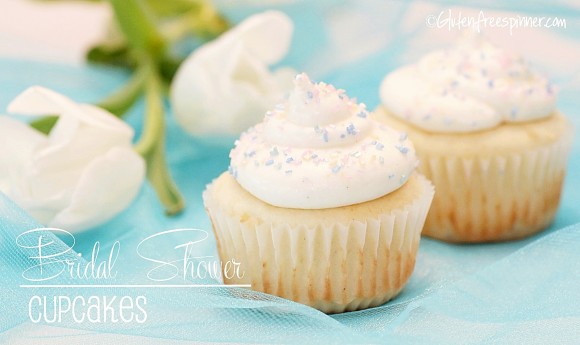 So, to Kristin with love I give you Vanilla Bean Cupcakes.  May your lifetime with Matthew be filled with heavenly joy, love, and laughter……..and an abundance of gluten free cupcakes.
Vanilla Bean Cupcakes
This recipe makes 12-14 cupcakes.  As with all gluten free baking, be sure to measure ingredients carefully (leveling off your flour measures), and if you make substitutions, the results will vary.
Ingredients:
1 stick butter, softened (1/2 cup)
3/4 cup sugar
4 oz lowfat cream cheese (Neufchatel), softened
1 Tbsp vanilla bean paste (preferred) or scrape the beans from 1 vanilla bean or 2 tsp vanilla extract
2 eggs
1/4 cup apple sauce
1/4 cup vanilla Greek yogurt (I prefer Dannon Oikos Vanilla Greek Yogurt)
1/4 cup water
1 1/2 cups GF all purpose flour with xanthan gum (I like Glutino) or use my GFAP blend
2 tsp baking powder
1/2 tsp baking soda
1/4 tsp salt
Directions:
Preheat oven to 350 degrees and line cupcake pan with paper liners or spray with non-stick.
With electric hand mixer beat the butter and sugar until fluffy.  Add the cream cheese and vanilla bean paste.  Beat together to combine until smooth.  Beat in the two eggs for 1 minute.  Add the apple sauce, Greek yogurt, and water and beat for about 2 minutes until smooth and fluffy.
In a separate medium bowl, whisk the dry ingredients together (flour, baking powder, salt) and gradually add to the wet blending just until all is combined.  Fill each liner with a heaping 1/4 cup of the batter, lightly smoothing each top to even out.
Bake in preheated 350 degree oven for 16-18 minutes or until the cake springs back when lightly touched.  Remove from oven and allow to cool in pan for 10 minutes before removing to rack to finish cooling.  Frost with my cream cheese buttercream frosting:
Cream Cheese Buttercream Frosting:
Almond or Chocolate Almond Cream Cheese Frosting
1 (8-ounce) package lowfat cream cheese, room temperature
1/2 cup (1 stick) butter, room temperature
4 cups confectioners' sugar
1/2 tsp almond extract (be careful it's strong)
1 tsp vanilla extract or 2 tsp vanilla bean paste

For chocolate…add the following:

4 (1 oz) squares unsweetened chocolate
Pinch of salt
1 Tbsp half and half (as needed)
Directions
Beat the cream cheese and butter in a medium bowl with hand mixer until creamy.  Slowly add the powdered sugar, scraping down the sides as necessary to combine all ingredients and blend until it becomes creamy.  Add the almond and vanilla extracts and blend in.
For Chocolate Almond Frosting:
Melt the chocolate squares in a small glass bowl at 30 second intervals, stirring after each until melted.  Be careful not to over-melt as you can easily ruin the chocolate – melt slowly and stop once it is creamy.  It won't be hot, just melted.  Add the melted chocolate and pinch of salt to the frosting and increase mixer speed to medium. Blend until frosting is fluffy, about 1 minute.  Add 1 Tbsp half and half if needed for a creamier texture.