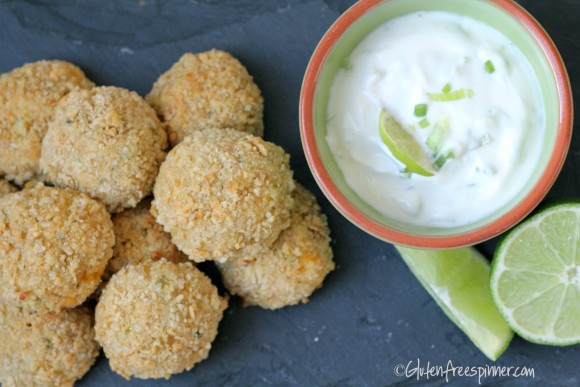 Green Chili Chicken Bites
A new appetizer just in time for the Superbowl!
These will be different than anything you serve or see at the appetizer bar and my inspiration came from the many Buffalo Balls and Dips served at parties.  Why not go Tex-Mex instead!
My Green Chili Chicken Bites are baked (yes baked – not fried!) to a golden crunchy brown thanks to the coating of crushed corn tortilla chips.  The crunch of the outer shell surrounds the shredded chicken, green chillies, two kinds of cheese, and scallions….a Tex-Mex dream.  The dipping sauce is my fresh and light Crema that has a kiss of lime and touch of honey to add a final mouth watering yum.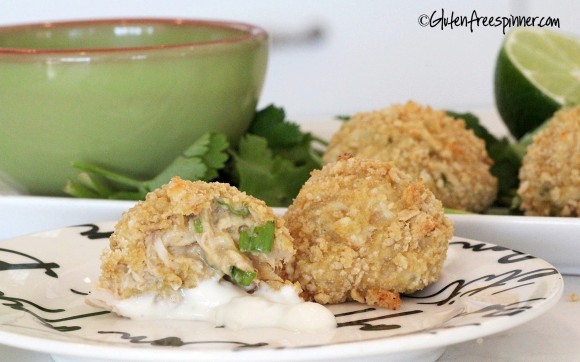 An added bonus to these light little gems is you can also prepare them ahead, making them pop-in-the-oven ready for the party.  And, not only are they good and gooey right out of the oven, but they are every bit as tasty when they cool off so no need to rush from oven to table.
For those of you who like a little more heat, add chopped Jalapeno's and/or use Habanero cheese.  Or adjust the hot sauce to your heat preference.
This recipe makes about 14-16 – 1 1/2″ appetizer balls, which are a healthy bite, but you could certainly use a smaller scoop and make 3/4″ balls to double the quantity….just be sure to adjust the baking time.
I plated them three different ways for serving ideas, it somewhat depends on the type of appetizer bar you're having or the time you want to spend.
First, as in the top photo, I layered them on a serving tray with the dipping sauce on the side.  A slate tray offers a nice contrast…or a simple white tray is good too, just line it with cilantro leaves and a few limes.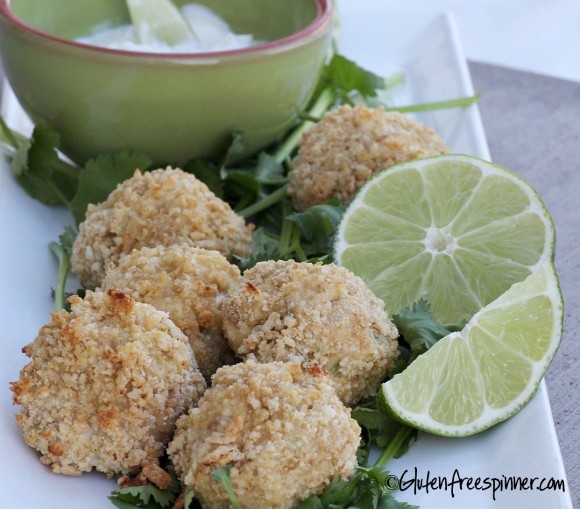 You can also set each ball on a tortilla chip, then top with a little crema sauce, and garnish with a cilantro leaf.  Cut lime wedges and stand them next to each bite. Pretty!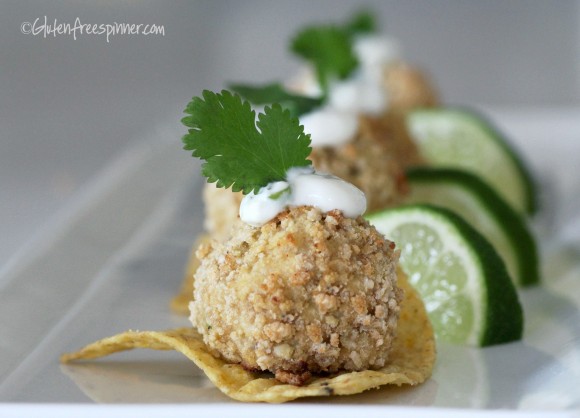 Or how about adding a little wedge of lime and a fork-pick to make it an easy grab and eat bite.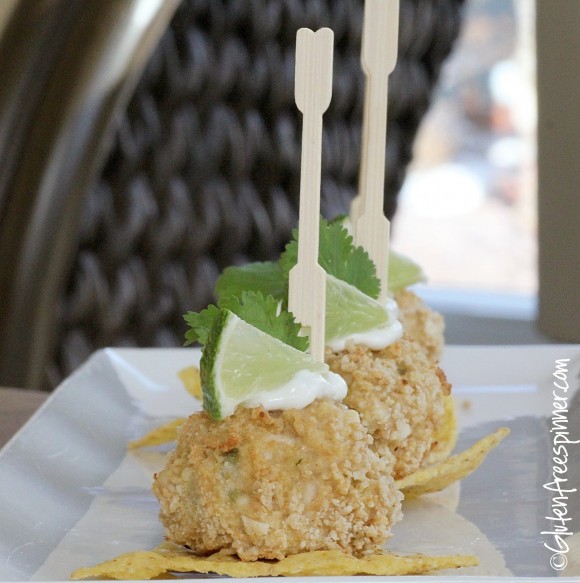 However you choose to serve them, I hope you and your guests enjoy these little bites of yum and all the festivities that make Superbowl a holiday of it's own.  Score!

Green Chili Chicken Bites
Author:
Gluten Free Spinner
Cuisine:
Superbowl, Party Food, Tex-Mex
Ingredients
Filling:
2 cups shredded chicken or turkey - Deli rotisserie GF
¼ cup good Salsa Verde, I like Herdez Brand
¼ cup chopped fire roasted green chilies
1½ tsp Emeril Southwest Seasoning (or your favorite)
2 oz cream cheese (1/3 less fat) or 2 Laughing Cow Chipotle
1½ cups finely shredded Mexican blend cheese
3 green onions (scallions) chopped
Dashes of favorite hot sauce to taste
Optional - chopped Jalapeno's, Habanero cheese
Coating:
2½ cups finely crushed GF corn tortilla chips
1 large egg beaten with 2 Tbsp water
Crema Sauce:
⅔ cup light sour cream (Daisy brand)
1 fresh lime, juiced
1 Tbsp honey
1-2 Tbsp chopped fresh green onions
Mix all ingredients together and keep refrigerated until ready to serve.
Instructions
Preheat oven to 400 degrees. Line a large baking sheet with parchment paper.
Combine all chicken bite ingredients in a medium bowl ensuring all is combined. Form into 14-16 balls with a 1½" springload scoop (or tablespoon).
In two separate bowls make your coating station, one with the crushed tortilla chips and one with the egg wash. Take three chicken balls at a time and first roll in egg wash then in chips, ensuring to coat all sides. Continue until all balls are coated with crushed chips. !Place on prepared baking sheet and lightly spray the top of each coated ball with GF non-stick spray (preferably olive oil based).
Bake in preheated 400 degree oven 12-14 minutes or until golden brown. Check at 12 minutes and take out when nicely browned but before they begin to bubble, mine were done in 13 minutes.
Allow to cool 5-8 minutes and serve with Crema Sauce.
Optional garnish: Limes, Cilantro, Green onions, Corn Tortilla Chips