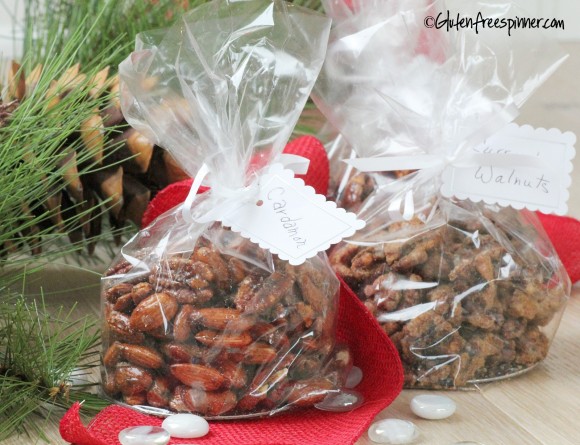 My Mom's Spiced Nuts
My Mom makes the most amazing Spiced Nuts, so I asked her if she'd do a post with me showing how to make them.  It was a great way to spend an afternoon with my mom, and when the nuts were bagged and tied we lunched on my Winter Pear Salad while listening to Christmas Music.  Pretty much an awesome day.
Her Spiced Nuts are requested every time we have a gathering, they are a little sweet, a little spicy, a lot crunchy, and downright addictive.  First you grab a few…then you find yourself standing over the bowl grazing on them until the last grab comes up empty.  The peppery kick is what makes these so good, a perfect cocktail nut.
If you are lucky enough to be there when she first pours them into a bowl you'll get some.  Otherwise, you'll have to settle for the chatter of how good they 'were'.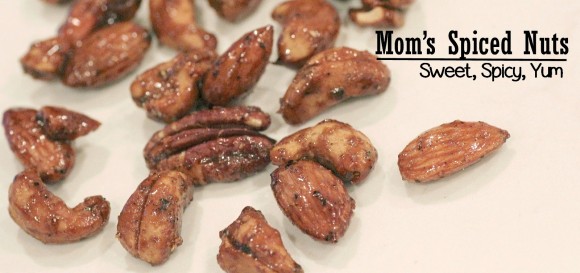 A combination of fresh unsalted Cashews, Almonds, and Pecans are caramelized with this honey glaze that has been infused with fresh ground black pepper, sea salt, and cardamom or allspice.  Then they're roasted to a golden brown crunchy finish.  The best Spiced Nut you'll ever have.
They come together quickly so I would suggest doubling or tripling the batch.  They make great hostess gifts too!  Just put about 3/4 cup in a cellophane bag and tie a pretty bow.  We also added little tags and mom wrote the spice we used.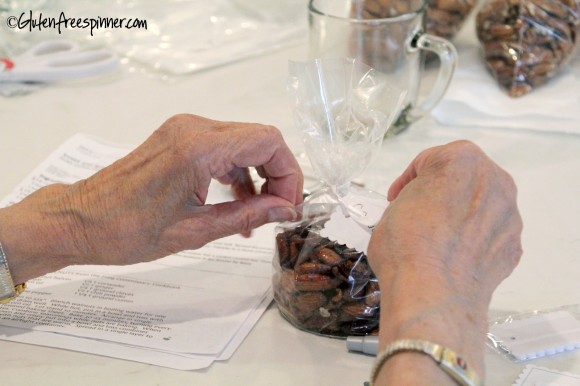 Here's the basics on how to make My Mom's Spiced Nuts: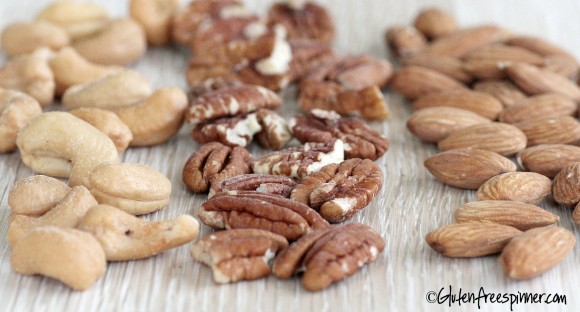 The nuts she uses are Cashews, Pecans, and Almonds…unsalted.  Buy them in bulk, it's less expensive.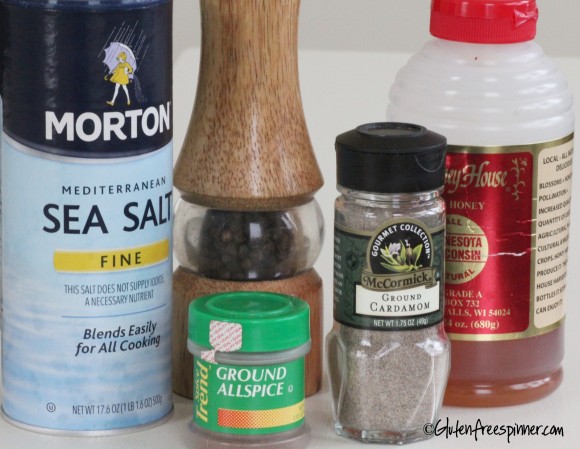 The glaze is honey, fresh cracked black pepper, sea salt, allspice and/or cardamom, and sugar.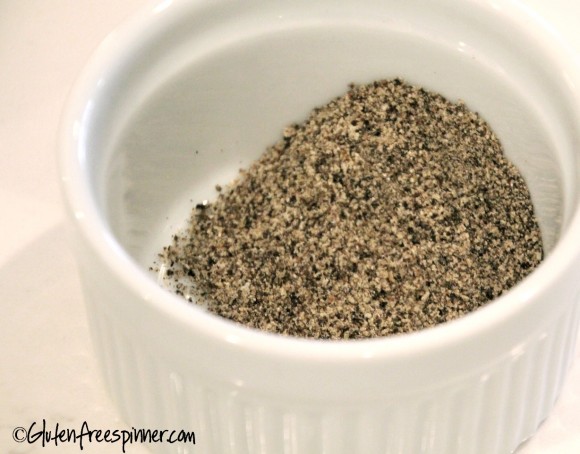 It calls for a lot of fresh black pepper…don't use the already ground, start crackin' and grind up a ramekin full!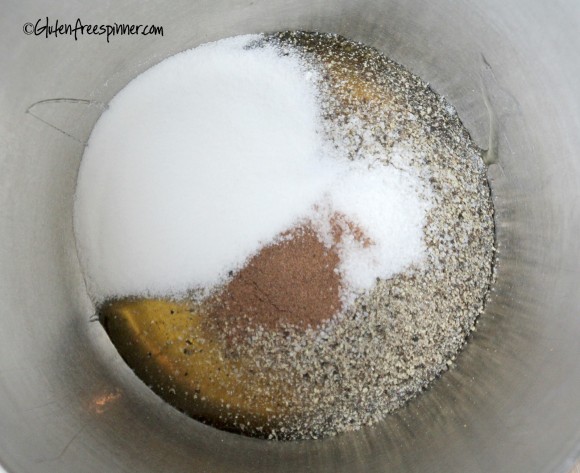 The deliciousness has begun….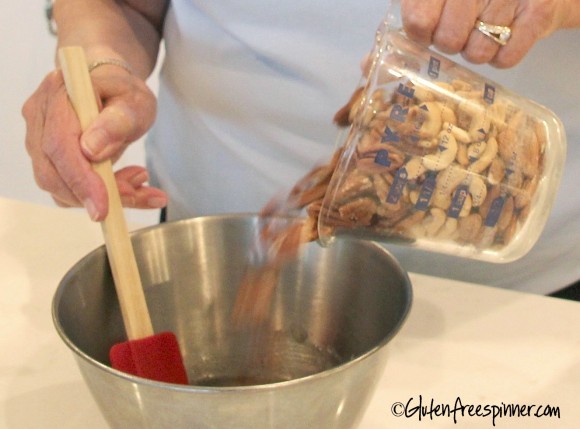 Mix the honey glaze together, it will be thick and a bit stiff.  We found on the second batch that if we microwaved it for just 10 seconds to loosen the glaze, it made coating the nuts much easier.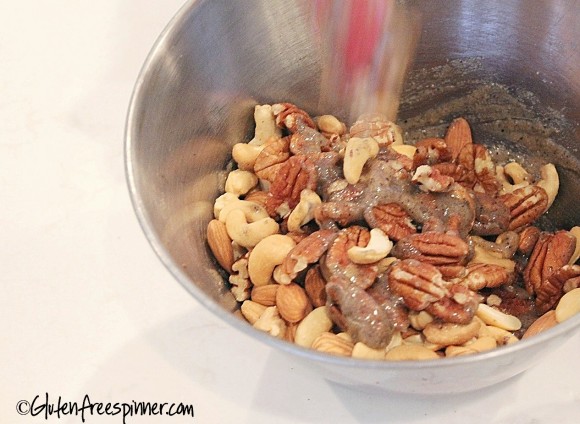 Once all the nuts are coated, pour onto a large sheet pan that's been covered in foil (clean up is so easy!)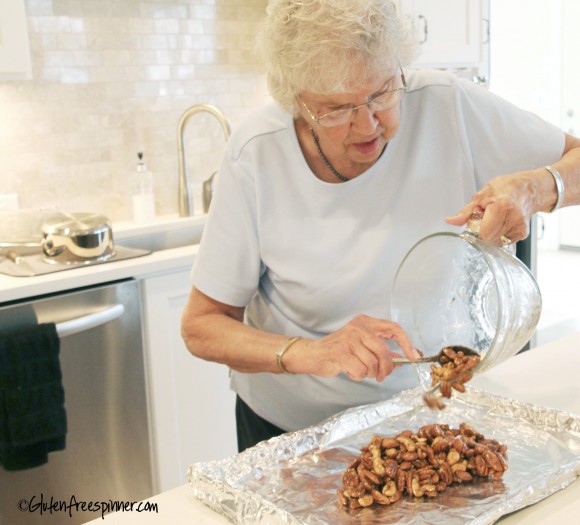 You can see we switched to a glass bowl for 10 seconds in the microwave…waaaaaay easier!  Spread them out on the pan as much as you can, you'll have a chance to shake them once while cooking too.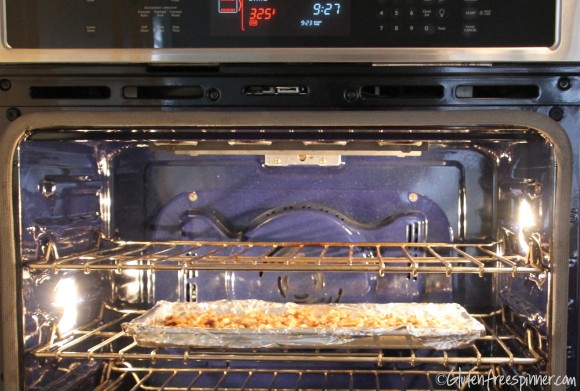 Pop them into the oven at 325 degrees for 13-15 minutes then stir/shake and bake another 7 minutes.
Transfer to a sheet of parchment paper and separate them into a single layer and allow to cool.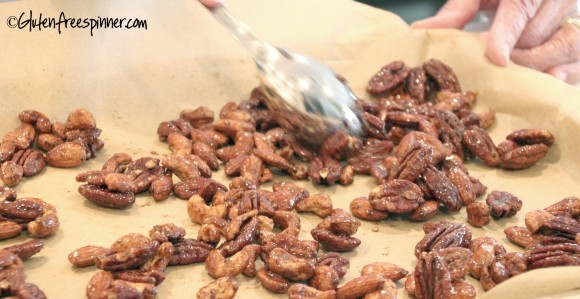 When cool enough to handle, break apart separating the nuts.  Waaaalaaa!  You've just made my Mom's Spiced Nuts!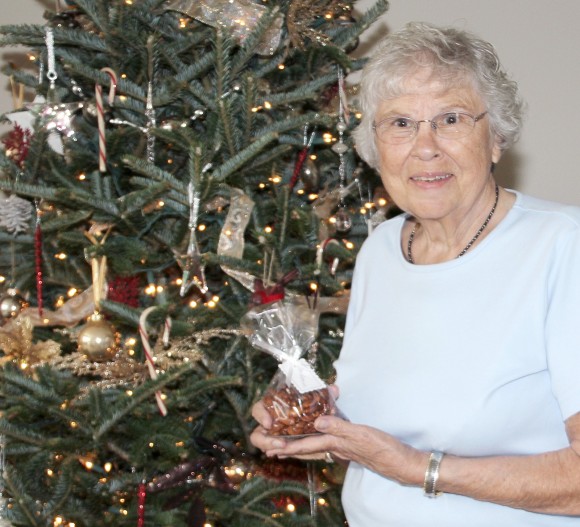 Thanks Mom!
Thanks for sharing your special Spiced Nut Recipe with everyone…..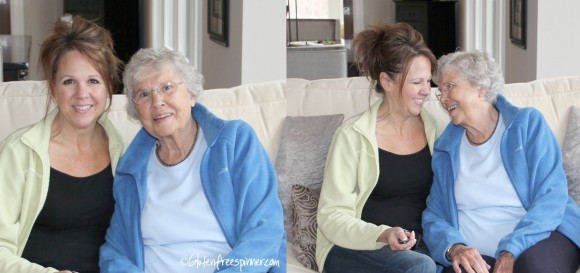 And thanks for sharing the day with me…I love you

Mare
Mom's Spiced Nuts:
Ingredients:
1/4 cup honey
2 tsp freshly cracked black pepper
1 tsp fine sea salt
1/4 tsp allspice and/or ground Cardamom (we used a little of each to equal about 1/4 tsp, maybe a bit more)
2 Tbsp sugar
2 cups nuts – combination of almonds, cashews, and pecans
Directions:
Preheat oven to 325 degrees.  Line a large sheet pan with aluminum foil and spray a little non-stick on the foil
In a medium glass bowl, stir together the honey, pepper, sea salt, allspice/cardamom, and sugar.  If too stiff, microwave for just 10 seconds to loosen.  Add the nut and toss to coat well.
Pour onto the prepared baking sheet and spread out into single layer.  Bake in preheated 325 degree oven for 13-15  minutes then shake/stir and bake another 7 minutes.  Transfer to a parchment lined baking sheet and separate the nuts into single layer.  Allow to cool.  When cool enough to handle, break into separate nuts.