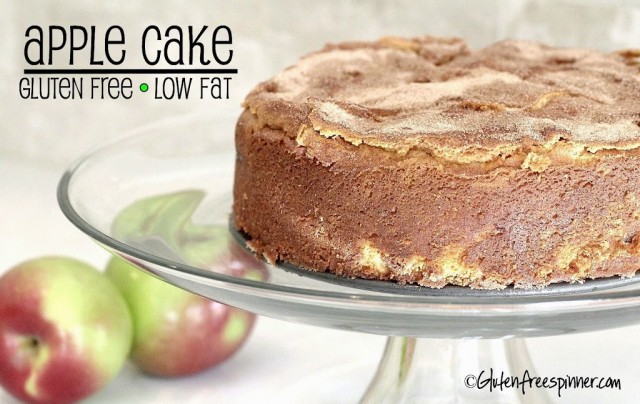 October = Apple Cake & Anne.
I make this cake each year, at this time, this week.
It's a celebration you see…of my friend, Anne.
This was her favorite cake.
We lost her in October 2003 at the age of 42.
She would be 53 this year.
Anne originally found this recipe in a Cooking Light Magazine and it's absolutely delicious. She was a personal trainer and she lived what she taught…healthy diet and exercise. The original recipe can be found here which is lighter than my version as it uses fat free cream cheese and margarine. I never use margarine…only real butter for me, and I prefer 1/3 less fat cream cheese over the fat free. Use whichever suits you, both will work.
When I first revised the recipe to gluten free in 2010, the center of my cake fell after taking it out of the oven (you can see it in my old posting). It tasted great, but wasn't as fluffy as it should have been. I've made adjustments over the years to the ingredients and oven temperature, and the final adjustment came from Anne's mom, Deidre.
She invited us girls over for an afternoon brunch
and made Anne's cake from my blog for what would have been Anne's 50th Birthday Celebration. She used Gluten Free Pantry's AP Flour to make the cake and it came out beautiful! Fluffy, high, and delicious. It's now my go-to APGF flour for baking and it's the only one I use for Anne's Apple Cake.
The celebration was a success, we spent the afternoon reminiscing about days gone by and crazy things we did as kids. Anne's house had been the gathering place when we grew up so we knew her mom and dad well, they were like family. We laughed together and cried a bit too, and all the while we knew Anne was with us in spirit.
Anne's 50th Birthday Brunch
Her sister and mom on the far left and her dad on the far right

Tragically, in 2012 we also lost Anne's mom, Deidre, to her battle with cancer and kidney failure which had escalated after the devastation of losing Anne. The only comfort was (is) knowing they are together. The heavens must now spend a lot more time laughing as Anne and Deidre were the silliest, most loving, upbeat, joyful, hugging, playful, fun to be around two women you could ever meet. Envisioning them together brings a smile and warmth to my heart. And even though our questions about Anne's death go unanswered, Deidre now knows and can be at peace. Eventually, justice will come for Anne.


Here's Anne and I at my wedding 2001
So here's Anne's Apple Cake October 2014. With the many revisions over the years, I think it's now the best it can be. So-so very good.
Moist, fluffy, appley, cinnamony, and sweet…but not too. It's bursting with tender apples that keep the cake incredibly moist while the flaky cinnamon crust covers the entire cake for a sweet-crisp contrast.
Oh….and don't forget it's lower in fat.
Boom.

A scoop of vanilla bean gelato or ice cream, or a dollop of fresh whipped cream tops it off.
It's super easy to make.
Cheers Anne and Deidre, I toast to you in all this deliciousness, love, and joy you brought to all of us. We miss you……
In Peace.









Anne's Apple Cake
Ingredients
1 1/2 cups

sugar

1/2 cup

softened

butter

1 Tbsp vanilla bean paste (or 1 tsp

vanilla extract)

8 ounces

block-style 1/3 less fat cream cheese, softened

2

large eggs

1 1/2 cups

Gluten Free Pantry

all-purpose flour (or your fav. APGF flour)

1 1/2 teaspoons

baking powder

1/4 teaspoon

salt

3 cups

chopped peeled Macintosh apples (about 3 apples) (any good baking apple)

Cinnamon mixture: 1/4 cup sugar and 2 tsp ground cinnamon

Cooking spray
Preparation
Preheat oven to 350°.

Prepare an 8-inch springform pan by coating with gf cooking spray

Beat 1 1/2 cups sugar, butter, vanilla, and cream cheese at medium speed of a mixer until well-blended (about 4 minutes). Add eggs, 1 at a time, beating well after each addition. Combine flour, baking powder, and salt. Add flour mixture to creamed mixture, beating at low speed until blended.

Combine the 1/4 cup sugar and cinnamon. Sprinkle 2 tablespoons of the cinnamon mixture over the apples in a bowl until all are coated. Stir the apple mixture into the batter.

Sprinkle 2 tsp of the cinnamon mixture into the prepared pan that has been sprayed with non-stick spray…shake around to cling to the sides of pan (it won't be enough to coat all…but that's all you need).

Pour the batter into the pan and smooth evenly. Sprinkle the top with remaining cinnamon mixture.

Bake at 325° for 1 hour and 5-15 minutes or until the cake pulls away from the sides of the pan and toothpick comes out clean. Cool the cake completely on a wire rack, remove the sides of pan, and cut using a serrated knife.

Note: You can also make this cake in a 9-inch square cake pan or a 9-inch springform pan; just reduce the cooking time by 5-10 minutes.
Adapted from: