with Orange Vanilla Icing
(Scones made with Organic Coconut Palm Sugar)
Hi-Hi-Hi!!! Thank you for hanging in there with me during my crazy summer project…it's almost complete and I can hardly wait to tell you all about it. Here's a little glimpse of what has taken my time and attention:
My new canvas for all the gluten free recipes to come!
I can't wait to start creating.
Better lighting and a double oven…hmmm, two new creations at once?
And this is a designated shelving closet for all the little dishes, pans, bowls, and linens as well as my photo props and equipment.
I'm so excited to cook! And I'm so excited to capture it with my lens and share on GFS.
My mornings have consisted of reviewing the construction schedule and staying on task while concentrating on my 'paying job' so we can obtain a mortgage! It's so easy to become distracted as my thoughts shift between Webx meetings and ceramic tile, and since my other passion is design/decor, it takes every ounce of discipline to stay focused and productive to meet the deadlines and expectations. Mr. Spinner and I must talk 15 times a day keeping each other alerted to developments and glitches, and as we take our place on the front porch each night we toast to another day closer. We're almost done…we're almost there. We are grateful, we keep it all in perspective, and we are excited.
This morning as I gathered my notes and a hot cup of coffee I was craving something sweet to start my day. I wanted a pastry instead of the usual vanilla Greek yogurt, but just a 'little' pastry…like a mini scone. Mmmm, scones…they're a cross between a muffin and a sweet bread; not as cakey as a muffin and not yeasty like a bread. They are subtly sweet and most often shaped in triangles then finished with a drizzle of icing or a sprinkle of turbinado sugar.

The texture of scones can be crumbly with a dryer cake or moist with a dense heaviness. The overall preference usually comes down to the flavor combinations, there are so many! Sweet and savory with wonderful additions of fruit, nuts, chocolate chips, berries, and even herbs. Endless possibilities.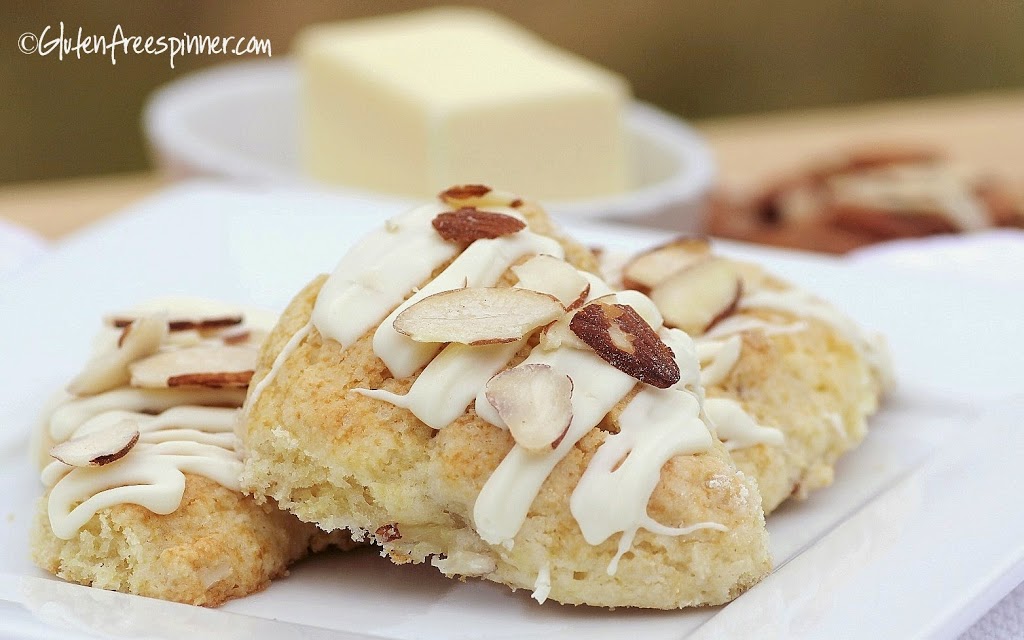 Here's a picture of my Almond Scones and they were my first attempt at making gluten free scones. They're one of my favorites, so buttery and soft with the sweetness of almond and vanilla. Give them a try, they're reeeeeeally good.

For my pumpkin scones I wanted to use organic coconut palm sugar in place of refined sugar since I'm trying to reduce my refined sugar intake. Have you tried coconut palm sugar? It looks like brown sugar granules yet doesn't pack together like brown sugar. It's sweet and tastes almost like granulated toffee(?). I'm pleasantly surprised at how good it is.
When you purchase a bag, be sure to buy organic and check the ingredients for nothing other than "100% Organic Coconut Palm Sugar". Some have processed ingredients actually adding white sugar. The benefits claim to be a low-carb sugar substitute that's more nutritious than granulated sugar and reportedly has a naturally low glycemic index(GI). I've been using it in my coffee every morning instead of sugar and I like it much better. I just feel better not starting my day with a tsp or two of refined sugar.

As I read more about this special sugar and it's popularity in the baking world, there are questions as to just how much better it actually is than refined sugar. The controversy feels similar to when Agave Nectar was so popular. My take is stick with the naturals, minimal processing, and everything in moderation. It seems to work for me…as long as it's also gluten free.
In my recipe I used the coconut palm sugar cup-for-cup in place of brown sugar. I didn't notice a flavor difference, but then I haven't made these yet with brown sugar. All I know is they turned out fantastic! The warm spices of cinnamon, ginger, cardamom, and nutmeg blend perfectly with the pumpkin.
They are definitely more of a dense scone yet they're still light and fluffy. As with all gluten free baked goods…the proof is in the middle…you must see the inside to be sure they aren't doughy, spongy, or gummy. Here you go…..
You can even see little air pockets within the cake due to the gentle mixing of the dough. The final taa-daa is the orange vanilla icing…a touch of bright citrus orange juice combined with sweet warm vanilla glaze these mini scones to perfection. Of course with most scones, they are best the day they are made.
Mini Pumpkin Spice Scones with Orange Vanilla Icing
Approx. 28-32 mini scones
Pumpkin Scone Ingredients:
2 cups all-purpose gluten free flour (Mama's coconut blend)

1/2 cup Organic Coconut Palm Sugar

1 tsp Xanthan gum

1 tsp baking powder

1/2 tsp baking soda

1/2 tsp salt

1 tsp ground cinnamon

3/4 tsp ground ginger

1/2 tsp ground cardamom

1/2 tsp ground nutmeg (grate your own for best flavor)

1/2 cup cold butter (1 stick) cut into small cubes

1/2 cup 100% pumpkin puree

1 Tbsp molasses

3 tbsp lower fat half and half (can use regular too)

1 large egg

1 Tbsp vanilla bean paste or 2 tsp vanilla extract

2 Tbsp GF flour and 2 TBSP powdered sugar for rolling dough
Icing Ingredients: Mix all icing ingredients together until desired consistency.
1 1/2 cups powdered sugar

1 tsp vanilla bean paste or extract

2-3 Tbsp orange juice
Directions:
Preheat oven to 400 degrees. Line a large baking sheet with parchment paper or spray with non-stick spray(check ingredients).
In a medium bowl, whisk together the pumpkin, molasses, half and half, egg and vanilla bean paste (or extract). Set aside.
In the bowl of food processor, add the GF flour, coconut palm sugar, xanthan gum, baking powder, baking soda, salt, cinnamon, ginger, cardamom, and nutmeg. Pulse a few times to combine all ingredients.
Add the butter cubes and pulse 8-10 times until the mixture is crumbly like course cornmeal.
Add the pumpkin mixture and pulse again until the dough comes together. It should pinch together and hold its shape.
Dust the counter or rolling surface with a combination of the 2 Tbsp GF flour and 2 Tbsp powdered sugar. Begin to lightly knead the dough, 3-5 times, just until it comes together enough to cut into triangles. Don't over-knead or add too much flour, the dough needs to be delicate for the scones to be tender.
Rolling the dough into scones: (I'm listing the tutorial from King Arthur Flour as this is what I used for mine)
Pat/roll the dough into an 8″ to 8 1/2″ square, a scant 3/4″ thick. Make sure the surface underneath the dough is very well floured. If necessary, use a giant spatula to lift the square, and sprinkle more flour underneath.
Cut the square into 2″ squares; you'll have a total of 16 small squares. Now, cut each square in half diagonally, to make approx. 32 small triangles. This is all easily accomplished with a rolling pizza wheel; if you're working on a silicone mat, be very careful not to press down too hard as you cut.
Transfer the scones to a parchment-lined or well-greased baking sheet. They can be set fairly close together; you should be able to crowd them all onto an 18″ x 13″ half-sheet pan.
Bake for 10-12 minutes or until lightly browned or edges slightly toasted, don't over bake. Allow to cool about 20 minutes before glazing with the Orange Vanilla Icing. Best eaten the same day.