Baja Fish Taco's
with Radish Slaw and Crema Sauce
Quick, lite, flavorful, and healthy.
Ready for a quick delicious lite-bite tonight?  My Baja Fish Taco recipe was inspired by an episode of 'Triple D' that had my mouth watering.  I love the show Diners, Drive-in's and Dives with Guy Fieri.  His candid humor cracks me up and his life-loving personality is inviting.  Many times Mr. Spinner and I realize we've seen the episode yet continue to watch as it's just an easy show to have on…especially after a long day.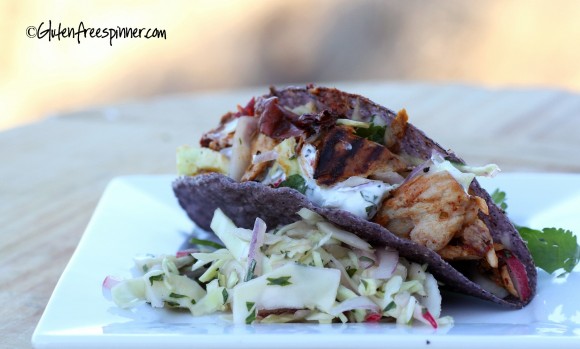 In the episide that inspired my Baja Fish Taco's, the featured chef used easy preparations and healthy fresh ingredients to season his seafood entree's.  He kept it simple yet loaded with flavor, and in this case he used chipotle peppers in adobo sauce.
If you haven't used chipotle peppers before, they are very hot and so is the sauce they are packed in…you don't need much (adjust the amount of chipotle peppers in my recipe if you prefer less heat).  The flavor is smoky which gives this fish a wonderful "Baja" kick. I kept it easy with a light dust of salt and pepper, some garlic and butter…that's it.  Once it's finished cooking I squeeze fresh lime juice over the flaked fish before serving, it's so-so good.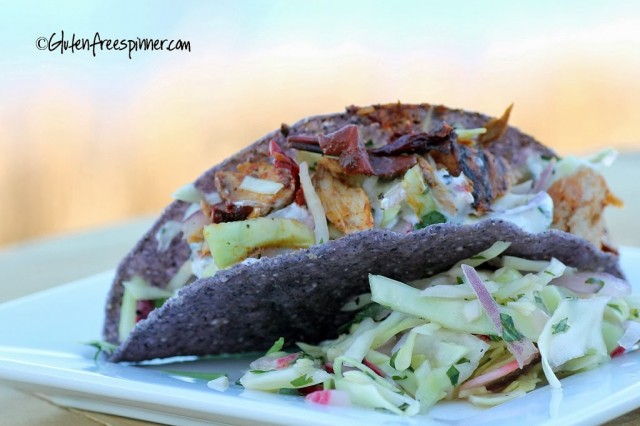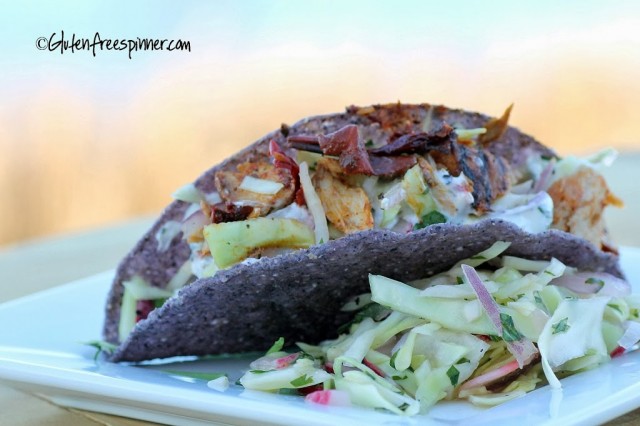 As for the Radish Slaw, Mr. Spinner is a huge radish fan and in the summer he likes them fresh from the farmers market (wish I could say 'my garden') sprinkled with a little salt.  But the winter radishes I purchased weren't quite as tasty on their own so I chopped them up with cabbage for a slaw.  Yum!  Just a handful of ingredients made a wonderful slaw and now it's a favorite with all our fish tacos.
Then the Crema Sauce…I'm a saucy gal…I need a cream sauce of some kind on my fish taco's.  Keeping it easy and light, I combined light sour cream, lime juice, honey and cilantro…it's that easy.
We've enjoyed my Baja Fish Taco's on both blue corn taco shells (YUM) and soft corn tortillas, they are equally delicious…my favorite being the blue.  Blue corn shells are lighter, crisper, and have an authentic corn flavor.  They aren't as readily available at all stores as yellow corn, but check Whole Foods or Co-Op's which is where I found them.
Enjoy!
This post is linked to gfe's Gluten-Free Wednesday's
Baja Fish Taco's
Serves 3-4
Ingredients:
3 (4-5 oz) skinless mahi-mahi fish fillets (or other firm white fish)
salt and pepper
2-3 Chipotle Peppers finely chopped and 2 Tbsp of the adobo sauce ** be sure to check the brand you choose is gluten free!  I use Goya. (You can freeze the remaining peppers in sauce for another use.)
2 tsp minced garlic
2 Tbsp melted butter
1 tsp oregano leaves
fresh lime
Optional – your favorite pico de gallo or salsa for serving
Lightly salt and pepper the fish fillets on both sides.  Combine the chipotle peppers, adobo sauce, garlic, melted butter, and oregano in a small dish and baste the fish on both sides using all (or most) of the sauce.
Preheat the oven to 350 degrees.  (or grill outside if an option)
Heat a grill pan or oven safe pan on medium high heat, using a little olive oil so it doesn't stick.  Once hot, sear the first side of the fish fillets for 1 1/2 – 2 minutes or until it releases easily to flip.  Then sear other side for an additional minute or two…it should be nicely browned, especially if you use a grill pan.  Transfer the pan to preheated 350 degree oven and bake for 4-6 minutes or until the fish flakes easily, depending on thickness of the fish and your preference for doneness.  (We also grill our fish outside when weather permits, you may need to use a  fish-grill pan if your fillets are thinner.  Grill 3 minutes per side or until done.)
Remove from oven and allow to set for about 3 minutes.  Take two forks and flake-apart the fish into chunks. Squeeze a little fresh lime juice over all. Serve directly from the grill pan combining with the juices. Serve in a crisp corn taco shell or soft corn tortilla with my radish slaw and crema sauce (below).  You can also add a touch of pico de gallo on top.
Radish Slaw:
1 1/2 cups shredded green or purple cabbage
1/4 cup red onion, thinly sliced
1/3 cup thinly cut radishes cut in half
handful of fresh cilantro, chopped
2 green onions, chopped
1/2 fresh lime, juiced
1-2 Tbsp honey (your preference, start with 1)
salt and pepper
Combine all slaw ingredients and taste for seasoning.  Refrigerate until ready to eat.
Crema:
1/3 cup light sour cream (Daisy brand is a favorite)
1/2 fresh lime, juiced
2 tsp honey
1-2 Tbsp chopped fresh cilantro
Combine ingredients and serve on the side.