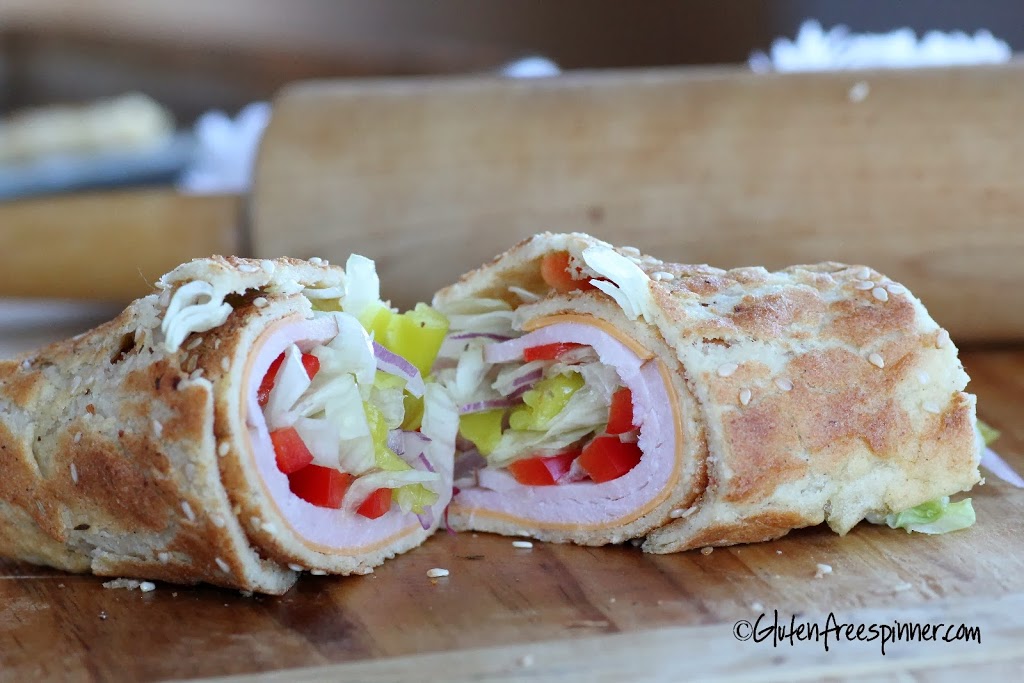 Focaccia Wraps, Soft and Wrapable
I revisited one of my old recipes for Focaccia Bread and made a wonderful discovery…We too can enjoy soft wrapable sandwich wraps that taste good!
Mr. Spinner has been taking sandwiches to work on those thin little round sandwich breads which is a great way to lessen some of the carbs. Why-oh-why don't they come gluten free? And for me, I prefer a soft sandwich wrap – filled with fresh crisp veggies and turkey. They're low carb, light, fresh, and travel well. But the gluten free wrap choices (I think I've tried all), are hard, flavorless, crack when you roll them, and have the texture of cardboard. The only soft one I've found was so rubbery it turned into a ball of spongy dough while chewing. Uck!
So of course my mind starts spinning at 3am…how could I make a really good soft thin wrapable sandwich bread….and I had an idea. Funny how some of our best ideas come when the world is quiet in the middle of the night…nothing to distract our thoughts.
How about flattening my focaccia bread with a rolling pin into a wrap? I fell asleep imagining the process and all the wonderful fillings I would add to my soft – wrapable – wrap. Zzzzzzzz.
When I woke two hours later at the sound of my alarm, the thought resurfaced into a must-try idea. My original focaccia sandwich bread is consistently good with a soft delicious texture and a nice golden crust. Check out my first post to see how this recipe came about. It's not a very thick focaccia, it's thinner, light, airy, and soft. I use it for gyro's, sandwich folds, toasted breakfast sandwiches, and panini's, and it stays wonderfully soft for days. And the best part is it tastes good! The recipe is easy too with a simple batter poured into a jelly roll pan, then a quick rise and short bake time. Now…to make it into a pliable wrap.
Ok, so you can see I kind of went overboard with my fillings, I mean…it's been a while. But even this overstuffed wrap, still wrapped beautifully. The first picture is this same wrap, wrapped. Wrap….wrapped….I like the sound of that.
And here's another as I had so much fun wrapping……soft…..wrapable….wraps.
This one has pulled pork….mmmm. And the one below shows how thin they are. Soft too.
The most important thing to know when first making this bread is you have to spread the batter out with care. It's kinda sticky so I use olive oil to help spread it the length of the pan. Take a look….here's the batter spread in the pan before it rose and after rising. It's just 'puffed'.
And this is after it's baked…and after it's been cut.
You can see how thin it is, very different than regular bread so it helps to know what it should look like. Trust me, you'll make it over and over…
I cut the slices and wrap each one individually in plastic wrap (wrap, wrap, wrap). They last for days and stay pliable and soft…unlike most gluten free breads.
It really is a beautiful thing…and it's rewarding. And tastes soooo good.
But now I need to tell you about the thin wrapable wraps. Here's all I did. When the bread cooled at least 1/2 hour I laid one of the slices on a cutting board and rolled over it with slight pressure just enough to flatten and lengthen a bit. Not too much, you don't want to tear the bread as it's nice and soft.
Now it's ready to add your fillings! Anything you want…just not too wet and try not to overfill them (I know you'll be excited like I was). I made two ahead, wrapped them in plastic wrap and kept in the refrigerator until the next day. They were perrrrrfectly yum for lunch at work. I can't wait to make chicken salad and wrap it up with lettuce. YUM!
Here's a yummy low cal lunch wrap idea. Try spreading half of a garlic and herb Laughing Cow Cheese Wedge on first, then add a thin slice of gf deli turkey, ultra thin slice of cheese, thin sliced red onions, lettuce, and sweet yellow pepper slices. Roll it up and enjoy your wrap!
Of course the bread is really good used for a folded sandwich too…like gyro's…and my first post gives you my recipe for a salmon and dill sauce gyro.
Whether you choose to wrap or fold is up to you, both are great choices. I no longer am missing a wrapped sandwich and I think this is better than I remember. Cheers!
Garlic Herb Focaccia Bread Recipe

Ingredients:
1 cup sweet white sorghum flour

1/2 cup tapioca starch

2 teaspoons xanthan gum

1 Tbsp Rapid Rise yeast

½ tsp salt

½ tsp garlic powder

½ tsp onion powder

½ tsp Italian seasoning

1 cup water

2 Tbsp Organic Blue Agave (can substitute sugar – add with dry)

1 tsp cider vinegar

2 Tbsp Olive Oil (additional 2 Tbsp for pan)

2 eggs

Dusting of Italian seasoning and sea salt for top or Sesame Seeds
Directions
Mix together all dry ingredients (Sorghum flour, tapioca starch, xanthan gum, yeast and spices) and set aside.

Whisk together wet ingredients (water, Agave, vinegar, oil, and eggs). With an electric mixer, slowly beat the dry ingredients into the wet until blended. Beat on medium/high for 3 minutes being sure to combine all ingredients while beating.

Generously grease a large baking sheet (with sides) with the 2 Tbsp olive oil. It will seem too much, but it's needed for browning, removing, and flavor. Pour batter onto the oiled pan and gently spread with a rubber spatula or your fingers until it covers the entire pan ensuring the batter is evenly distributed. This takes some time as the dough is sticky just push it gently to the ends…or as close to the ends as you can. Sprinkle 1 tsp Italian seasoning over top and lightly sprinkle sea salt. I also sprinkled sesame seeds over all.

Place the dough in a warm spot and allow to rise for 35-40 minutes. (Being my house was fairly chilly, I preheated the oven to 150 degrees, turned off, and placed the dough to rise. Be sure to remove from oven after the 35-40 minutes before preheating to bake.)

Once the dough has rested and is puffed, preheat oven to 400 degrees.
Bake for 12-15 minutes or until the top is browned. As with all gluten free breads, be careful not to cut or remove from the pan too soon so the bread can set. You will notice a nicely browned crust on top and edges. Allow the bread to cool 25-30 minutes before removing from pan. It will become flexible and soft.

To serve, cut into 6-8 large pieces to use as a folded sandwich bread. Great used for Gyro's too. You can also cut into 4×4 squares, lightly dust with olive oil and Parmesan and return to 400 degree oven for 5-7 minutes until crispy for a crunchy garlic toast with a salad or meal.
For a wrap, Take on of the cut pieces and gently roll out on a cutting board with a rolling pin just until it becomes a bit thinner. Fill with your choice of fillings and roll over into a wrap. To make ahead, wrap in plastic wrap and refrigerate. Wrap…wrap…wrap.