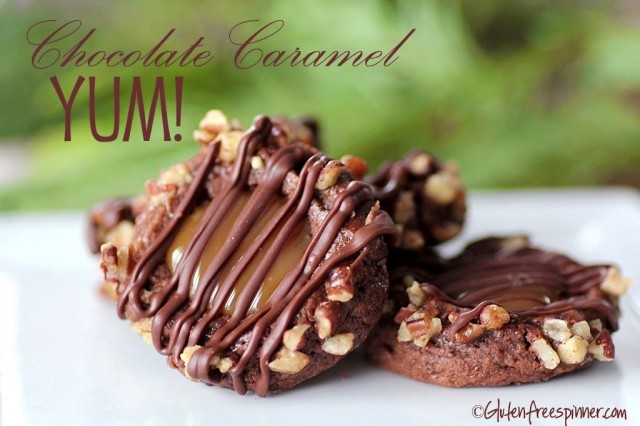 Chocolate Caramel YUM's
Another Christmas cookie to add to the collection and they're so-so good!
Chocolate thumbprints rolled in pecans then filled with caramel and drizzled with chocolate…YUM!
These little gems are new for me this year and will make the top of the list next. They were easy to make and each one turned out just as beautiful as the next. My inspiration came from Better Homes and Gardens cookies and it was as easy as changing out the flour to gluten free all purpose. They gave the option of using caramel apple dip instead of making the caramel sauce and this definitely added to the ease.
With newly added work demands this year I'm crunched for time so finding ways to speed-up my holiday baking is a must.

If you choose to go this route, be sure to check the ingredients. I purchased mine from Byerly's and it's gluten free.
I also used a small spring-load 1″ ice cream scoop which formed the dough all the same size, made flat bottoms, and it went much quicker than forming all the balls. As for rolling the balls in pecans, I opted for Pecan Chips by Diamond that were the perfect size for rolling instead of chopping them all myself. It's a few cents more per package, but the time it saves allows for more varieties of cookies! Ho-Ho-Ho!
Drizzling the chocolate over the top was my favorite part. I used a sandwich sized baggie and cut a very small hole in the corner making the drizzle easy to manage and play with. These cookies stayed beautifully soft yet firm and the caramel hardened to a soft chew. These are so good I'll be making them throughout the year, not just the holidays. Play with the toppings…try a half cherry on top, or a little flaked coconut….mmmmm!
1 egg

1 cup all purpose gluten free flour (I like Glutino or use my favorite blend)

1/3 cup unsweetened cocoa powder

1/4 tsp salt

1/2 cup butter, softened

2/3 cup sugar

2 Tbsp milk

1 tsp vanilla

16 vanilla caramels, unwrapped*

3 Tbsp whipping cream*

1 1/4 cups finely chopped pecans

1/2 cup semisweet chocolate pieces

1 tsp shortening
* You may substitute 1/2 cup caramel apple dip – warm in microwave to soften (check GF)
Directions:
Separate egg placing the yolk and white in separate bowls. Cover and chill egg white until needed. In a medium bowl stir together flour, cocoa powder, and salt and set aside.
In a large mixing bowl beat the butter and sugar on high for 30 seconds or more to combine the two, scraping bowl. Beat in the egg yolk, milk, and vanilla until combined. Beat in the flour mixture on low speed until combined scraping the bowl. Cover and chill the dough about 2 hours until easy to handle (don't skip this step, it needs to be chilled to form…I chilled the dough for 1 hour and it was just right).
Preheat oven to 350 degrees. Lightly grease a cookie sheet (I used parchment paper) and set aside. If not using the caramel apple dip: For the filling, in a small heavy saucepan cook and stir caramels and whipping cream over low heat until mixture is smooth. Set aside.
Lightly beat the reserved egg white with a fork. Place pecan pieces in a small bowl. Shape the dough into 1″ balls. Roll the balls in the egg white then in the pecan pieces. (I dipped just the tops of the cookie in the pecans). Place 1″ apart on prepared cookie sheet. Press thumb in center of each ball to create an indent (I used the back of teaspoon).
Bake about 10 minutes or until edges are firm. If the cookie centers puff during baking, use the back of the teaspoon to re-press. (at this point I made a change…I waited until the cookies were cool to add the caramel center. The directions say to do while still warm.) You choose. Spoon the caramel into the center of each cookie and allow to cool on wire rack.
Heat the chocolate pieces and shortening until just melted, not hot. Drizzle over top of cooled cookies. makes about 32 cookies.