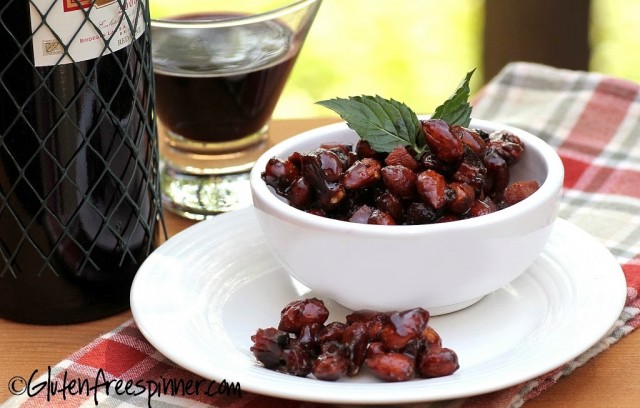 Maple and Bacon Roasted Almonds
Sweet and Savory Appetizer for the Upcoming Holiday Season
I watched a show on the Cooking Channel called "drink-up" where they visited a Brooklyn, NYC restaurant called Buttermilk Channel . This restaurant is known for serving NYC's Best Bar Snack, Maple and Bacon Roasted Almonds. By the time the segment ended, I had a page full of notes to try and make them myself.
They quickly showed the list of ingredients which was very simple: almonds, bacon, maple syrup, and ground powdered mustard. They used slab bacon, but I used a thick sliced good quality bacon and it worked great. They didn't show the actual cooking method, however it seemed the almonds were sauteed in the bacon fat and the syrup gave it the glazed coating. My first batch was a little soggy and super sticky so I tried again and baked the almonds to dry them out and that was the ticket. Roasted. My final spinn was sprinkling a little sea salt over all just as they finished.
These are rich and very tasty….and addicting. They are a great compliment to a cheese tray or set out in little bowls with cocktails. One batch is plenty for about 6 people, unless someone sits directly in front of them…that could be dangerous. They make a great hostess gift too! Wrap them in clear cellophane packages with pretty ribbon.
Happy Holiday Happy Hour to you!
1 lb. raw almonds

1/2 lb thick cut smoky bacon – cut into lardon's (small rectangular diced pieces)

1 scant Tbsp ground mustard powder

1/2 cup 100% pure maple syrup

sea salt
Preheat oven to 375 degrees.
In a medium saute pan cook the bacon lardon's until crisp. Meanwhile, spread the almonds onto a large baking sheet that is lined with parchment paper. Take the bacon pieces out of grease and place onto paper towels and drizzle about 3 Tbsp of the bacon grease over the almonds (reserve remainder in the pan). Shake the almonds around to coat all. Place in the preheated oven for about 12-15 minutes, shaking halfway through.
Transfer to reserved saute pan that still has grease and add the maple syrup, bacon, and the ground mustard. Toss all together to combine and cook on low heat stirring constantly until the maple syrup starts to coat the almonds. Pour back onto the baking sheet and spread out sprinkling a light dust of sea salt.
Allow to cool. Break up and serve.