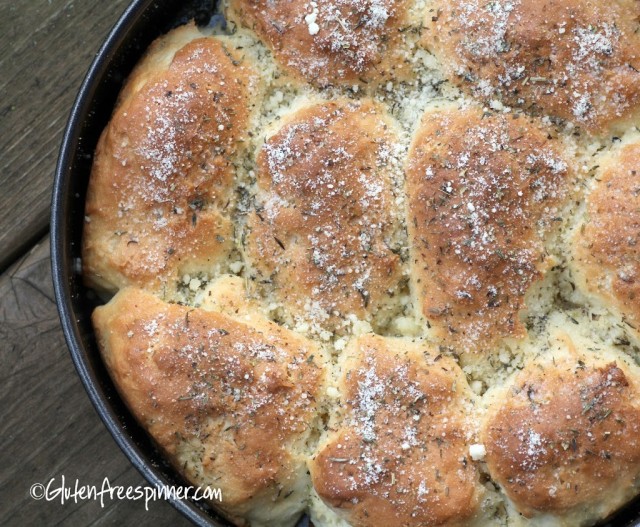 With a Butter-Garlic-Parmesan Top
We all know the challenge of making gluten free breads and the many times we've tossed a loaf after hours of labored efforts.  But we keep trying…revisiting the methods and various flours to create an edible gluten free bread.  Well I'm writing a review today with many go-to links as there were quite a few bloggers who brought this to our attention.  A successful recipe,
especially when it involves gluten free bread, is worth sharing multiple times!
As with all gluten free breads, the proof is in the middle…making sure there isn't a gummy texture.  Well, take a look….no gummy texture here! Golden brown on top and bottom and soft in the middle. 
The little crust on top is my spin to the recipe which is brushing the tops with melted butter as soon as they come out of the oven then sprinkling just a touch of garlic powder, Italian herbs, and grated Parmesan.  So-so good.  As with most gluten free breads, they are best eaten the same day.
Another change from the original recipe is I didn't have the Mama's Almond Blend Flour , so I substituted my go-to all purpose gf flour blend instead.  It worked beautifully.  I added an additional 3-4 Tbsp of water to the batter while mixing as it was a little thick (start with 2 Tbsp and add as needed, should be a thick batter).  I also used 2 tsp of Active Dry Yeast dissolved in 1 cup warm water with a tsp of sugar.  Otherwise I followed the original recipe as listed.
And you should smell my kitchen!!  Home baked bread!
For my second roll (yes, I had to try two), I added butter and honey.
Don't wait to make these rolls, you'll be so happy you did.
Gluten Free Pull-Apart Rolls…life is good.
Adapted Recipe from Original: